The families below are the earliest Angus Raitts I have come across that are not included in the other Angus Raitt pages (noted above.) I have not yet researched them all extensively, but three of them do have a more lengthy list of descendants and these are provided on separate pages (highlighted below.) Additional trees will be provided when I have done the necessary research. It will probably turn out that some, if not all, are related to the Raits of Hallgreen.
Alexander Raitt was born about 1635, place unknown, but probably Angus. Since his son James Raitt (and grandchildren) were born in Kinnell, Angus, then he may be from around there too. The name of Alexander's wife is not known, nor is whether they had more children. James married Jane Anderson from Kinnell in 1680 and they had at least four children, the eldest of which, Francis (born 1684), married Anna Low in 1711 in Guthrie and had several children born there. His brother James (1689-1755) married Elisabeth Low (died 1756) according to a gravestone in Kinnell kirkyard upon which several children are also listed. However, the marriage date and place is illusive as are the birth and death dates and places of the children. The youngest son of James and Janet, William (born 1692), married Margaret Greig and had six children between 1720-1734.
Then there was Alexander Rait born about 1655 in Arbroath or possibly Inverkeilor. He married Margaret Mill (born about 1658 in Guthrie, Angus) in 1676 in Guthrie. No children have been found born to these parents in Guthrie, Arbroath or Inverkeilor in the first few years following marriage.
Although born in Saint Nicholas, Aberdeen about 1659 as the eldest child of ten of James Rait (born in Aberdeen about 1632) and Marjorie Ronaldson, Andrew Rait apparently moved to Arbroath where he married Magdalene Fyfe (born in 1674 in Arbroath) in 1688. They had six children all born in Arbroath: Margaret (1689); Elizabeth (1693); James (1695); Patrick (1700); Margaret (1704); and Marion (1704). Marriage records for Andrew's two sons, James (1695) and Patrick (1700), have not been found, at least in Arbroath. One of Andrew's daughter's, Elizabeth (Elspet), married David Leslie, who might be the same person who witnessed the christening of Catherine Rait (daughter of Thomas Raitt (see below) and Helen Hunter in 1729. He might also be related to the Jean Leslie who married David Raitt in 1720.
Katherine Raitt was born in Arbroath about 1665. She married John Ouchterlouny (born about 1665 in Arbroath) on 24 June 1685 in Arbroath. No children have been found born to these parents in Arbroath or St Vigeans in the first few years following marriage. Individuals with the surname Ouchterlouny are named as witnesses to various Raitt christenings, but whether they are related is not yet known.
Margaret Raitt was born in St Vigeans about 1667. She married John Finlow (born March 1666 in Arbroath) there in 1687. No children were born in Arbroath, but there was a John Finlo born in St Vigeans in 1688. John Finlow (Findlow) senior had at least three siblings who had children.
Robert Rait married Margaret Orock in Montrose on 17 June 1671. He could be either the Robert Rait, christened in Montrose on 27 Nov 1632, father Andro Rait; or the Robert Rait christned in Montrose on 9 February 1638, father George Rait; or the Robert Raitt, christened on 25 May 1640 in Montrose, father William Raitt. His daughter, Margaret Raitt (see below) emigrated to America and died in Virginia in 1714. He was a Master Mariner from Montrose. He and wife Margaret also had a daughter christened on 23 October 1684 in Montrose. There are several other children for Rober Raitt around the same dates in Montrose, though the mother's name is not given.
Margaret Raitt was born in Montrose on 4 September 1677 to Robert Raitt and Margaret Orrock. She is listed in the book entitled The Original Scots Colonists of Early America, 1612-1783. She died in Virginia in 1714.
Robert Rait was born around 1680 - he could, in fact, be the Robert Raite christened on 23 December 1682 in Mains and Strathmartine to John Raite and Elspeth Fordall. He married Jean Steven in Arbroath on 9 November 1703 and they had four children: John (1704); twins William and Robert (1706); and Margaret (1709.) Jean is probably the Jean Stiven, christened on 4 December 1682 in Arbroath to Andrew Stiven and Jean Steedman.
In June 1690 David Raitt was born in Grange of Conon, St Vigeans. He married Jean Leslie around 1720 and they had ten children between 1721-1747. Jean might be the Jean Lesslie born on 2 December 1700 in Panbride, near Arbroath to John Lesslie and Marie Davidsone. Except for James, the eldest child of David and Jean, the rest of the family has not yet been extensively researched. There are, though, quite a lot of descendants from James and his wife Margaret Soutar and what makes them interesting is that not only do later generations appear to have lived in the same street as my ancestors, but very recently later generations have been uncovered in New Jersey in the USA. There are also several gravestones for them in the St Vigeans churchyard. This has prompted me to further research this family and some of their history is outlined on the Raitts of Conon and Colliston page. I will endeavour to also look into the siblings of James.
Isobel Rait was born about 1695, place unknown, but possibly Guthrie since this is where she married William Wilson in 1715. No children have been found born to these parents in Guthrie or Arbroath in the first few years following marriage.
There are several possibilities for the Thomas Rait (Raitt or Reat - spelling varies depending on source) who married Helen Hunter in December 1724 in Arbroath and who might turn out to be my ancestor - though the name Thomas has not been carried down. One Thomas Raitt was born in 1700 at Arbuthnott, Kincardine; another Thomas Rait was apparently born about 1699 in Arbroath; and then there is the Thomas Raite who was born in 1682 at Mains and Strathmartine, Angus.
----------
On the American Raitts page under New York there is mention of another Thomas Raitt (spelling varies) whose family were active in Bovina, Delaware County, New York in the early 1800s. Exactly who this Thomas was is not known; however, if he married Elisabeth Thoms in December 1787 in Glen Isla, Angus (where he was very probably an agricultural labourer and his wife a farm servant) then he would have been born, in principle, around 1765 or so. There are a few possibilities, but I think it unlikely that he would be the one born in Fife, Ayr or Lanark. Instead, he may very well be the one born down the road relatively speaking in Dundee, Angus on 29 Jan 1767. His parents were Gilbert Rait and Isabel Kier – though certainly the name Gilbert was carried down. This couple married on 16 Dec 1761 in Dundee. (Interestingly an Alexander Rait married an Elisabeth Keir on 14 Nov 1760 also in Dundee. I wonder if they were brothers and sisters?) Gilbert and Isabel had several children between 1763-1778: James born 14 Feb 1763 (chr 16 Feb); Isabell born 19 Oct 1764 (chr 21 Oct); Thomas born 29 Jan 1767 (chr 1 Feb); William born 23 Jan 1769 (chr 25 Jan); Marion born 3 Jul 1770 (chr 4 July); Marjory born 7 Jun 1772 (chr same day); Margaret born 21 Nov 1774 (chr 24 Nov); and David born 14 Jun 1778 (chr 17 Jun).
None of the children were named after their father and the name Gilbert (not a typically Scottish name) has not been carried down through this family (which may be an indication it is not correct, though Thomas certainly has been a common name for descendants). There are a couple of gaps though in 1773 and 1776/7 and it is possible that there was a son of that name but he died shortly after birth. The death of a Gilbert Raitt is recorded for Dundee on 9 Jan 1788, but unfortunately the age is not given, so whether it is a son or the father himself cannot be ascertained. Nor does the name crop up in an Memorial Inscriptions.
Since Dundee was a major centre for jute manufacture in the 18th and 19th centuries it likely that the family were weavers. Indeed, in the 1841 census for Rosebank St North Side, Dundee there is a David Raitt, age 60, who was a linen hand look weaver, as were his children. He is there also at number 5 Rosebank St in 1851, age 72 – probably too old for weaving now he is a bellman, but his unmarried sons (David 40 and Thomas 37) are still involved in the industry – the former as a hand loom weaver, the latter as a starcher. Son William (30) is not present.
And then there is the David Raitt (1783-1866) from Arbroath who married Isabel Rhind in 1808. His parents seem to have been William Raitt and an unnamed Littlejohn. Their gravestone is in St Vigeans churchyard, so he was probably related to the other families buried there, though I have not yet discovered which. David and Isabel had eleven children between 1809-1832. Isabel died in 1835 and David subsequently married Helen Whyte in 1839 and had two more sons (David and John) with her. This family will be explored further in due course.
----------
Then there is another David Rait - a crofter and farmer in the Angus parish of Liff, Benvie and Invergowrie. The dates and places of birth, marriage and death of David and his wife Isabella Low are not currently known, but they must have married about 1802 (thus probably born around 1780) as their first child was christened in 1803 in Liff, Benvie and Invergowrie. Details of David's family and descendants are to be found on the Raitts of Liff, Benvie and Invergowrie page. David's grandson, Thomas Raitt, emigrated from Angus to America in 1860 and the details of his subsequent descendants are given in the Mississippi Raitts page).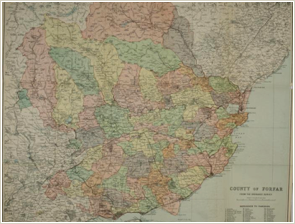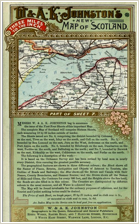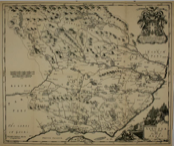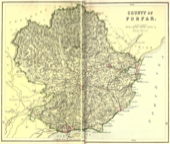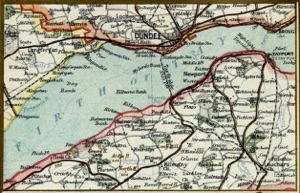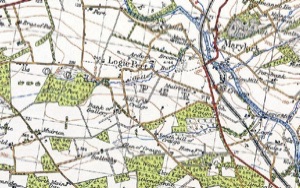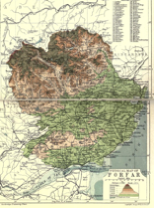 William Raitt (1816-1895) was the youngest son of William Raitt and Elizabeth Rew. He married Helen Grainger on 29 April 1844 in Edinburgh and they had ten children between 1849-1864 - all born in Angus. Sons James, George and Charles Raitt emigrated to Canada and their descendants will be found under Manitoba Raitts and subsequently California Raitts. Hugh Mitchell Raitt (1862-1935), their ninth child, became a joiner and moved first to Aberdeen for work and then to Montrose, Angus (where he married Jessie Ann Ryrie in 1886), He subsequently moved to Musselburgh, Midlothian in the late 1890s or early 1900s, again for work and subsequently forming a family business there in 1906 (see also under Other Scottish Raitts). Thomas Ballentyne Raitt, the youngest child of William and Elizabeth married Isabella Ley in 1890 in Montrose, Angus and they had two children between 1893-1901. More details on the ancestors of William and Helen Raitt will be currently found on the Kincardineshire Raitts page, as will the descendants of Hugh Mitchell Raitt (though he is also briefly mentioned on the Other Scottish Raitts page.)
----------
In the 1841 census for Hallgreen Bothie, Berview, Kincardineshire is a William Rait, aged 21, born Kincardine. This may be William Raitt's son or it could be the William (1819-1889) who is the son of his brother James.
In the 1851 census for 9 Esk St, Craig, Montrose, Angus are William Raitt, 34, carpenter employing two men, born St Cyrus, Kincardineshire; his wife Helen, 30, born Edinburgh; and their children John, 2; and William, 7 months, both born Craig.
In the 1861 census for Logie Pert, Angus and living at Wright's Croft, Craigo are William Raitt, 44, joiner, born St Cyrus; his wife Helen, 40, born Corstorphine, Edinburghshire (Midlothian); and their children John, 12, scholar, born Craig, Angus; William, 10, scholar, born Craig; George, 9, scholar, born Craig; James, 7, scholar, born Craig; Helen, 5, scholar, born Logie Pert; twins Margaret and Mary, 3, born Logie Pert; and Charles, 1, born Logie Pert.
In the 1871 census for Logie Pert, living at Carpenter's Croft of Craigo are William Raitt, 54, house carpenter employing one man; wife Helen, 50; and children George, 19, house carpenter; Helen, 15; twins Margaret and Mary, 13, scholars; Charles, 11, scholar; Hugh, 9, scholar, born Logie Pert; and Thomas, 7, scholar, born Logie Pert. Son William, 20, is living next door at the Smith's Croft of Craigo where he is a blacksmith. Son John was probably also nearby as he married in Logie Pert in 1876, but subsequently moved away.
In the 1881 census for Logie Pert, living at 1, Logie Road are William Raitt, 64, wright or house carpenter; wife Helen, 60; and children James, 27, unmarried, blacksmith; Margaret, 23, unmarried; and Thomas, 17, wright's apprentice or house carpenter. Sister Mary is probably nearby, Charles had already sailed for Canada.
In the 1891 census for Logie Pert, living at Joiner's House, Craigo are William Raitt, 74, now a widower, but still employed as a joiner; and the unmarried twins Margaret and Mary, 33, both father's housekeepers.
In the 1911 census for Logie Pert, Angus are Thomas B. Raitt, 47, estate overseer; wife Isabella, 46; and children David L., 17; and Helen G., 10.
There are several groups of Raitt families in Angus. One of the most documented in recent times is that of the Raits of Anniston - a branch of the Raits of Hallgreen in the Mearns (Kincardineshire). In addition, there are the various Raitts - also branches of Hallgreen - in Cononsyth, Pitforthy and Inverkeilor as well as my own Arbroath/St Vigeans Raitts. There are also other families and I originally included three trees of 17th century Angus Raitts (grouped on the basis of date of birth) on a separate page. However, following some further research I have placed one of the trees on its own page with information and details about the various families of the Raitts of Conon and Colliston. Like my Arbroath Raitts and the other Angus families, it is more than likely that they are all descended from or related somehow to the Raits of Hallgreen (for whom I have also constructed a family tree which includes their Angus descendants.) They also may or may not be siblings and it is possible that some of the younger ones may be offspring of the older ones - perhaps they are cousins. In many instances, particularly for offspring, the name is recorded sometimes as Raitt, Rait as well as Raite and Reat. These variances are not necessarily always reflected in these trees, but I have made a note of the spellings in my master Raitt file and have included the different spellings in the 1841 census page.
To supplement the other pages of the more well-known Raitt families in Angus (mentioned above), an overview of some of the earlier individuals is given below. As a result of recent additions to the site, I may need to tie these in to some of the other families, though at present others are currently simply isolates. It is hoped to bring a more complete listing of other Raitt families, including those married into the Arbuthnotts in due course.