John Purvis Raitt was born in Arbroath on 23 October 1874 - the youngest son and child of David Dorward Raitt and Mary Purvis - he died in Glasgow on 6 March 1946. He married Georgina Clark on 31 December 1901 in Dennistoun, Glasgow. At marriage he was listed as baker journeyman at 33 Earlston Avenue. Unlike his two elder brothers, John and Georgina appear to have had only two children: John Purvis (born 1902) and Jemima Clark (born 1904).
Georgina was born on 20 April 1873 in Inverkeilor, Angus together with her twin sister Jemima. Their parents were David Clark, born about 1840 in Stracathro, Angus and Isabella Robertson, born about 1843 in Brechin, Angus. They married on 22 June 1861 in Maryton, Angus and had twelve children between 1861-1891. Georgina died in Provan, Glasgow on 31 January 1943.
----------
In the 1881 census for St Vigeans, living at 41 Helen St, is Mary Raitt, wife, head, age 35, sailor's wife, born Arbroath; and sons David, 11, scholar, born Arbroath; John P., 6, scholar, born Arbroath; and William, 9, scholar, born Arbroath.
In the 1891 census, John Raitt, aged 16, heckle machine worker, is living at home at 15 St Vigeans Rd, St Vigeans with his mother Mary Raitt, aged 45, and her sister, Elizabeth Purvis, aged 55; and his brother David, an apprentice painter aged 21.
In the 1901 census, living at 24 Howard St, St Vigeans is John Purvis Raitt, aged 26, pastry baker on own account (i.e. self-employed) together with his mother Mary Raitt, age 55, head, widowed, housekeeper; and aunt Elizabeth Purvis, aged 65, born Brechin.
The 1905-196 Valuation Roll for the parish of Glasgow in the City and Burgh of Glasgow reveals that, living as a tenants in a house at 33 Earlston Avenue with others, are William Raitt, traveller and Mrs Mary Raitt. The property is owned by David Graham of 32 Cathllon (?) Road [presumably Glasgow]. The yearly rent or value was £9 15s for William and £9 18s for Mary. William will be Mary's son; no mention is made of John, but he was presumably living with his mother.
In the 1911 census for 14 Earlston Avenue is John Raitt, son, 36, pastry baker, born Arbroath; wife Georgina Raitt, aged 37, born Inverkeilor; and children John, 9, at school, born Glasgow ; and Jemima, 7, at school, born Glasgow. Also at that address is his widowed mother, Mary Raitt, 65, head, widow, born Arbroath and her sister Elizabeth Purvis, 75, single, born Brechin. They are occupying two rooms with one or more windows. In the same tenement building in addition is John's elder brother William Raitt and his large family - also occupying two rooms with one or more windows
According to the Valuation Rolls for 1913-14 Mary Raitt was a tenant at 14 Earlston Avenue, Municipal ward 6, Glasgow paying a feu-duty or ground annual of £20 and an annual rent or value of £11 10 pence to the proprietor, Mrs Jane Davie, Kenilworth, Coatbridge per D. Graham, 180 Hope St, Glasgow. This, of course, is Mary Purvis, John's mother with whom he and wife Georgina and children were almost certainly still living. In the same building was also William, John's brother, and family paying the same feu-duty, but an annual rent of £8 ten pence.
In the 1915 Valuation Roll, Mrs Mary Raitt is still a tenant with others (including Belgian refugees) at 14 Earlston Avenue, Municipal Ward 6, Glasgow - the property still being owned by Mrs Jane Davies per D. Graham. The feu-duty and annual rent were the same as in 1913-14. It is assumed that son John and family were still residing with her, though son William had moved elsewhere.
It would appear that John and his older brother William established a bakery and tea room in Guthrie Port, Arbroath between 1898-1901 and the story behind this venture can be found on Ye Olde Raitt Shoppes page. It is possible that John continue his pastry chef business in Glasgow after 1901.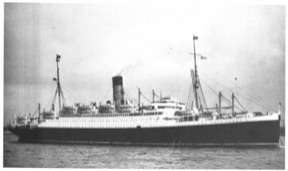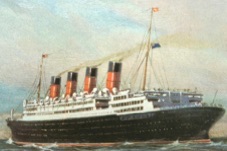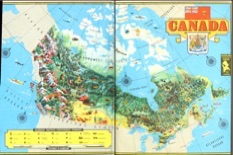 John and Georgina's son, also John Purvis, may have emigrated to Canada, following in his younger sister, Jemima's footsteps. John had married Gertrude East Gilkison in Lochee, Angus in 1929 and they had at least three children: Georgina Clark (1930), Elizabeth Duncan (1933) and Jack Purvis (1936) - all born in the Glasgow area. Gertrude Raitt, 43, a housewife, departed Southampton on 20 October 1949 for Halifax, Canada. She was accompanied on board the Aquitania by Georgina, 18, a typist; Elizabeth, 16, also a typist; and Jack, 13, a student. Their address in Scotland was given as 89 Abbeyhill St, Glasgow E2 and Scotland was also given as their last permanent residence. Their country of future residence was given as Canada, so it would appear that this was an immigration. [This was one of the last voyages of the Cunard Line ship Aquitania. Constructed starting 1910, after service in both wars she was chartered in 1948 by the Canadian Government to carry Canadian emigrants between Southampton and Halifax. Her final departure from Halifax to Southampton took place in November 1949.] However, there is no record to be found thus far of any trip made to Canada by John himself.
Few details of the children are known at present. However, I have managed to track down Jack Purvis Raitt in Whitevale, Ontario. Married to Lena, he has a son and two daughters and I hoping soon to obtain the family details to add to the tree!
John and Georgina's daughter Jemima, aged 25, was recorded as leaving the port of Greenock outside Glasgow for Quebec, Canada aboard the Antonia on 28 September 1929. She paid the fare herself and she had not been in Canada before. Her present occupation was given as waitress and it was this occupation she intended to follow in the country. She gave her mother, Mrs Georgina Raitt of 14 Earlston Avenue, Glasgow as her nearest relative and her destination was a friend, Mrs Mary Foley, 109 Canon Street E., Hamilton, Ontario. She had £10 in her possession and was classed as a "landed immigrant".
Jemima received a licence to marry James Thomson, both of 71 Erie Avenue, Hamilton, Wentworth County, Ontario, on 9 December 1932 and the marriage was solemnized on 31 January 1933. From the record, we learn that she was a waitress, aged 28, a Roman Catholic, living in Hamilton and born in Scotland. James was a machinist, also 28, a Roman Catholic, living in Hamilton and also born in Scotland. We also have the names of their parents - John Raitt and Georgina Clark and Charles Thomson and Jane Sharples. One of the witnesses was Jane Anne Thomson, perhaps James's sister, but possibly his mother since her full name was Jane Ann - she and Charles Todd Thomson married in 1891 in St Andrew, Dundee. Jane was born in Forfar, Angus in 1868 and died in Glasgow in 1928; Charles was born in Monifeith, Angus and died in Glasgow in 1951. James had emigrated to Canada on 3 June 1928, travelling aboard the Montcalm from Greenock to Quebec. His age was given as 23, he was single, born in Glasgow and a brassfinisher. Travelling with him was his brother William, 19, also a brassfitter born Glasgow and single. They had paid their passage themselves and gave their father's name as Charles Todd Thomson c/o Foley, 26 Breadalbane Terrace, Glasgow. (Interestingly, Foley was the name of the person that Jemima gave as her destination - so there may have been a connection.) Their destination was their sister, Miss Jean Thomson, c/o McConnell, 13½ McNab St, North Hamilton, Ontario. On arrival they were classed as Landed Immigrants. A Jean Thomson, aged 28, single, born Glasgow, a waitress and intending to pursue that job in Canada and paying her passage herself, emigrated from Greenock to Quebec aboard the Melita on 23 April 1927. This is probably her given that she gave as her destination a friend Mrs J. McConnell, 354 Beachway, Hamilton. She gave as her nearest relative in Scotland Mrs Thomson, 39 Dover Street, Glasgow. Charles and Jane Thomson had at least two other children: George, born about 1892 in Dundee and Walter, born about 1897 in Glasgow. It is not yet known whether they also emigrated. However, Walter died in 1984 in Martha Street, Glasgow.
----------
The descendants for John Purvis Raitt are included in the tree showing the descendants of his father David Dorward Raitt.