Elizabeth Raitt's story of the Blizzard of 1888

On the morning of Thursday, 12 January 1888, the residents of Nebraska, Dakota Territory, Montana, Kansas, Wyoming, and even Iowa, Minnesota and Texas were faced with a snowstorm unlike any seen before. Striking the majority of the region with incredible swiftness at the time school was dismissed, many students and teachers were caught long distances from home as the temperature plummeted well below zero in a matter of hours and visibility diminished rapidly.
Unlike established schools in the more populated towns along the eastern edge of the Great Plains that had better facilities, most school buildings in Nebraska were rural and were consequently unprepared for such an unprecedented weather situation. In many cases, coal and water were insufficiently stocked, and the structures themselves were not sturdy enough to withstand the biting, high velocity winds. The situation was further compounded for those living in the more sparsely populated rural areas because most students also had quite a distance to travel to their homes on foot. Thus, schoolteachers who found themselves facing this dangerous situation had a decision to make: either stay and try to ride out the storm in a poorly-equipped schoolhouse or somehow guide the children to the nearest residence even though normal landmarks were hidden by zero visibility and a blanket of snow.
Some 235 people perished on that day - many of them school children on their way home from school. Thus the event become known as The Schoolchildren's Blizzard.
Over thirty years after the event, Ethel (Raitt) Van Matre wrote a newspaper article based on her memories of the story her grandmother, Elizabeth (Abbot) Raitt, once told of the horrendous snowstorm that hit their farmstead in Nebraska in 1888 only a couple of years after they had moved into it.  Below, the text of her story is faithfully transcribed from a photocopy of the original page as it appeared in the paper. Unfortunately, there are no identifying markers such as the name of the newspaper or the date; however, it was possibly published in The Banner Press, a local newspaper in David City, Nebraska, to which Ethel often contributed pieces she had written.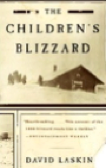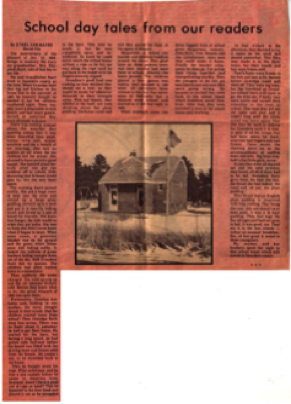 School day tales from our readers
Ethel van Matre
David City
The anniversary of the blizzard of Jan. 12, 1888, brings to memory the story my grandmother, Mrs. Elizabeth Raitt, told of that day in her life.
She and Grandfather Raitt [i.e James Dorward Raitt] lived in Saunders county [Nebraska] at the time. When Grandpa built that big sod kitchen on his house late in the summer of 1887, he honestly thought he needed it for his children numbered eight. Then, too, they were a hospitable Scotch family and had many guests, invited or uninvited they were all made welcome.
There was nothing unusual about the weather that morning unless it was more beautiful than usual, balmy with soft winter sunshine and not a breath of air stirring. She felt no qualms at all when the six children left for school. She planned to have an extra good supper. She hustled about her work after she got the children off to school, little dreaming that 24 hours would pass by, ere she saw them again.
The morning hours passed swiftly. She put a huge roast of beef into the oven and stirred up a large plum pudding, sewed it up in a sack and put it in merrily boiling water and mixed up a pan of bread for biscuits. She knew how hungry the kids would be when they got home. She was so busy she didn't even know when it began to snow. When noon came, a generous blanket was on the ground and the great white flakes were still falling softly. It looked like millions of goose feathers falling straight out of the sky. Still Grandma Raitt felt no qualms. The children had often walked home in a snowstorm.
Then suddenly the scene changed. The wind sprang up and the air became bitterly cold. Before they knew what to do, the great blizzard of 1888 was upon them.
Fortunately, Grandpa was home and, looking at one another, the same thought struck in their minds. Had the children started home from school? Then Grandpa Raitt went into action. There was no doubt about it, someway he had to get them home. He started for the barn, but having a long beard, he had gotten only half-way before his beard was filled with the driving snow and frozen solid from his breath. He couldn't see, so he stumbled back to the house.
Then he thought about his rope. What sailorman, and he was a sea captain before he came to America from Scotland, doesn't have a good coil of rope on hand? This he fastened to the door knob and played it out as he struggled to the barn. This time he made it, but he was completely spent and bewildered. He knew he could never reach the school house without a rope so he felt his way along the rope until he got back to the house with his fingers severely nipped.
Grandma's good food was cooking so they decided they should eat a bit, so they would be ready for whatever demands on their strength came. With sad hearts, they nibbled at the beef; not even thinking about the plum pudding. Darkness came and still they paced the floor in the agony of despair.
Meanwhile at school the teacher and children huddled around the stove. How glad later on, those parents were that their teacher had held them at school. Drearily the hours passed. The children played a few games but mostly they listened to the wind. All old-timers bear witness to the fact that never since in Nebraska has a blizzard wind whined and snarled as it did that night in 1888.
When midnight came the three biggest boys at school grew desperate, namely John Raitt, Tom Nemets and Joe Latenburger, were sure they could make it home. Finally the teacher reluctantly let them go. For awhile they clung together and tramped along sturdily. Then the youngest of the trio got bewildered and was sure they were going wrong. He became so excited they went back to the school house which doubtless saved their lives. After that, they were satisfied to stay at the school house until morning.
At four o'clock in the afternoon, they decided to try it again as the wind had abated somewhat. This time they made it to the Raitt home, but their hands and feet were frozen stiff.
Tom's boots were frozen to his feet and had to be thawed before Grandpa could pull them off. They were big boys, but lips trembled as Grandpa rubbed them with snow to get the frost out. Finally they were warm and turned their attention to the ones at school. This time they got out the team and sled and it wasn't long before the whole crowd was home again. Now this may be hard to believe but Grandma says it is true, in spite of all the wraps that had been taken for them, everyone had fingers and toes frozen. Once more the thawing went on to the accompaniment of audible tears and sobs. Big boys may hold in but little girls, never.
At last they were all thawed out and the next problem they faced, all 22 of them had to be fed. Grandma Raitt gave them the best she had, the bread she had baked, the roast and oh yes, the plum pudding!
They do say that an English plum pudding is improved with long cooking. That being the case, this one should have been good. It was a 24 hour pudding. They had kept the fire all night and had not gone to bed. It was good too. They ate it to the last crumb – rather an unusual breakfast. But, oh how good, it tasted to those youngsters.
My mother and her brothers spent the night in that school house which still stands in Saunders county.