The book entitled The Original Scots Colonists of Early America, 1612-1783 lists Margaret Raitt, born 4 September 1677 in Montrose, Angus to Robert Raitt and Margaret Orrock, dying in Virginia in 1714. However, although records for Virginia at this time are sparse, it would appear that the Reats in Virginia start with William Reat and his (unknown) first wife who had a son James born in 1782, apparently in Fredericksburg, Virginia. I say apparently because this is what later records suggest, though interestingly, and most likely erroneously, the 1880 census for James's son, John Francis, gives his father as being born in England. Where William was born is not known and whether or not he and his wife emigrated from England or Scotland to Virginia with a babe in arms, there is no doubt that the family subsequently had their roots there. Since James was born in 1782 and assuming he was the first child, then presumably William was aged at least 20-25 and thus born about 1760. Perhaps his first wife died in childbirth.
In 1785, William married his second wife (Elizabeth) Ann Minor in Fredericksburg and the couple had two children: Ann in 1785 and David, born on 14 December 1792 – both in Fredericksburg. They may also have had another daughter born about 1794 (or possibly earlier) named Catherine. It is likely that Ann Minor was the daughter of Thomas Minor and Elizabeth Taylor of Spotsylvania, Virginia, about whom there is quite a lot in Genealogies of Virginia Families from the William and Mary College Quarterly. Vol. III Heale-Muscoe. William owned a shop and he and Ann were involved in various land transfer deals in Fredericksburg in 1794 and 1796.
Ann seems to have died about 1804 and William fell on hard times, eventually abandoning his son David. A note in the diary or journal of a certain John Boyce says "Mr William Reat of Frederickburgh called this morning to request we would take a daughter of his for three years." The eight volume, calf bound journal, in the Huntingdon Library, San Marino, California covers the period 31 July 1798-21 Nov 1808. Where Boyce lived and what his relationship with William Reat was is not known. It was initially thought that the girl was Ann, William Reat's daughter by Ann Minor, born in 1785 and probably sent to Boyce about 1804 either just before or just after her mother died. However, since Ann was 19 when her mother died and is known to have moved to Richmond with or shortly after James in 1804, subsequently marrying James' partner Reuben Johnson, then it seems more likely that perhaps the daughter in question was not Ann, but rather the much younger Catherine, who would have been aged about ten when her mother died. And the diary entry of Boyce says "a daughter" and not "the daughter" - thus implying that William Reat had more than one.
William and Ann Reat's son James became a successful silversmith in partnership with Reuben Johnson from 1804 until his premature death on 18 February 1815 in Richmond.
The 1810 census for Richmond (Independent City) has the firm of Johnson & Reat, comprising 24 members including 17 free whites of varying ages and sex and 7 slaves. There were three white males under ten, and four aged between 16-25 (two would be James Reat and Reuben Johnson, another would be David Reat); three white females under ten; two between 16-25 (one possibly Catherine); and one aged between 26-44 (possibly James's sister Ann.) Who these young children under ten are is not known - though since Reuben and Ann had six children after they married in 1905, then it is probable that at least some of the were theirs.
James Reat married Catherine P. Strobia on 10 September 1810 in Richmond, Henrico County, Virginia and the couple had three children: Mary, born about 1811 in Richmond and James L., born about 1813 also in Richmond. Further details about these two children are yet to be discovered. Their son John Francis Reat was born on 18 October 1815 in Richmond, Virginia eight months to the day after his father died. On 26 July 1857 in Noxubee County, Mississippi, John Francis married Elizabeth Huckaby (née Linecum) born on 31 October 1829 in Arkansas and they had two sons both born in Mississippi: John Strobia Reat born 25 May 1858 and James Travis Reat born 25 1860. Clearly well before 1880 the family had moved on to Texas (See under American Raitts - Texas.)
On his gravestone, the name James Reat is preceded by the word Sgt. In a document relating to the War of 1812 Veteran Burials at St. Johns Episcopal Church Graveyard, Richmond, VA, entry 62 refers to the military career of James:
Reat, James: was born about 1782 and married Catherine P. Strobia, 20 Aug 1810 at Oak Swamp Friends Church in Henrico County and he died 18 Feb 1815 at age 33. He served first, ten days as a Private, 18 to 27 Mar 1813 in Capt William McCabe's Company of the 19th VA Militia Regiment of Richmond city, commanded by Lt Col John Ambler. He served again in the 19th for 14 days in the rank of Sergeant from 26 Aug to 7 Sep 1814 in Capt John McPherson's Company. Specifics of his 1812 service may be found in his war records in Box 172, records 6011 and 6012 at the National Archives. Sources of unit service: Rolls of Companies in the Auditor's Office, Richmond, VA printed 1852, Muster rolls, pgs 574 and 578; Butler, S.L., "A Guide to VA Militia Units in the War of 1812", pgs 184.
After the death of James in 1815, his widow Catherine married George Stovall in 1820 in Powhattan, just outside Richmond. The record lists her as Mrs C. P. Reat. In 1830, also in Powhattan, a Mary Reat married Littleberry O. Stovall. I assume Mary to be the daughter of James and Catherine Reat and Littleberry probably a son of George.
Now a Catharine Reat married Thomas Ware on 1 April 1807 in Fredricksburgh, Virginia. It appears that she subsequently remarried and the 1850 census has her as Catharine Sallifall (incorrectly transcribed from Taliaferro) living in Fredericksburg, Spotsylvania Co., Virginia, aged 56. Since she was born then about 1794 and in Virginia, and as there seem to be no other known Reats in Virginia at the time, then she could surely be a daughter of James Reat and Ann Minor - though if they are one and the same, she would only have been 13 when she married Thomas Ware, so possibly the census age is incorrect and in fact she was born between Ann and David.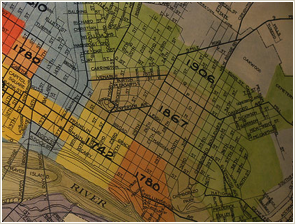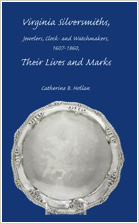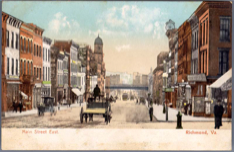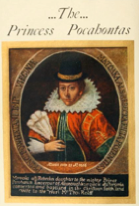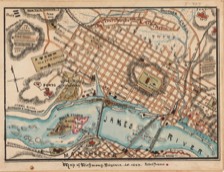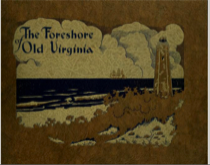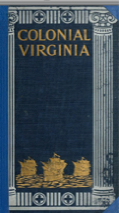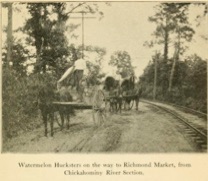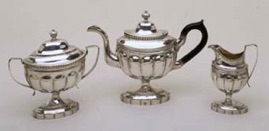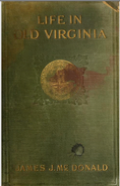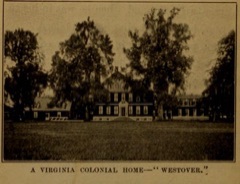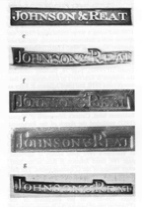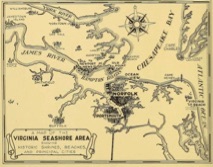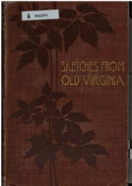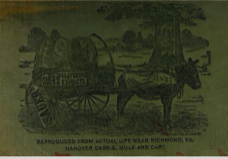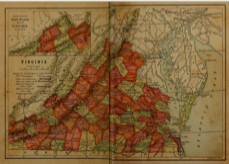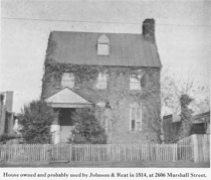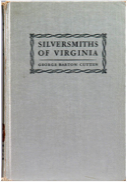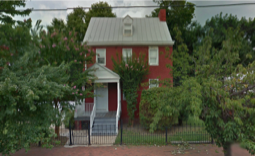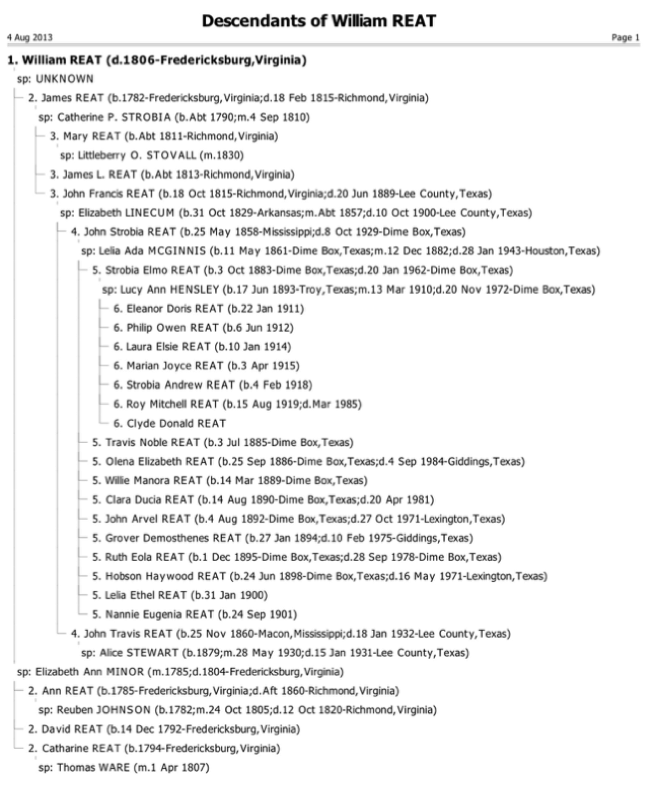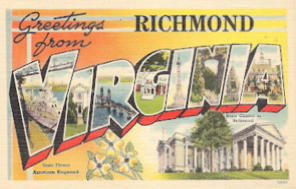 Some information on the name Reat will be found on the Raitt Name page. What is interesting, quite apart from some of the early Raitts in Angus having their name sometimes spelled as Reat, is that in one or two of the ledgers kept by companies that James Reat was doing business with, the name of his firm was occasionally spelled as Johnson & Rate - which may give some indication of how he himself pronounced it. even though his more modern descendants pronounce their surname to rhyme with "eat."
Many of the known descendants of James Reat have been made available by later family members, but below I have provided a simplified and best guess early tree starting off with William Reat and based on the information available to us at this time.
----------
The same problem we have with Reat brothers who fought against each other in the Revolutionary War (see under American Raitts - Maryland) occurs with William Reat, father of silversmith James Reat of Virginia. Of course, unlike the Reat brothers, here we have no indication that William or his parents were from Scotland. If he had a son, James, born in 1782 (reportedly in Virginia), then assuming this was his first child, then William may have been born around 1750-60. Thus he is unlikely to be the William Reat born in 1729 in St Vigeans, Angus to David Reat and Jean Leslie - who could just be the parents of our two Revolutionary Reat siblings.
However, if James Reat was actually born in England in 1782 as his son's entry in the 1880 census states, then there is only one possible individual born about that date who fits the bill on two counts (date and father's name), namely the James Reat born on 9 Jan 1783 to William and Elizabeth Reat in Liverpool, England. (In both England and Scotland there are a couple of James Reats and James Raits born at about the right time, but the father is not William. The Raits are probably not really contenders anyway because it that James himself (and subsequent authorities!) retained the spelling Reat.) I shall endeavour to do some further research into the possibilities.
David Reat (b 1792)
apprentice silversmith; Fredericksburg, VA, 1804-06; Richmond, VA, 1806
David Reat was born on 14 December 1792, the son of William Reat and Elizabeth (Ann) Minor of Fredericksburg. William Reat married in 1785 and witnessed the will of clockmaker Thomas Walker in October 1786. William Reat owned a store on Main Street in the center of Fredericksburg and lot #20 on Caroline Street, on which he paid land tax in 1790. In January 1791 silversmith Henry White moved into the store adjacent to Reat on Main Street, and the two continued as neighbors until Reat sold in 1795. Reat and White were also neighbors on lot #20 on Caroline Street. Elizabeth Reat commenced the milliner and mantua making business in June 1802, probably in response to financial need, and died within two years.
By 1804 the father William Reat was described as "David's only remaining parent. .. [who] has gone away and left the said David without the means of support." The Overseers of the Poor for the town then apprenticed David Reat, "a poor boy." on 27 August 1804 to Henry White to be taken care of and taught a trade. The apprenticeship was recorded in Hustings orders in August, but the signed apprenticeship, which is still at the circuit court, is dated October 1804. The Hustings order recorded two apprenticeships, one for the eleven-and-a-half-year-old David Reat and another for James Allen, also an orphan. The full apprenticeship requires David to serve his master "well and faithfully" in such business as he would be placed by his master to the best of his "power, wit and ability" and "honestly and obediently in all things shall behave himself towards his master ... and honestly and orderly towards the rest of the Family [of his master]." Henry White promised to instruct the boy in the "craft, mystery, and occupation of a Gold and Silver Smith" that Henry White "now useth ... after the best manner that he can or may teach, instruct, and inform or cause to be taught, instructed, or informed." Henry White promised to "find and allow" to the apprentice "sufficient meat, drink, apparels, washing, lodging, and an other things needful or meet for an apprentice, " to "teach [him] or cause to be taught reading, writing and common arithmetic including the rules of three," and finally agreed to pay the boy $12 at the expiration of his term of apprenticeship, that is, on his twenty-first birthday. The document was signed by Henry White and the three Overseers of the Poor and the witnesses to their signatures. David Reat, a minor, did not sign.
In about 1806 William Reat died and the then orphaned David was re-apprenticed to his brother James Reat, gold- and silversmith in Richmond, on 13 October 1806. This apprenticeship document gave his age as fourteen on 14 December next. He probably continued working with his brother who was very successful and a partner in the leading firm Johnson & Reat. Nothing further has been found concerning David.
----------
There is also a much earlier publication entitled the Silversmiths of Virginia: Together with Watchmakers and Jewelers, from 1694 to 1850, by George Barton Cutten, published by Dietz Press in 1952. This book does not go into the depth and wealth of detail about James Reat as Catharine Hollans book, but does provide a few other facts, as well as a photograph of his house (below left - and the same house today is shown right on Google Streetview.)
James Reat & Co.
(James Reat & Reuben Johnson); jewelers & silversmiths; Richmond, VA, 1812-1815
The firm James Reat & Co. was distinct from, but overlapping the latter years of, James Reat's better known partnership Johnson & Reat, both having the same partners, James Reat and Reuben Johnson, and probably located in the same shop a few doors above Bell Tavern. Very likely James Reat & Co. was the manufacturing arm of the business, owning the engines, the turning lathe, plating mill, and a set of counters and cases for displaying its goods, while Johnson & Reat was the sales shop that performed the watch repairs, and the selling of silver and jewelry that was both imported and made on site. James Reat & Co., located a few doors above Bell Tavern, was listed in Richmond personal property tax assessments in 1812 through 1814, with three Negroes in 1812 and 1813, and two Negroes and a horse in 1814. James Reat named the firm in his will written on 15 February 1815, directing his interest in both firms to be sold to pay debts. Reat died on 18 February 1815. On 21 March 1815 jewelry and plated ware (i.e. silver ware) were advertised to be selling at cost from the store of the late James Reat & Co., and on 6 April an auction was announced to dispose of all the tools of the late James Reat & Co., which were advertised as "one complete, new turning lathe, with all its necessary implements, for turning in various branches, one plating mill, one set cases for counter and sides; and several other articles worthy of attention. Reuben Johnson signed the ad as "surviving partner." Some small items of silver flatware have been found marked by this firm, but little in comparison with the flatware and hollowware marked by the sister firm Johnson & Reat.
James Reat (1782-1815)
silversmith & jeweler; Richmond, VA, c1804-15:
Johnson & Reat, c1804-15, James Reat & Co., 1812-15
James Reat was born in 1782 in Fredericksburg, the son of William Reat and his first wife. His father married Ann Minor in 1785 and lived near the center of Fredericksburg with a store on Main Street next door to silversmith Henry White from 1791. There is no record of where James Reat learned silversmithing, but Henry White is a good possibility, or perhaps one of the Richmond silversmiths. He would have apprenticed from about 1796 to 1803, and he appears to have gone soon after to Richmond if he was not there already. His [half] sister Ann joined him in Richmond and on 24 October 1805, she married his friend and partner of many years Reuben Johnson, James Reat giving the surety for the marriage bond. It was about this time that Reuben Johnson and James Reat joined in partnership as Johnson & Reat. The exact date is not known, but it was probably prior to Ann's marriage. The firm advertised its continuing business on 19 November 1805, located a few doors above Bell Tavern. Advertising as jewelers and silversmiths, they would keep on hand an assortment of work, spoons and ladles, miniatures (that would be drawn and set), seals, and keys.
When James' father [William] fell on hard times, possibly due to ill health, James' twelve-year old [half] brother David was bound out to a trade. Described as "a poor boy," David Reat was apprenticed in August 1804 to their Fredericksburg neighbor Henry White." William Reat died in 1806 and on 13 October 1806 David Reat, now "an orphan," was re-apprenticed by the Overseers of the Poor to his brother James Reat, gold- and silversmith, for seven years until David was twenty-one. The partnership Johnson & Reat was the largest business of its kind in Richmond, the one place to obtain silver hollowware among all the businesses.
James Reat captured the heart of "the much admired" Miss Catherine P. Strobia, whom he married on 23 August 1810. Catherine Reat had inherited property on Main Street, which she and Francis R. Strobia deeded to their brother John H. Strobia on 15 October 1811. James and Catherine bought two properties, one from William Robinson in 1813 and another from John J. Johnson in November 1814. Reat had advertised in his own name on 14 December 1811 from the partnership location as a manufacturer of gold and silver work with a very complete assortment of silverware:
"JAMES REAT, Richmond, a few doors above the Bell-Tavern,
manufacturer of GOLD and SILVER work,
has just opened an extensive and well-selected assortment in the above line.
which he offers to the public on moderate terms -
consisting of Pearl, Topaz, Cornelian and Plain JEWELRY -
and a very complete assortment of SILVER WARE and Tortoise-shell Combs -
together with a well assorted stock of Military articles.
Orders from his friends will be paid the strictest attention to. Cash for old Silver and Gold."
Beginning in about 1812 James Reat operated James Reat & Co. in parallel with Johnson & Reat, both firms having partners Reuben Johnson and James Reat and both located a few doors above Bell Tavern, whether as separate shops or as one is unclear. The firm owned equipment for manufacturing silver as well as a display case and counter. James Reat & Co. was taxed in the 1812 Richmond personal property assessments for three Negroes. During the War of 1812 James Reat enlisted as a sergeant in the 19th Regiment, Captain John McPherson's Company of Virginia Militia.
Silversmith Edward Wanton had associated with James Reat since January 1806. After James Dawe died in 1805, a Negro that Wanton and Dawe had bought in 1804 had to be deeded to Dawe's administrator who joined with Wanton to emancipate the thirty-nine-year-old, light complexioned, Negro man Dick. James Reat had witnessed the emancipation document on 18 January 1806. After Wanton died 4 November 1813, Reuben Johnson gave surety for the administration bond and James Reat was ordered by the court as one of the appraisors of Wanton's estate. Reuben Johnson bought many tools in the subsequent sale, probably to he used by both partners in their business. After the great theater fire of 26 December 1811 in which seventy-two persons died, an Episcopal church was erected on the site, called the Monumental Church. James Reat supported the Monumental Church by leasing pew #33 for $320 in May 1814, but on 9 December tried to sell the pew, advertising it in the Dailv Compiler.
James Reat died on 18 February 1815 "after a short but severe illness" at age thirty-three. He was buried thirty feet from the main entrance of the church in St. John's Episcopal Church yard, his tombstone recording his death date and age. He had written his will on 15 February as "James Reat, Jeweller of Richmond" directing that his interest in the firms Johnson & Reat and of James Reat & Co. be sold to pay his debts and if more was needed then to sell his real estate. He provided the dower third of real and personal property to his wife Catherine for her natural life, then to be distributed equally to his children. His children received the whole of his remaining estate, after paying for their education, "which is my desire should be particularly attended to." He appointed as executors his friends Frances R. Strobia and John H. Strobia, and the will was witnessed by Joshua Crump, E. Walford, and his partner Reuben Johnson. Reuben Johnson and Jacob Harrison gave security for the $10,000 administration bond. Catherine Reat refused to take or accept her provision in the will and John H. Strobia became guardian for the children. The will names two children, Mary and James L. but it seems that Catherine was pregnant with a third child who was born posthumously, named John H. Reat, who shared in the distribution of the father's estate.
On 21 March 1815 it was announced that "jewelry, plated ware, and other articles in that line" would be sold at cost at the store of the late James Reat & Co. a few doors above the Bell Tavern. Reat's personal household goods were to be sold on 29th March, the announcement reading,
FURNITURE AT AUCTION.Will be sold on Wednesdav the 29th inst
at 10 o'clock A.M.
At the dwelling house of the late James Reat, a few doors above the Bell Tavern, all his household and kitchen furniture, consisting of about 1300 dollars worth, among which are:-
A large Mahogany sideboard and china press, a secretary and book case, an excellent eight day dock, dining, card and tea table, a mahogany sopha, bureaus and wash stands, bedsteads, settees, chairs, prints, carpets, one of which is a handsome Wilton one, beds, bedding and mattresses, bed and window curtain, &c.&c.
Plain and cut glass, some elegant; a pair of branch candlesticks, silver and plated with a pair of beautiful looking glasses, one set of tea china, one set plated castors, some table ware, and a variety of other articles.
-ALSO-
WILL BE SOLD or RENTED, Pew No. 33 in the Monumental Church, at the same time, will be sold a valuable NEGRO MAN who is an excellent plain and neat cook; and a very like mulatto girl, about 12 years of age
TERMS-For all sums under $50, cash; all sums over 50 and under 100 sixty days credit: over $100, ninety days credit, for approved negotiable notes.
John H. Strobia, Executor
On 7 April Reuben Johnson, surviving partner of James Reat & Co., announced another auction at the store to dispose of all the tools of the late James Reat & Co., which were advertised as "one complete, new turning lathe, with all its necessary implements, for turning in various branches, one plating mill, one set cases for counter and sides; and several other articles worthy of attention". Reuben Johnson apparently settled his share of Johnson & Reat and of James Reat & Co. with a note, referenced as $2,941.92 owed to the estate of James Reat in a trust dated 19 April 1819. In April 1817 the widow Catherine Reat confirmed her earlier 1811 deed to J. H. Strobia who now was selling the property to Thomas Cowles who owned the adjacent property on Main Street, and a week later she and J.H. Strobia sold to Jacob King another property on Main Street. By 1823 the widow Catherine, then "of Philadelphia," gave power of attorney to Archibald Hugh of Richmond when she joined with the Philadelphia jeweler Daniel H. Dodge and his wife Catherine, daughter of John Crawford formerly of Richmond. What was planned is not clear. She did, however, remarry about this time to George Stovall who called for settlement of the estate of her former husband. Administrator John H. Strobia filed accounts through 23 October 1823, which were audited and recorded in 1824. indicating payments to Catherine without her presenting vouchers, guardianship expenses for each of the three children, and accounts by Strobia as administrator of Francis R. Strobia giving half his estate to Catherine Reat. His accounts on the estate of James Reat showed a balance in October 1823 of $3,230.76 due him as administrator. His accounts with the widow Catherine owed him $1,598.66, accounts with daughter Mary owed him $429.36, with son James L. owed him $177.97, and with son John H. owed him $206.91.
James Reat marked his silver with two partnership marks. James Reat & Co. and Johnson & Reat.
On 28 March 1809 a fire broke out at the hatter's shop of Solomon Marks and spread up Main Street, destroying a number of buildings including the jewelry store of Johnson & Reat, which was near the Bell Tavern on the north side of Main between 15th and 16th Streets. The fire was reported in newspapers as far away as Charleston. Three days afterward Johnson & Reat advertised briefly that "in consequence of late conflagration," they had moved to the building opposite Mrs. Davidson, the milliner, "where orders from their customers will be attended to with their usual punctuality. In December they advertised at the Crescent Sign opposite the Eagle Tavern. This was three blocks removed from their old stand, now located on the north side of Main Street between 12th and 13th streets in a building owned by Reuben Coutts on lot #335. In 1810 the property had a value of $7,500. They probably owned their former stand, or had a long-term lease, since James Reat kept a separate shop there, identified as a few doors above the Bell Tavern between 1811 and 1815. Under their new Crescent Sign, they continued to publish long lists of goods, "silver Tea Pots, Coffee Pots, Sugar Dishes, Slop Bowls, Cream Pots, Canns and Goblets; Table, dessert, tea and salt Spoons, soup, toddy, cream and mustard Ladles, Salt Stands, Thimbles, Coral and Bells, Tea Tongs & Pencil Cases, silver mounted Dirks, Swords and Snuff Boxes; [and for plated wares) Plated Castors of various prices, Candlesticks, Fruit Baskets, Tea-Pots, Sugar Dishes, Cream-pots, Salt-Stands, table Spoons and Tea-Tongs." On 27 July 1810 they advertised for two apprentices to the silversmithing business, preferring boys of about fourteen or fifteen years of age.
Prior to 1810, they had only advertised receiving supplies of articles in their line rendering their assortment complete and handsome. On 8 December 1810 they advertised that "Grateful for the liberal encouragement they have received from the public and anxious to deserve it," they had procured a great variety of articles of the most fashionable patterns, which had been "personally selected from the principal Jewelry Stores in Baltimore, Philadelphia, and New York," listing jewelry and plated goods. For the decade before the War of 1812, this firm was the leading provider of fine, high-style silver in Richmond.
Personal property tax rolls from 1806 to 1810 listed one horse and one Negro male tithable belonging to the firm, but in 1811 they were taxed for three Negroes and in 1812 for four, and James Reat was separately taxed for two and three. The two partners speculated in property of the surrounding Richmond area. They had bought lots #28, #29, #33, and #34 of William Burton's survey and subdivided these in a survey by John Williamson into twenty lots fronting forty feet on Union Street leading to Venable Street. On 21 July 1814 Johnson and his wife, Reat and his wife, John S. Shelton and his wife, and William Finney began selling these unimproved subdivided lots, two to Jacob Harrison for $352, five to Joshua Crump for $924, and others, some eight deeds for fifteen lots at approximately $200 each recorded in one day, including one each to Finney ($200) and to Shelton ($200). The partners bought a number of properties individually for the firm. In 1819 surviving partner Reuben Johnson recorded a deed of trust on a number of properties, including one acre on Church Hill in Henrico County bought for Johnson & Reat by Reuben Johnson from Miles Turpin; an undivided moiety of twenty acres in the county adjoining Brooke Tumpike Road bought by James Reat for Johnson & Reat from John J. Johnson; an undivided moiety of 133-1/2 acres near Powder Mills in the county bought by James Reat for the partnership from William Robertson; an undivided moiety of two brick houses with a quarter acre annexed on Church Hill in the county bought by Reuben Johnson and James Reat from Richard Adams; and an undivided moiety of a wooden house and half acre on Church Hill in the county bought by Johnson and Reat from Thomas Bohanan.
The partner James Reat was suddenly taken ill in 1815. He wrote his will on 15 February and died on 18 February 1815 at age thirty-three. Johnson was one of three witnesses to his will, which directed that "as soon as practible" after Real's death that Reat's interest in the firms Johnson & Reat and James Reat & Co. be sold to pay his debts, then if necessary his real estate was to be sold. Reuben Johnson and Jacob Harrison gave security for the $10,000 administration bond. On 7 April Reuben Johnson, as surviving partner of James Reat & Co., announced the auction at the store to dispose of all the tools of the late James Reat & Co., which were advertised as "one complete, new turning lathe, with all its necessary implements for turning in various branches, one plating mill, one set cases for counter and sides; and several other articles worthy of attention. Reuben Johnson apparently settled his share of Johnson & Reat and of James Reat & Co. with a note, referenced as $2,941.92 owed to the estate of James Reat in a trust dated 19 April 1819. The firm Johnson & Reat ceased with the death of James Reat. Reuben Johnson continued to work alone another five years and died in 1820.
Johnson & Reat
(Reuben Johnson & James Reat); silversmiths & jewelers; Richmond, VA, c1804-15
Both Reuben Johnson and James Reat were just starting out their careers when they formed the partnership Johnson & Reat, probably in about 1804 when both were about twenty-two years old. The beginning date for the firm is not known. On 24 October 1805 Reuben Johnson had married Ann Reat, sister of his partner, and James Reat gave the surety for the marriage bond. On 19 November 1805 the firm advertised its continuing business as jewelers, silversmiths, and gilders a few doors above the Bell Tavern and thanked the public for their liberal encouragement:
JOHNSON & REAT
JEWELLERS, SILVERSMITHS, & GILDERS,
A few doors above the Bell Tavern, Richmond;
RETURN the public in general their thanks, for the liberal encouragement they have received, and with confidence of giving general satisfaction, they hope for a continuance of it.
They have now on hand, a handsome assortment of work, consisting of the following articles, viz:- Table, Desert [sic] and Tea Spoons; Soup, Toddy, Sauce and Mustard Ladles; Salt Shovels; Sugar Tongs; Tooth and Ear Picks; Pencil Cases; Pin cushion Chains and Rams, Scissar [sic] Chains; Silver Thimbles; Tortoise Shell and Pearl handled Penknives.
Miniatures drawn and set upon the shortest notice; Mourning and Fancy Lockets; Rings ditto; Bracelets ditto; Breast Pins of various sizes and shapes, mourning and fancy; Gold, Silver, Pearl and Conk [sic) Sleeve Buttons; Gold and Hair Watch Chains; Gold Seals and Keys of different sizes and shapes, just from Philadelphia; Ear-Rings of the most fashionable forms and sizes; Gold and Gold mounted sett Necklaces; Ladies and Gentlemen's Morocco Pocket Books; Gentlemen's Paste Knee Buckles-& many other articles too tedious to enumerate - all of which they offer on the most reasonable terms.
Persons wishing to purchase by the quantity, will be allowed a reasonable credit by giving approved security in the city. Orders will be strictly attended to, and discharged with dispatch, by the subscribers.
JOHNSON & REAT
N.B. The highest price given for Old Gold and Silver.
The firm advertised for two fourteen-year old apprentices to the gold- and silversmith business in August 1806 and within two months two orphans were apprenticed to James Reat. Fourteen-year-old Simon Abrahams (orphan of Jacob Abrahams) was apprenticed in September and James' fourteen-year-old brother David Reat was apprenticed in October, both to serve for seven years until age twenty-one. In November 1812 fourteen-and-a-half-year-old Samuel Roberts was bound to Reuben Johnson. Forty years later, Roberts proudly proclaimed that:
"he served his time at the GOLD & SILVER SMITH BUSINESS at a period when all work was made and repaired at home, where there was from 18 to 20 hands at work. He had an opportunity of making himself acquainted with all branches of the business; and all work in his line can be done in his shop better than in any other Shop in this town, and as well as can be done in the State of Virginia."
The names of only a few of those who worked in the firm are known. certainly not of eighteen to twenty hands at one time. Augustus Labastine was probably working in the shop as a journeyman watchmaker during the time Roberts was apprenticing. On 19 March 1814 William McCabe opposite Bell Tavern announced that he was then employing Labastine who had formerly worked at the clock and watch business in part of the shop of Reuben Johnson.
Between 1810 and 1813, Johnson & Reat kept an account with Philadelphia manufacturer Samuel Williamson, who supplied many East Coast silversmiths with the footed oval plain and new melon-lobed teawares popular between 1800 and lS13 when Williamson retired…… In about November 1810 Messrs. Johnson & Reat were buying spoons from Williamson.....The following 16 January 1811 the shop produced six-dozen teaspoons of 4 to 4-1/2 ounces per dozen and another six-dozen weighing 6 to 61/2 ounces per dozen, and a teapot, sugar, and creamer with the "oblong [base and rolled border type] R." In November 1812 six tea services were prepared for the Richmond firm….
Williamson's ledger of accounts for the Richmond firm reflected staggered delivery of goods. The January 1811 order for spoons and a tea set were delivered on 14 February, and the six tea services ordered November 1812 were delivered on 19 November, 23 December, and 14 January following. The entries between February 1811 and May 1813 indicate the Richmond firm obtained goods on credit and paid in full one to six weeks later. Williamson thus provided eight of the tea services that may have been marked with the partnership's initial or surname marks. Williamson's workshop descriptions are difficult to correlate to Johnson & Reat tea services known today...... Williamson sold to several silversmiths who then added their own names as retailers…..
Johnson & Real operated the gold- and silversmithing side of their business but not the watchmaking side. In 1806 they leased part of the shop to William McCabe who kept the watchmaking branch. Johnson & Reat always advertised a full line of silver and jewelry, as for example in December 1806:
JOHNSON & REAT,
JEWELLERS & SILVERSMITHS,
have for sale at their store three doors below Messrs Taylor and Brown's Vendue Office, and a few doors above the Bell Tavern, the following articles, viz:
Plated Tea Pots, Sugar Dishes, and Milk Pots, Tea Urns, Castor Stands, Candle Sticks, Desert Dishes, Salt Stands, Table Spoons, Sugar Tongs, Goblets, Bread Baskets, Decanter Stands, and plated handled Knives and Forks.
Silver table, Desert, Tea, Soup, Toddy, Sauce, Mustard, and Salt Spoons; Silver Milk Pots, Tumblers, Sugar Tongs, Salt Shovels, Pincushion Rims and Chains, Scissor Chains, Cloak Clasps, Hooks and Eyes, [K] Netting Needles, Tooth and Ear Picks,
Bodkins, Pencil Cases, Thimbles, Shell Snuff Boxes silver mounted; Fruit and Pen Knives, Tortoiseshell Combs ornamented with gold of every size and description from 15 dols to 50 cents, Gold Watch Chains, Seals and Keys of various patterns, elegant Pebble Seals, Paste and Gold Ear hoops of different sizes and patterns, Miniature Settings of various sizes, Mourning and Fancy Lockets, Jet and Coral coloured gold mounted Necklace, Jet and Garnet Necklace plain and neat, Gold Neck Clasps, Enameled fancy and Mourning Bracelets; Gold, Chonk [shell], and Silver Sleeve Buttons; Gold Studs for the sleeve and collar; Plain, stone, heart, Dog Collar, Topaz, Pearl, Cornelian, and Mourning Rings, and Breast Pins of almost every description, all of which with an additional supply that they expect very soon, they offer upon the most moderate terms.- They will also furnish any article in the plate line upon the shortest notice.
N.B. The highest price given for old gold and silver.
A pearl and topaz pin such as one of those listed was advertised as found in 1812 and available to be picked up at the store. The firm acquired fresh supplies of goods from Philadelphia and more than their competitors advertised large and expensive silver such as silver and plated tableware "coffee, tea, and milk pots, bread baskets, [and] tumblers. The number of workmen in their shop gives weight to their offers to be able to "furnish any article in the plate line on the shortest notice," "spoons of their own manufacturing," and "Jewelry or Plate furnished on the shortest notice, to any patterns. When two lumps of "pure virgin gold" were plowed up in a corn field near Spotsylvania Court House, they were taken to Johnson & Reat's where they were purchased to be used in their gold jewelry, but only after they were displayed in their store for the curiosity value. Together the lumps weighed nine ounces four pennyweight.
As noted above James Reat became a silversmith in Richmond, Virginia and although brief details about his career can be found under Illustrious Raitts – Craftsmen, much more about him is to be found in the book by Catherine B. Hollan entitled Virginia Silversmiths, Their Lives and Marks published in 2010. Although I do not usually give so much information about a single person or family, in this case I believe it is worth doing for two main reasons. One, is that James' life and that of his family, gleaned from local records, is fairly well recorded unlike many other Raitts whether Illustrious or not; and two, the details given provide a useful impression of what it was like to live, work and be involved in land speculation in Colonial times in America during the early 1800s – not just about any old family to whom we cannot relate, but one in which we (or certainly our Texas cousins) can. So since this seems to be the most complete biography of an early Raitt whether in Scotland, America or anywhere else, then I feel it is worthwhile sharing it here. And I am extremely grateful to Catharine Hollan for so promptly and graciously giving me permission to include the extracts below about James Reat and his brother David from her book. I have not included all the details about their various known products and associated marks that have turned up here and there, nor have I included the entry for Reuben Johnson himself since this provides very little additional information on James (or David and Ann). And since James appears in several entries, under his own firm as well as that of Johnson & Reat, then there is some duplication of facts which I have left as is.
First, though, a word about the James' craft. A silversmith works with precious metals such as gold and silver. Virginia silversmiths faced several challenges. The greatest difficulty was obtaining unfinished silver: the only silver that Great Britain allowed the colonies to import was in the form of finished pieces. From 1699-1780 there were some 15 silversmiths in Williamsburg and because of the strong preference among wealthy planters for importing large silverware from London, many of the silversmiths had to make their living by importing and selling English silverware and items not related to the trade. Silversmiths frequently offered to pay citizens for their old silver goods and consequently the majority of silver work in Williamsburg consisted of making small pieces such as spoons, buttons, shoe buckles and completing numerous repairs for the middling sort as well as the gentry. There was always competition among silversmiths whose customers were limited to the small group of colonists who could afford silver items and often in the 18th century, a silversmith would call himself a goldsmith for the added prestige.