There are a number of Web sites that give pertinent information for research into the Raitt history and background. Details of some of those I have found particularly relevant are listed below.
Arbroath and St Vigeans
I came across the Tayside, A Maritime History (TAMH) website some time ago, and then to my horror, it disappeared. Luckily it is back elsewhere, but has not been updated for a while due to lack of funding. Nevertheless, the site contains some fascinating history and recollections (complete with many photographs provided by The Arbroath Herald) of Arbroath in the old days.
Since many of our ancestors, including our great grandfathers, were master mariners, then this site is of interest because it gives some details not only on the Arbroath sailors themselves, but also their families, ships, voyages and trading ports.
The site also has a modest collection of articles on maritime topics taken from various Tayside newspapers from the past. For instance there are articles on the growth and development of Arbroath Harbour in the 18th and 19th centuries – our great grandfather's would have witnessed these changes and perhaps even been involved in the planning process. There are articles about the imports and exports in the late 19th century as well as about the gradual decline of shipbuilding at the yards on Tayside. An article about shipping in Arbroath mentions many of the companies, ships and their masters (including Captain Raitt of the Favourite).
A colourful article describes fisher dress in Arbroath - comprising blue coats, skate-mooed pooches and strippet brots! There is also an online tour which give explanatory text and photographs about fisher costumes and customs, including weddings. Arbroath was a centre of the herring industry and built a whole trade at the turn of the 20th century exporting barrels of herring to Königsberg (Russia). The famous Arbroath Smokie is still sent worldwide. Another online tour is devoted to the people and places involved in this aspect of Arbroath life.
Tayside, particularly Dundee, was also a centre for the jute industry and quite a few of our Arbroath ancestors worked as flax dressers or weavers – often making sailcloth until the age of steam and factory automation hastened their demise. The flax trade, linen industry and jute manufacture in Tayside are long gone – as are the people who worked in them - but they left a significant architectural legacy, examples of which are to be seen in the website pages.
Even though not updated, this is still a great site to be transported back in time to where our ancestors lived, worked and died. Maybe some of them are to be seen in the photographs!
Web sites for further research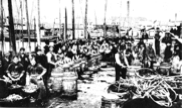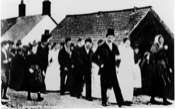 Arbroath harbour: herring industry, c1890. © Arbroath Herald
Arbroath harbour: herring curing, c1890. © Arbroath Herald
Auchmithie (St Vigeans) wedding of John Cargill and Maggie Spink, 1895
© Arbroath Herald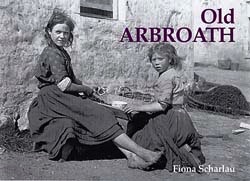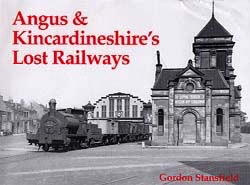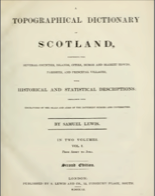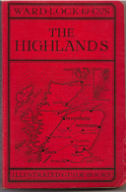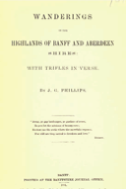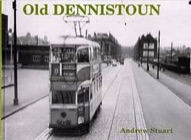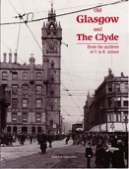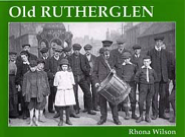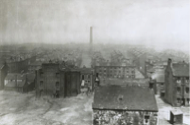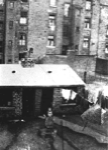 Slum housing in Garngad 1925
© Glasgow City Council
Tenement washhouse 1950s
© Glasgow City Council
Eclipse works in Garngad
© Glasgow City Council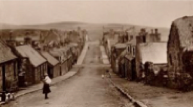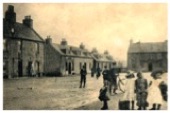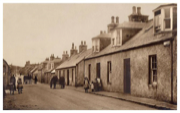 Aberchirder Main Street
© with permission from ADCA
Aberchirder Square 1900s
© with permission from ADCA
Aberchirder North Street
© with permission from ADCA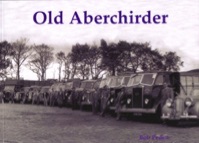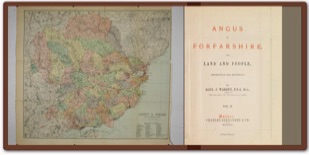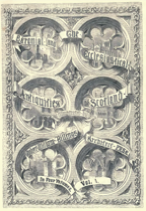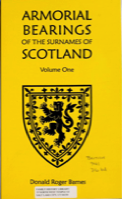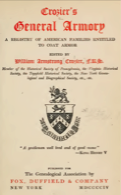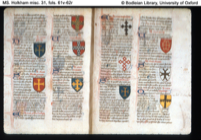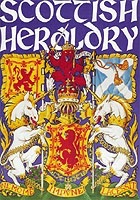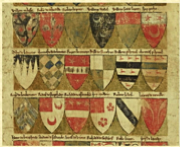 Heraldic Rolls and Coats of Arms
The trouble with genealogy is that you tend to get distracted because one thing keeps leading to another. I was looking up the Raits (or Rathes) from Rait Castle, particularly their coat of arms and as noted in the page under Raitt Coats of Arms, they are to be found in various Rolls of knights who attended a king or fought in a given battle. Most of the Rolls are very ancient – often dating from the 13th and 14th century initially and existing as both originals and copies usually in some national library. Luckily, a fair number of them have been put on the web and I have come across several useful sites in this regard. Of course, there are many web sites that deal with heraldry and its symbolism, but these particular ones have proved helpful in trying to track down the Raitt coats of arms over the centuries.
Brian Timms not only provides a description of the seventeen Rolls he consulted for his website, but he also provides examples of all the coats and who bore them. In addition to the English ones, he also covers European and other Rolls. There is also a section on seals, as well as a full glossary and a database of all the blazons. Another site features links to images from Rolls of Arms from documents produced in the Middle Ages and Renaissance. It has many examples of continental Coats of Arms as well as descriptions about them on another page, plus other information on medieval heraldry. The Heraldry Society of Scotland has a list of many different English and Scottish Armorials under the heading the Mitchell Rolls. Under each Roll, the bearer of the Coat is given together with a description of the arms and in some the date when they were granted. No images of the coats are given, but these can be found on Timm's site as well as a French site that provides the names and arms of knights listed in a number of important European Rolls. The site also has a searchable name index. The web site for Medieval English Genealogy provides a wealth of useful information on many topics. The page that is of interest here though is the one that provides links to ancient and early modern armorials in electronic form, indexes and collections, as well as seals used by those bearing the coats of arms.
The martyrs of Angus and Mearns : sketches in the history of the Scottish Reformation (1885)
Memorials Of Angus And Mearns: Being an account, historical, antiquarian, and traditionary, of the castles and towns visited by Edward I., and of the Barons, Clergy, and others, who swore fealty to England in 1291-6; also, of the Abbey of Cupar and the Priory of Rostinoth to which is added an Appendix of original documents. (1861)
Scottish arms : being a collection of armorial bearings, A.D. 1370-1678, reproduced in facsimile from contemporary manuscripts, with heraldic and genealogical notes (1881)
The baronage of Angus and Mearns, comprising the genealogy of three hundred and sixty families ... being a guide to the tourist and heraldic artist (1856)
The book of record, a diary written by Patrick first earl of Strathmore and other documents relating to Glamis castle, 1684-1689 (1890)
The British herald; or, Cabinet of armorial bearings of the nobility & gentry of Great Britain & Ireland, from the earliest to the present time; with a complete glossary of heraldic terms: to which is prefixed a History of heraldry, collected and arranged .. (1830)
Arbroath and its abbey; or, The early history of the town and abbey of Aberbrothock, including notices of ecclesiastical and other antiquities in the surrounding district (1860)
History of Banff and familiar account of its inhabitants and belongings; to which are added, chronicles of the old churchyard of Banff. (1868)
The history of the province of Moray. Comprising the counties of Elgin and Nairn, the greater part of the county of Inverness and a portion of the county of Banff,--all called the province of Moray before there was a division into counties (1882)
The history and traditions of the land of the Lindsays in Angus and Mearns, with notices of Alyth and Meigle (1882)
Ancient criminal trials in Scotland / Compiled from the original records and mss.; with historical illus. (1833)
An index, drawn up about the year 1629, of many records of charters, granted by the different sovereigns of Scotland between the years 1309 and 1413, most of which records have been long missing. With an introduction, giving a state, founded on authentic documents still preserved, of the ancient records of Scotland, which were in that kingdom in the year 1292. To which is subjoined, indexes of the persons and places mentioned in those charters .. (1798)
The peerage of Scotland: containing an historical and genealogical account of the nobility of that kingdom, from their origin to the present generation: collected from the public records, and ancient chartularies of this nation, the charters, and other writings of the nobility, and the works of our best historians ... (1764)
Antiquarian books
My father used to get his information from old books he found out about and borrowed from the local library. Many of these antiquarian books reside in old university or society libraries and are so difficult to get hold of because they are rare and out of print. Happily, they are also now out of copyright and many are being digitized and placed on the Internet. The Electric Scotland website has a large number of books about Scotland and elsewhere that may be helpful for family history research, but one of the best sites is the Internet Archive – a non-profit site that provides free access to books and other media to researchers, historians, scholars, and the general public. Founded in 1996, the Archive now includes collections in the form of texts, audio, moving images, software and archived web pages. Individuals, libraries and others can upload material to the Archive – many of the texts being scanned by Google and Microsoft. Sources for the books include American and Canadian libraries, Project Gutenberg and other collections.
The books can be viewed online (in the original layout and with search capabilities) or downloaded in various formats such as PDF, B/W PDF, EPUB, Kindle, Daisy, Full Text and DjVu. The Full Text versions have been created through an OCR program and have not been corrected – hence there are many recognition errors. Texts that have been digitized by Google are actually an image scan, thus these pdfs cannot be searched and text cannot be highlighted and copied into say a Word document, unlike non-Google pdfs.
To have access to these old books and to conduct serendipitous searches to see what one can find is fantastic. Browsing through these beautifully illustrated books is even better because there are all kinds of references to people and places which can tremendously help the amateur genealogist researching his/her family history. Some of the splendidly-titled, relevant and useful tomes I have come across include:
Aberchirder or Foggieloan
In a recent blog entry I mentioned Alexander Kelman and his family who lived in Aberchirder, Marnoch, Banffshire. Other ancestral relatives of mine also lived there and close by. So it was with real amazement and pleasure that I discovered only the other day that Aberchirder is one of the relatively few small places in Scotland to have its own website. And what a website it is – a fantastic treasure trove of local history, old maps and photographs all visible within the confines of a virtual museum! The site is made available under the auspices of the Aberchirder & District Community Association.
The museum has number of rooms, each telling its own story. There is the Foyer where basic details are provided; the Settlement section is divided into three covering the Parish of Marnoch, the Foundation of Aberchirder; and its subsequent growth. Aberchirder was founded in 1764 by Alexander Gordon, the laird of Auchintoul. The place was originally known as Foggieloan, after a nearby ferm toun (a few cottages surrounded by land cultivated by tenants). The most likely theory is that the stretch of moorland north of where the ferm toun existed (and, now, north of the village) was named Foggieloan Moss from two Gaelic words foidh (peat moss) and lon (meadow) - so Foggieloan means peaty or boggy meadow.
Another room in the virtual museum is on Religion. In the Raitt timeline, one of the events I had noted was the formation of the Free Church of Scotland in 1843. Imagine my surprise when I found out while reading in this room that it was a dispute within the church at Marnoch (objections to a new minister) that led directly to the national Disruption when the Evangelicals left the 1843 General Assembly of the Church of Scotland and set up the Free Church – of which New Marnoch Church became a member! This section also provides details of the other Marnoch churches around at that time. It is truly amazing that my ancestors may have been members of the congregation that walked out of the church service in the dead of winter and subsequently part of the process to set up a new church.
The Transport room gives a history of the transport available in and around Aberchirder (or Foggieloan) over the centuries – from the improvement of the roads with turnpikes, to the use of coach and horses, the coming of the train, and subsequently motorized transport in the form of the bus. This nicely ties in with a recent entry in Raitt anecdotes on Scorgie's Caravan which was one of the forerunners of passenger conveyancing in the district.
The next room is Foggieloan in 2000 – a photographic record of Aberchirder Burgh to celebrate the Millennium. In the Library there is a Picture gallery divided into several groups (transport, people, rural, streets and buildings, sport and leisure, village events, social evens and functions, and memorabilia) each containing a wealth of pictures both old and more recent (provided by local inhabitants). Also in the Library is a collection of poetry relating to Aberchirder and its inhabitants and also songs and music, plus an audio recording reminiscing about the village in 1910. The next room is on the history and description of Aberchirder's Coat of Arms, and the final room is a Shop with various booklets for sale.
There are more rooms, as yet unfilled, in the virtual museum. They will cover Government of Public Services, Lifestyle and Leisure, and Employment, Trade and Industry. But in addition to the virtual museum, the website also gives information on things to do and places to visit; businesses and services (e.g. accommodation, shops, leisure, and services); community groups and clubs; and local news. Presumably these components will find their way into the museum rooms.
Births, Marriages and Deaths
Without a doubt, one of the most interesting Web sites I have come across recently is that of the University of Glasgow's project by the Centre for the History of Medicine. The Web site is called The Scottish Way of Birth and Death and shows how the BMD statistics were produced. It describes the people involved in registering the data, the difficulties they experienced and some of the characteristics and peculiarities of the Scottish civil registration system. It looks at the problems of producing accurate death certificates, regular and 'irregular' marriages (including those at Gretna Green), divorce, compulsory smallpox vaccination, the compiling of the census, and the work of the General Register Office for Scotland in times of war. And it shows, as we have found in our own experience, how not everything can be taken as registered.
Following an Introduction to the Old Parish Registers, the site goes on to cover the Leading Actors, Births, Marriages, Deaths, Divorces, the Censuses, Health and Disease, Vaccinations, War and National Registration and more – all reachable from the menu at left. In the pages for these topics there is some very useful, interesting and pertinent information. For instance, the mother was responsible for reporting the birth of an illegitimate baby, and the father's name could not be recorded unless he accompanied her to the registrar's office and declared himself willing to have his name on the register, or a court had already decided that he was the father and liable to maintain the baby. Illegitimate births were very common in certain parts of Scotland in the mid-nineteenth century, particularly in the North East and the South West (indeed, in 1855 when civil registration began Scotland had an illegitimacy rate of over 9% - higher in the countryside than in the towns – and rising to some 13% in North East and South West).  Many working people did not regard this as a problem, though by the late nineteenth century, illegitimacy was regarded as more shameful, and couples would go to greater lengths to conceal the nature of their relationship.
Regarding marriage, the laws were quite different in England and Scotland. In Scotland, although banns were read, usually in both the parish of the bride as well as groom, regular marriages did not have to take place within a church building and, in fact, were more likely to take place in private homes. The section on deaths shows that doctors could be economical with the truth and were not always present to see the corpse. Stillbirths are covered as is the effect of the weather.
Under the Detailed Research heading there are a number of very apposite papers that can be accessed such as "Dead man knocking – issues surrounding medical certification of death in Scotland c1893-1960" or 'Medicine, Meteorology and Vital Statistics: the Influence of the Royal College of Physicians of Edinburgh Upon Scottish Civil Registration, c.1840-1855'.
To gain a deeper understanding of the social conditions surrounding the registration of the births, marriages and deaths of our ancestors, then this particular site gives much helpful information for the neophyte.
Glasgow
My father was born in Garngadhill in Glasgow. Sadly the name, said to derive from the Gaelic word 'Garn' meaning rough ground and the Gad burn (stream), no longer exists having been changed to Royston in 1942 following a campaign by the local schoolmaster. Royston is an abbreviation of the nearby district of Robroyston – an area reputed to be a favourite haunt of Rob Roy (Robert Roy MacGregor, 1671-1734) - a famous Scottish folk hero and outlaw.
Garngad became known as Little Ireland because of the number of Irish navies who settled in the area after 1800 working on digging canals and railways. My father and his siblings and cousins grew up then surrounded by chemical works, steel works, iron works, colour works, mineral deposits, foundries, sulphur and copper works, galvanizing works, gas works, railway goods yards, canals and so on - a real healthy environment to bring up kids! Hey, Davie, let's go and play on the slag heap or see if we can find gold in them thar mineral tips!
The whole history of Garngad and Royston, characters who lived there, politics and entertainment, churches and religion, as well as a lament to Garngad can be found on the Royston Road Project website. This project has inspired the whole community to engage in an ambitious regeneration of the area and the website provides full descriptions of the parks and buildings and schools and sports facilities that are being developed, as well as the companies involved. Indeed the site aims to be hub for local community organizations, businesses and schools.
On the Glasgow Guide Discussion Boards, Paul Kelly reminisces over his Garngad family history - recounting how many Garngad families (mine included) were relocated after the 2nd World War to new housing developments in the suburbs following the slum clearances. Quite a few other people with connections to the area have posted comments to his original post.
Another useful site for those wanting more in-depth information on Glasgow is the Glasgow Story. The site, no longer staffed, tells the story of Glasgow in words and pictures through six historical periods, including beginnings, the rising burgh, the industrial revolution, second city of the British Empire, no mean city and modern times. You can explore the subjects and images of Glasgow history using the search box - you can look for specific neighbourhoods or wards, search for streets and place names or even famous Glasgow personalities. Of particular interest are the online Valuation Rolls for 1913-1914 which can provide an insight into where your family was living at that time.
Another good source of historical information is the Genuki site which provides, for counties as well as towns, brief summaries in different areas such as archives and libraries, cemeteries, census returns, church records, court records, description and travel, emigration and immigration, family history societies, military history, parish changes, poor houses, population, schools, social life and customs, statistics, taxation, town records and much more. My interests lie in Angus as well as Banff.
Prior to 1928 the county of Angus was named Forfarshire and we can see that for Arbroath the population in 1801 was just over 9000 people, but in a mere fifty years it had added 10.000 more. The influx was undoubtedly caused by labourers coming to work in the flax and linen industries. The growth tailed off though and between 1851 and 1901 there were less than 5000 new arrivals.
*****
One final website giving excellent historical descriptions of towns and cities is British History Online. The site is searchable by regions, periods (centuries as well as important reigns), subjects (such as local history, administrative and legal history, ecclesiastical and religious history etc), and sources. The part which might interest Raitt relatives is the Topographical Dictionary of Scotland published in 1846 by Samuel Lewis. Here you can find interesting old and fairly lengthy descriptions of Arbroath and St Vigeans as well as other places of interest to some such as Glamis, Montrose, Kirkden, Kirriemuir etc.
The Gazetteer for Scotland is a comprehensive geographical encyclopaedia, featuring details of the country's towns and villages, mountains and glens, as well as maps, historical sites and events and information on family names and clans. You can browse it using place names or the historical timeline or you can do a search on any word contained therein.
The site is useful for the very good description it gives of various places. Information provided includes a short overview, with more details viewable, a historical perspective, map, plus photographs, sound, videos, user comments and additional links where available. The historical perspective is drawn from the Ordnance Gazetteer of Scotland: A Survey of Scottish Topography, Statistical, Biographical and Historical, edited by Francis H. Groome and originally published in parts by Thomas C. Jack, Grange Publishing Works, Edinburgh between 1882 and 1885. Places of particular interest to us include Arbroath (Aberbrothock) and St Vigeans.
Another excellent website telling you pretty much everything you wanted to know about Arbroath in olden times is the Arbroath Timeline site which is awash with history, people, places and dates. The menus at left provide an A-Z index plus an Instant Timeline, what happened on this day, and what happened throughout the centuries from the very beginnings to the present day. There's stuff about the name, parish changes, the abbots, population (about 2.500 in 1750 rising to a peak of about 25.000 in 1880, dropping to around 17.000 after the 1st World War and then gradually rising again).
A section on Boats and their Builders provides an overview from the 1750s – in 1851, when our great grandfathers were master mariners, the number of Arbroath registered vessels reached a peak of 118. A sub-section on Shipping In-Out gives details of various ships (trading vessels) entering and leaving Arbroath harbour from 1681 – information, where available, includes vessel name, captain or owner, cargo, dates and port - more details are included under given years.
There are details of the streets where our ancestors were born, played, married, lived, and died. Hannah Street was built before 1822 and was named after Hannah Dick, daughter of James Dick who owned land west of the harbour; Panmure Street was built before 1813 and named after Baron Panmure, Member of Parliament for Forfarshire. It no longer exists today, neither does Braikswynd which was built before 1822 but was renamed Church Street sometime before 1901. However, the name Braik lives on in the name of the new houses there. In the High Street you are treated to a veritable who's who – who owned what house, shop, business when. You can see the location of old streets on maps dating from 1822, 1859 and 1901 – and there is even a wynd finder so you can see just where Panmure Street and Braikswynd used to be.
On just about every page there are images and photos as well as a bit of music to set the scene and get you in the mood. All in all this is wonderful site in which to dip and browse and steep yourself in your ancestral town.