John Raitt, a 21 year old shepherd, is recorded departing Glasgow on 21 March 1908 for New York aboard the Caledonia. He was born in Aberdeen and listed as his nearest relative Peter Raitt of Powford, Forbes. He arrived on 30 March and his final destination was Gillette, Wyoming. John Raitt had been born on 26 April 1887 in Keig, Aberdeen to Peter Raitt and Margaret Christie (see Aberdeenshire Raitts).
In the 1910 census, he is listed as aged 23, born in Scotland (as were both parents), immigrated in 1908, working as a farm labourer in Precinct 17, Gillette, Crook, Wyoming. In his World War 1 Draft registration card dated 5 June 1917, we see that John Raitt, a camp tender residing in Wright, Wyoming, was born on 26 April 1887 in Aberdeen, Scotland and had just taken out his first papers towards naturalization. He was tall, of medium build, with grey eyes and brown hair.
It is not yet clear where John was in 1920. However, according to the local press, he married Flora Hamlin of Verse, Wyoming in a quiet evening ceremony at her brother and sister-in-law's house in Verse on Wednesday 3 October 1928. Flora Melinda Hamlin, born on 2 February 1902 in Kirtley, Converse County, Wyoming, was a teacher and John was the owner of a filling station in Gillette, where the couple would make their home. It is interesting to observe that John had managed to save enough money as a farm hand to buy a filling station (possibly only a petrol pump) in the 1920s, but then reverted to ranching a couple of years later.
In the 1930 census for Election District 20, Campbell, Wyoming there is John Raitt, 42, born Scotland, foreman on a ranch. He was married at age 41 and in the household with him is his wife Flora M., 28, born Wyoming (father born Iowa, mother Illinois); and son Keith K., 0, born Wyoming; and sister-in-law Hilda E. Hamlin, 24, born Wyoming.
In the 1940 census for Campbell, Wyoming, we find John Raitt, 52, ranch manager, born Scotland; wife Flora, 38, born Wyoming; and daughter Margaret C., 3, born Wyoming. Their inferred residence in 1935 was Rural, Campbell, Wyoming. In his World War 11 Draft registration card dated 26 April 1942, John Raitt, born 26 April 1887 in Scotland was residing 26 miles south of Gillette, Campbell, Wyoming. He was aged 55 and gave his wife Flora as the person who would always know where he was. His employer was T. W. Matthews in Spearfish, South Dakota. The card notes he was 6ft, weighed 220 pounds, had grey eyes, brown hair and a light brown complexion.
The Wyoming 2011 Centennial Farm & Ranch Yearbook yields some interesting information about John Raitt and the ranch he worked on. Under the heading "The T7 Ranch, 1881 - The Matthews Family, Campbell County", we learn that Texan Thomas Newton brought two herds of cattle north along the Texas Trail in the late 1870s to Wyoming, though the southern-bred Mexican cattle did not do well in the winter climate. Only those cattle that wintered on the river and hills surrounding the site where the farm two hands spent the winter survived. When Thomas Newton observed this he decided to make that location the headquarters of what was to be his T7 ranch. Two other facts contributed to this decision: the presence of a river and natural springs in the area; and easily accessible coal used for both heating and cooking.The first T7 buildings were constructed using locally harvested logs in the late 1870s and early 1880s. Son Thomas William recounted a story to [John's son] Keith Raitt about how afraid of Indians he was and that was enough to send his mother and siblings back to Texas in late 1882. In 1922 Thomas William converted the T7 operation from one of cattle, mules, and horses to 8,000 head of sheep. John Raitt, a Scotsman with a reputation as a sheepman, was hired by Thomas for advice and became manager of the new operation in 1928. The first herd was purchased from a ranch south of Casper, Wyoming and came with its own sheepherder. The ranch passed into the hands of the Matthews family (descendants of the Newtons) and after John Raitt died it was leased to the Hayden family from 1949 to 1954. The section on the T7 ranch concludes "To accurately recount this history of the T7, recognition must be given to others who worked that land like the cowhands and sheepherders as well as the families who made the T7 their home. The latter include the Raitts from 1928 to 1949......All have played a vital role in preserving the land and helping create its history. Keith Raitt has been particularly instrumental in preserving the history and "personality" of the early T7 because of his encyclopedic memory of the stories he heard from Thomas William and Tommy Matthews."
Undoubtedly at the urging of his younger brother John, George Raitt left for America on 8 March 1913 from Glasgow aboard the Caledonia. He was a farm servant, aged 27, going to New York and the USA was the country of intended future permanent residence. From the manifest of alien passengers required by the US, we learn a little more about him - he was a farm hand who could read and write, he was Scotch, his last permanent residence was Aberdeen in Scotland and he gave as his nearest relative his father Peter Raitt of Powford, Alford. He arrived in New York on 18 March and his final destination was Gillette in Wyoming (where his brother was).
From his World War 1 Draft Registration Card dated 12 September 1918 in Gillette, Campbell, Wyoming, we learn that George Raitt was born on 27 April 1885, aged 33, a declared alien and still a citizen of Scotland. His occupation was a stock raiser in Sussex, Wyoming, and his nearest relative was his father Peter Raitt in Alford, Aberdeen. He was of medium height and build, with blue eyes and dark hair.
We next find George Raitt in the 1920 census for Election District 6, Johnson, Wyoming where he is 32, a farmer, born Scotland in the household of Walter Seamans, 25, and his wife. His relationship to the head of household is partner (presumably in the farm).
In the 1930 census for the same place, George Raitt, 44, stockman on a general ranch, working on own account, and owning own home (a farm), born Scotland (as both parents), now naturalized, is living with his wife of six years, Pearl T., 27, born Wyoming (father Ohio, mother Missouri); and children: Margaret M., 6; Orpha P., 4; Ella J., 2; and Ellen P., 2 - all born Wyoming.
In the 1940 census for Johnson, Wyoming, living on a farm in Sussex Kaycee Road, there is George Raitt, 54, operator of a ranch; wife Pearl, 37; and children: Margaret M., 16; Orpha P., 14; and twins Ella J., and Ellen P., both 11. they were at the same place in 1935.
From his World War II Draft Registration Card, dated 27 April 1942, George Raitt, age 57, born 27 April 1885 in Scotland is living in Kaycee, Johnson County, Wyoming. The person who would always know his address was Mrs George Raitt of Kaycee and he was employed 6 miles West of Sussex, Johnson. He was 5ft 8in tall, weighed 185 lbs, was bald, with grey eyes and fair complexion. He had a scar on the forehead above the right eye and a moustache.
George Raitt died on 14 August 1967, aged 82, in Fremont, Johnson County, Wyoming and is buried in Willow Grove Cemetery, Buffalo, Johnson, along with his wife Pearl Theda (1902-2001) and daughter Ella Jean (Price) (1928-2015). His obituary noted that he was born in Scotland on 27 April 1885, and came to America in 1913 settling at Gillette. In 1918 he moved to Sussex where he ranched until his death. According to her obituary, Pearl Theda Morgareidge was born on 25 May 1902 in Buffalo, Johnson County, Wyoming and died in Cheyenne, Laramie County, Wyoming on 22 June 2001, aged 99. She grew up in the Kaycee and Sussex areas, where George was farming and she married him in Buffalo on 23 June 1923 - he was 38 and she was 21. The couple made their home on the Eychaner Ranch, east of Kaycee and bought the upper part of the ranch in 1926. Their four daughters are named in the obituary as Margaret Mae, Roberta, Pat and Georgene.
Margaret Mae "Peggy" was born on 1 April 1924 in Buffalo, Johnson County, Wyoming and died on 2 July 1985 in Lexington, Dawson County, Nebraska. Margaret May Raitt married Lewis L. Welden on 3 February 1951 in Buffalo.
Roberta is the Orpha P. in the censuses - having changed her name from Orpha to Roberta Pearl "Bobbi". She was born on 25 January 1926 in Buffalo, and died on 5 February 2018 in Casper, Natrona County, Wyoming. She married Richard B. Metcalf in Big Horn, Montana on 31 December 1945. The couple had a son, Richard, born on 31 January 1947 in Buffalo and he died on 11 October 2016 on Story, Sheridan County, Wyoming. He married Carol A. Forsberg on 30 April 1966 in Converse, Wyoming.
Twins Ella Jean "Jean" and Ellen Patricia "Pat" were born on 9 April 1928 in Buffalo. Jean died on 17 February 2015 in Sheridan, Sherdian County, Wyoming; while Pat died on 18 October 2017. Jean married Gordon Samuel Price in Custer, South Dakota on 4 October 1946 and they had a daughter Carole Jean (1951-1958). Pat married Homer Francisco on 24 May 1947 in Buffalo.
Georgene sees to have been born about 1942. She married Charles S. Leetch in Fremont, Wyoming on 9 November 1963 and they divorced in Natrona, Wyoming on 24 April 1969.
As with his brother John, details about George Raitt's early life, family and ancestors will be found on the Aberdeenshire Raitts page.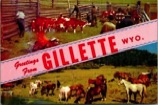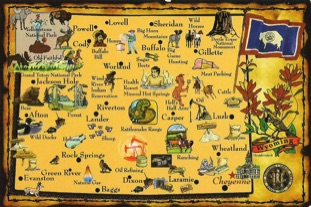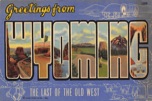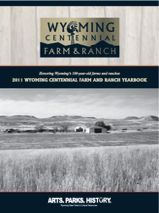 John Raitt, born 26 April 1887 died on 3 March 1949 and is buried in Gillette, Campbell County, Wyoming. Flora died 31 April 1882 in Gillette. John Raitt's ancestors will be found on the Aberdeenshire Raitts page, but I am grateful to his granddaughter, Nancy Mankin Smith, for providing me with the following information about John and Flora's descendants.
As noted above, John and Flora Raitt had two children: Keith Kilworth Raitt born on 15 October 1929, in Gillette, Campbell County, Wyoming, and died on 28 Aug 2019, in Laramie, Albany County, Wyoming; and Margaret Christie Raitt born on 20 of September 1931, in Gillette, and died on 29 October 1985 in Gillette. 
Keith married Roberta Gayle Beagle on 23 October 1949 in Gillette. Roberta was born in Gillette on 15 August 1932 and died on 8 March 2019 in Laramie. The couple had two daughters. Older daughter, Betty Jane Raitt was born on 24 September 1950 in Gillette and died in a car crash on 3 Mar 1989 in Gillette. Janie, as she was known, was married to Chester L. Wyninger who was born on 14 Feb 1943 in Independence, Iowa, and died 16 Jan 2017 in Newcastle, Weston County, Wyoming.  They had a son, Lyle, and a daughter, Sheila. Lyle D. Wyninger born on 19 Jul 1977 in Gillette, Campbell County, Wyoming, died in a car crash 29 Jan 2015 in Rozet, Campbell County, Wyoming. A veterinarian, Lyle never married. Daughter, Sheila A. Wyninger married Erick Lynn Oster and they have one son. Younger daughter, Barbara Jean Raitt born on 8 July 1954 in Casper, Natrona County, Wyoming.  She married Ronald Christensen who was born on 19 July 1953. The couple have two sons: Jacob Daniel Christensen born on 19 Jun 1978 and Luke Adam Christensen born on 6 Dec 1979.
John and Flora Raitt's daughter Margaret Christie, always known as Christie, married Charles Dean Mankin on 23 August 1949 in Gillette. He was born on 23 August 1925 in Gillette and died there on 12 February 2013. They had two daughters: Hilda Sue and Nancy Lou. Christie and Charles divorced in 1972 and Christie subsequently married John Gilbert Oedekoven in Gillette on 15 September 1974. Gilbert, as he was called, was born on 27 July 1929 in Gillette and died there on 1 April 2012. Christie and Charles' eldest daughter, Hilda Sue Mankin was born on 15 April 1951 in Sheridan, Sheridan County, Wyoming. Youngest daughter, Nancy Lou Mankin was born on 6 April 1955 in Gillette and married Bobby Gene Smith on 26 January 1980 in Gillette. Bobby was born on 11 July 1942 in Bakersfield, Kern County, California. The couple have a son, Bradley Eugene Smith, born on 31 August 1980 in Casper, Natrona County, Wyoming. Bobby also has a son from a previous marriage, Kelly Adam Smith born on 15 March 1975 in Gillette.
----------