California Raitts from South Dakota

We are used to the familiar Raitt Christian names which make it hard to trace ancestors sometimes - so my interest was piqued when I received an e-mail from one Conan Raitt from California asking help in trying to discover his family. He said his grandfather was called Gladstone Raitt and he came from England. Well - how many Gladstone Raitts were there going to be? A most unusual name and surely a cinch to find. Well, in fact, so unusual, that there is not one called by that! Luckily Conan had given me his father's name Allan - and also included his middle name, Aylmer, which was sufficiently unique to enable me to get the family right away. But which way round to start - from the ancestors or the descendants? I have elected to start with the latter and work backwards.
Conan Raitt was born in Santa Monica, California on 16 March 1971. His parents were Allan Aylmer Raitt, born 6 January 1941 in San Diego County, California, and Linda K. Rector, born 2 April 1949. They married in Los Angeles on 14 December 1969.
Allan was the son of Allan Aylmer Raitt and Maria Theresa Torres. Allan Snr was born in South Dakota on 8 Nov 1914 and died in El Dorado, California on 17 August 1964. Maria was born in Mexico about 1915. However, in the Oregon, Adoptions and Name Changes, 1876-1918 register, it would appear that Allan Alymer Raitt (present name) was adopted on 1 July 1915 by G. Clinton and Lulu Raitt in Douglas County, Oregon and that his former name was Emmit Ramsey. I presume then that it was actually Emmit who was born in November 1914 in South Dakota and subsequently given up for adoption and taken to Oregon shortly thereafter. Possibly G. Clinton and Lulu Raitt had already moved to Oregon and that is why the adoption took place there as opposed to South Dakota.
Allan Snr's (adoptive) parents were Granville Clinton Raitt and Lulu Elizabeth Searle (her mother's maiden name was Thayer) who were married in Aberdeen, Brown County, South Dakota on 26 June 1907. Both Granville and Lulu had been born in England. Granville was born on 14 November 1880 in Hordle, Lymington, Hampshire, England. According to the censuses, he emigrated to the United States in 1897. He is thus probably the Mr G. C. Raitt who left Southampton, England on 7 August 1897 aboard the Paris, destination New York. His age was given as 26 (instead of nearly 16!) and his occupation was joiner. In the marriage register, Granville's nationality was given as English, whereas Lulu's was given as American.
Lulu was born on 23 October 1883 and emigrated as a baby in 1884. She is recorded as arriving in New York from London on 11 April 1884 aboard the Erin with her parents James and Elizabeth Searle and several siblings. However, her parents and a couple of older siblings had actually emigrated in 1872 according to census information.
James Searle was a bricklayer/brickmason and in the 1880 census the family is to be found in Essex, Page County, Iowa. By 1900 the family had moved to Aberdeen, Brown, South Dakota, though wife Elizabeth, 51, seems to be widowed. In fact it turns out that James Tilliard Searle had been born on 5 October 1841 in Hersham, Surrey, England and died on 17 August 1887 in Aberdeen, Brown County, South Dakota - his wife Elizabeth (Thayers) Searle was born on 17 June 1848, also in Hersham and died on 16 October 1934 in Aberdeen.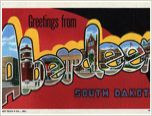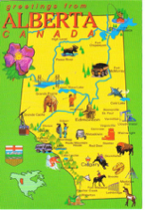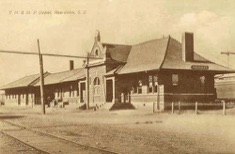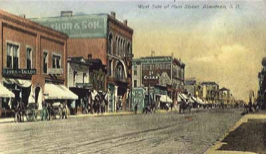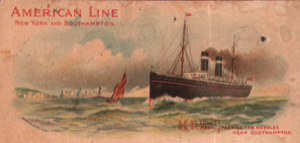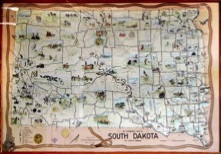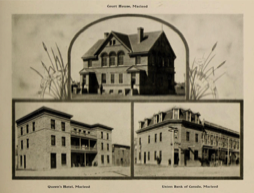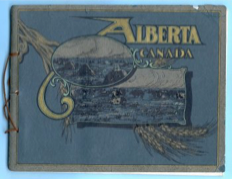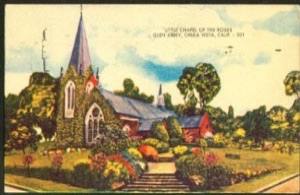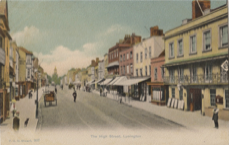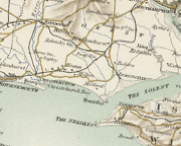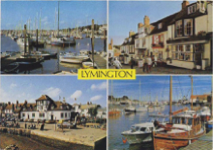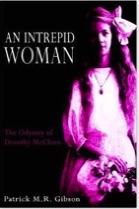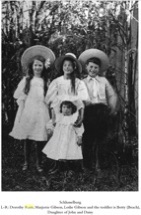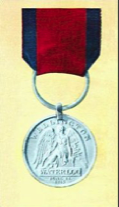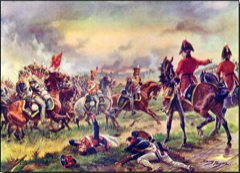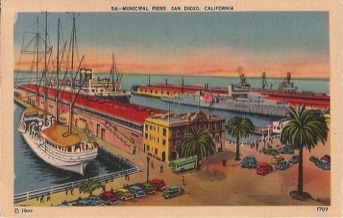 ----------
As noted above, another of Charles Robert Raitt's sons, Anastatius Robert William Raitt, was born in 1846 in Worcestershire. I had not troubled to find anything about him, however when contacted by someone in Australia looking into a South African female named Willie Fulton Raitt born about 1878, then the subsequent research yielded some very interesting information. The details of the family of Anastatius Raitt are provided on a separate page.
----------
Charles Frederick Raitt (abt 1784-1831)
The parents of Charles Robert Raitt were Charles Frederick Raitt and Louisa Alexander Crickitt (also Crickett), who married on 28 November 1807 at Blackmore, Essex, England. Charles Frederick is no doubt the one buried on 27 August 1831 in St Pancras, Middlesex aged 47 (thus born about 1784.) Louisa was the daughter of the late Charles Alexander Cricket, Esq., of Smythe's Hall, formerly Member of Parliament for Ipswich. Since his marriage was recorded in the Scots Magazine, vol 69, 1807 and since his promotion to Lieutenant was published, by authority, in the Edinburgh Gazette also in 1807, then one might wonder whether he had been born in Scotland - especially as his great grandson Granville Clinton Raitt had red hair!
Charles Frederick Raitt, Esq, was in the 13th Regiment of Light Dragoons when he was married.
The 13th Light Dragoons saw action at the Battle of Waterloo and were at the forefront of the famous charge of the Light Brigade during the Crimean War. In the London Gazette for 20 December 1806, there is an entry for Charles Frederick Raitt, Gent., was to be a Cornet by purchase. In the Edinburgh Gazette for Friday 27 February to Tuesday 3 March there is a note by the War Office dated 21 February 1807 to the effect that Cornet Charles Frederick Raitt of the 13th, was promoted to Lieutenant, by purchase, in the 81st foot. It would seem that Charles was also, in 1815-1816, the Superintendent and Agent for French Prisoners, i.e. presumably after the Battle of Waterloo.
Besides their son Charles Robert Raitt (see above) born in 1811 in Tenby, Pembrokeshire, the couple also had another son Charles Frederick Robert Raitt, christened on 27 August 1808 in West Teignmouth, Devon. The child died shortly afterwards and was buried there on 2 September 1808. As was common at the time, Charles Robert would have been named after his deceased brother. Other children of the couple were: Louisa Frederica Sarah, christened 5 Oct 1813, Blackmore, Essex; Frederick Dolby, christened same date and place (Charles Robert was also (re?)christened there on the same date.)
Returning to the possibilty that Charles Frederick Raitt may have been a Scot, then there seem to be only two infants named Charles Raitt born around 1784 in the whole of Great Britain - both, as in happens, in Kincardineshire and one in Marykirk in December 1782 and one in St Cyrus in January 1783 - both with the same name for the mother, Ann Petrie, and the earlier one for William Raitt and the later one for James Raitt. It is possible that there was a clerical error in the records and that one was the birth and the other the christening. This is explored further on the Kincardineshire Raitts page and if correct shows that Charles Frederick Raitt was the youngest child of William Raitt and Ann Petrie and thus this family not only originates in Kincardineshire (like the Manitoba Raitts) but also continues down into not only their South African Raitts detailed on the page), but also into another family in South Africa (see Anastatius Raitt).
Charles Robert Raitt (1811-1876)
As noted above, the father of Percy was Charles Robert Raitt, who was in the Army. He was born on 31 January 1811 and christened either on 5 February or 25 February in Tenby, Pembrokeshire, Wales. His parents were Charles Frederick Raitt (see below) and Louisa Alexander Crickitt. Charles Robert married Ann Hill on 14 November 1835 in Chester, Cheshire, England (though records also show 18 November 1835 in Liverpool.) She was aged 18 (born 11 March 1817, christened 16 April 1817 at the British Chaplaincy, St Petersburg, Russia) and he was 21 (born 1814) and her father was named as Henry Hill. From censuses we learn that Ann's mother was called Anna and her father had been a merchant. Charles died in in Hordle, Hampshire in 1876 aged 64, his death being recorded in the second quarter at Lymington, Hampshire. His wife Ann was the executor of his will.
Charles and Ann had several children: Charles, 1837; Frederick Alexander, born 23 Jan 1839, Wollongong, New South Wales, Australia (see below); George Edward Frank, born 16 Aug 1841 Chatham, Kent; Arthur Wellesley Plaistowe, born 13 March 1843, Sydney, New South Wales; Anastatius Robert William, christened 12 Sept 1846, Bengeworth, Worcestershire (see below); Edith Mary, born 1849, Evesham, Worcs.; Annie Emily Francis, born 1851, Lymington, Hants; and Percy Clinton, born 1853, Lymington, Hants.
In the 1841 census for Ordnance Terrace, Chatham, Medway, Kent, England there is Charles Raitt, 30, Captain in the 80th (Army); wife Annie, 20; and children: Charles, 4; and Frederick, 2.
In the 1851 census, for Amewood, Downlands, Hordle, Lymington, Hampshire there is Charles Robert Raitt, 39, Major in the Army, born Tenby, Pembrokeshire; wife Annie, 34, born St Peters burgh, Russia (British subject); children: Anastasin, 4, born Evesham, Worcestershire; Edith M., 2, born Evesham, Worcestershire; and Annie S., 1m, born Hordle, Southampton. Also in the household is Sarah Hill, 57, mother-in-law, merchants widow, also born St Peters burgh, Russia (British subject). There is also a visitor named James Westmacott, 27, married, a sculptor, born London, Middlesex. In the 1871 census Edith is staying with his family in London and is said to be a niece.
In the 1861 census for Downton, Hordle, Lymington we find Charles Raitt, 49, Colonel, Army, Retired, born Tenby, Pembrokeshire; and wife Anne, 44, born St Petersburg, Russia. At this date their children Percy, Edith and Annie were at boarding school nearby.
In the 1871 census for Downton Lodge, Hordle, Lymington, there is Charles Robert Raitt, 59, born Pembrokeshire; wife Annie, 54, born St Petersburg, Russia (British Subject); and daughter Annie Emily, Francis, 20, born Hordle, Hampshire.
As noted, Charles Robert Raitt was an Army man. He was in the 80th Regiment of Foot (or Staffordshire Volunteers) - the badge of which was a Sphinx with the word Egypt. The record for serving in New South Wales, Australia in 1837 shows that he had 10 years service on full pay. He became a Cornet or Ensign when entering the Army on 13 June 1830, and was promoted (by purchase) to Lieutenant on 4 October 1833, Captain on 22 June 1838; and Major on 29 October 1841 (though apparently he was a Brevet-Major on 10 January 1837 - and Brevet-Colonel when he retired - Brevet, however, denotes an Officer's rank in the entire British Army, which may differ from the Officer's rank in his actual Regiment.) It seems he exchanged his position to go on half-pay Unattached from 21 March 1845 (meaning that he was unattached from any specific regiment - this left him free to work and still be paid, but liable to be posted to any regiment the Army needed him in.), but then he was promoted to Lieutenant Colonel on 11 March 1851 and then as Lieutenant Colonel on on half-pay Unattached he was promoted to be Colonel on 9 August 1854, which took effect as from 28 November 1854. He sold out to settle in Canada on 6 May 1859. (The purchase of officer commissions was quite common in the Army and later selling it to the next most senior officer was also fairly common. Charles would have had to have given a reason for selling his commission in order to get permission, which wasn't easy, and emigrating to Canada was an acceptable reason at that time. Since he is recorded in the 1861 census in Lymington, then he obviously didn't settle in Canada!)
On 12 February 1837, Allan Cunningham arrived from England in Port Jackson, Sydney, Australia aboard the convict ship Norfolk to take up the post of Colonial Botanist. He was accompanied by Captain Bowler and Lieutenant Raitt of the 80th Regiment and their wives and families. In total there were 280 men embarked, two of whom died during the 105 day voyage. The Surgeon Superintendent, John Inches, kept a Medical Journal from 30 October 1836 when the Norfolk sailed from Spithead until the date of arrival. He reported that they had had an excellent run out of the Channel and fine weather. All the prisoners were healthy except one. Towards the end of November there were a few cases of scurvy which were treated with lime and wine. One passenger died. Two hundred and seventy eight convicts arrived in Port Jackson on 11 -12 February 1837 and according to the surgeon, the prisoners were very orderly and clean on the voyage out. The military Guard consisted of 29 rank and file of 28th regimentand 80th regiment under command of Captain Bowler and Lieutenant Reitt (sic) of the 80th. Other convict ships brought further detachments of the 80th regiment. On their arrival, according to a report in The Australian for 14 March 1837, Cunningham, Bowler and Raitt presented Captain Gatenby of the Norfolk with a silver snuff box and a vote of thanks, which he duly returned. Although there was a rumour that Charles Robert Raitt was the last Governor of the convict colony near Sydney, this has not been corroborated by the records of the State Library in New South Wales.
However, it is clear that Charles spent some time in Australia after his arrival in February 1837 as he had a son born there in January 1839. It looks as though he returned home to England where his second son was born in 1841. However, according to the Shipping Intelligence section in The Australian for 28 November 1842, the barque Marquis of Hastings, master Biddle, arrived from Hobart Town on 17 November with stores, The passengers included: Dr. Bryson, surgeon superintendent, Major Raitt, 80th Regiment, Mrs. Raitt and three children, Ensign Holditch, twenty-nine rank and file of the 80th Regiment, four women and three children. It seems as though Charles sent his luggage on ahead, for the barque arrived from London on 26 October 1842 carrying for 18 boxes of apparel for Major Raitt. Not long after he arrived he was a guest at the Mayor's first Civic Banquet to the Citizens of Sydney on 21 December 1842.
He was in Australia long enough to have another son born, and the family is recorded as departing Port Jackson (Sydney) on 15 August 1844 on the barque Lloyds bound for Calcutta with stores and passengers. He is listed as Major Raitt and with him is his wife and four sons. Accompanying him were one Captain and his wife, two Lieutenants and one wife, two Ensigns, an Assistant Surgeon, six sergeants, ten corporals, two drummers and 195 privates plus 22 women and 23 children. His 80th Regiment in the City (of Sydney) was being replaced by the newly arrived 99th Regiment and a detachment of the 58th and the regiment left for Calcutta in a total of four ships - one of which was shipwrecked on the Andaman Islands in the Bay of Bengal in November 1844. The regiment arrived in India just as the conflict in the Punjab later known as the First Anglo-Sikh War broke out.
Percy Clinton Raitt (1853-1883)
Granville Clinton Raitt's parents were Percy Clinton Raitt, born 28 November 1853 in Hordle, Lymington, Hampshire, and Nina Gertrude Close, born 23 March 1859 (christened 15 April) in Poona, Bombay, India. Percy died on 20 June 1883 and his death was registered in Christchurch, Hampshire on. He was 29. His marriage to Nina occurred on 19 August 1879 in the parish of St James, Paddington, Westminster (London), England. His age was given as full (i.e. over 21), whereas Nina was designated minor. He was a bachelor and a lieutenant in the Royal Navy; Nina was a spinster, not employed. Percy's father's name was given as Charles Robert Raitt, Colonel, 80th Regiment; and Nina's was given as Granville Close, with profession or rank given as R.E. (In fact he was a lieutenant colonel on half pay from 20 June 1866 in the Royal (Bombay) Engineers. He became an ensign on 11 Dec 1846, lieutenant on 15 Feb 1854, captain on 27 April 1858, and lieutenant colonel (missing out major) on 14 April 1865.) Nina's residence was 14 Devonshire Terrace, Hyde Park (London) and Percy's was simply Parish of Hordle, County of Southampton. Nina's birth record notes her parents were John Baptist Granville Close and Nina Grace (Nina Grace Close died in Lymington aged 40 (thus born about 1834) was buried in Boldre, Hampshire on 19 August 1874.) Granville was obviously named after his maternal grandfather.
Although not appearing in the censuses alongside his parents, Percy was one of several children born to them.
In the 1861 census Percy C. Raitt, aged 7, born Lymington, is a scholar at a school at 98 High Street, Lymington. His two sisters are also pupils nearby at Stanwell House Ladies School, 15 High Street, Lymington - Edith Raitt, 12, born Evesham, Worcester, England; and Annie, 10, born Lymington.
In the 1871 census Percy C. Raitt, age 17, born Lymington, is onboard a vessel at Bourn, Devon, England.
In the 1881 census for Dowton Lodge, Hordle, Lymington, Hampshire there is Percy Raitt, 27, Lieut R.N. Retd, born Hordle, Hampshire; wife Nina, 22, born India; son Granville, 0, born Hordle; and sister Annie, 30, born Hordle. also in the household is a nurse (domestic), cook (domestic) and house/parlourmaid.
In the 1891 census for Crest Hill Road, Lewisham, London, Granville C. Rait, age 10, born Hampshire, is at a boarding school. Where his widowed mother Nina was is not yet known. However, in the 1901 census for Ober Road, Brockenhurst, Lymington, Nina G. Raitt, widow, 45, born India is living on own means as a boarder. Granville is not found in the 1901 census since he had already gone to America. Nina is not found in the 1911 census - Granville, of course, was residing in South Dakota at this time.
Percy Raitt joined the Royal Navy, enrolling on 2 May 1867, when he was just 14. He started off as a cadet, then midshipman, then sub-lieutenant and achieved the rank of lieutenant in 1878. He was a bit of a lad - deprived of one month's time for misconduct in November 1870, and then deprived of two months time for copying at examinations in March 1872! He retired on half pay, though still on active service, was refused permission to retire on 21 September 1880, but then became fully retired at own request from 30 September 1880, probably due to ill-health as he had already been on shore sick leave earlier. The record of his career will be found on the Other Raitt Mariners page.
When he died, Percy's personal estate was £152 7s. The probate record for 6 September 1874 reads " The Will of Percy Clinton Raitt late of Downton Lodge Hordle in the County of Southampton Esquire who died 20 June 1883 in Bournemouth in the said County was proved at the Principal Registry by Nina Gertrude Raitt of Downton Lodge Widow of the Relict the sole Executrix."
Nina herself left a sizeable estate. The record states "Nina Gertrude Raitt of "Leeside" Lee-on-the-Solent Hants died on 18 June 1906 at New Milton Hants Administration (with Will) (Limited) London 5 September to Aylmer Mac Iver Campbell retired colonel in the Indian-Army the attorney of Graville (sic) Clinton Raitt Effects £1834 10s 8d." With no punctuation it is not clear whether the estate was left to Aylmer Campbell himself or to Granville. However, it is most likely after his attorney, presumably a close friend of the family, being an Indian Army man, that Granville named his adopted son Aylmer.
Although there seems to be no records of them re-entering the United States, by 1926 the family was in California where Granville C. Raitt and wife Lulu E. are listed in the U.S. City Directory as living at 1018 Sicard. He seems to be working at a service station at 2295 National Avenue. They are at the same address in 1927-29. But by 1931 they were living at 215 Fig Avenue, also in 1932. In 1935 they are living at 2686 Newton Avenue, San Diego where he is still working at a gas station. He is named in the San Diego voting lists for 1928, 1934, 1936 and 1942 (where he was living, retired, in Ada St, Chula Vista.)
In the 1930 census for Chula Vista, San Diego we find Lulu E. Raitt, head, age 46, married, born England, emigrated in 1884. G. Clinton Raitt, head, 49, married, born England, emigrated in 1906 is recorded at a different address in Chula Vista - he was the owner of a service station and thus was on the premises at the time of the census.
Also in the 1930 census for Chula Vista is Allan A. Raitt, aged 15, single, born South Dakota who is a roomer with a Japanese family. He has no occupation.
Granville and Lulu are not yet found in the 1940 census. However, there is a draft registration card for Granville Clinton Raitt, born 14 November 1880 in Hordle, Hampshire, England. His age was given as 61, he was self-employed and his place of employment was given as RT 1, Box 258, Chula Vista, San Diego. His place of residence was the same address. The name and address of the person who will always know his address was given as Allan Aylmer Raitt, 927 E. 28th St, National City, California (rather than wife Lulu!)
In the 1940 census Allan A. Raitt is living at 4277 Estrella St, San Diego - he is aged 25, married, and was a finisher in an aircraft factory. His wife is named as Mary J., age 25, born Mexico. They were at the same address in 1935.
Granville Clinton Raitt died on 5 April 1946 in San Diego and his wife Lulu died in Los Angeles on 22 March 1963.
Eighteen months after the birth of their son Allan at the end of 1914, the couple moved to Canada. Geo. C. Raitt (presumably Granville), by now an American citizen, is recorded as crossing the border at Kingsgate, British Columbia on 12 April 1916, occupation farmer, aged 35. He had come from Sutherland (i.e. Sutherlin), Oregon and was going to Warner, Alberta. Mrs G. C. Raitt, 32, farmer's wife and her son Allan Raitt, 4, crossed the border at Kingsgate a month later on 10 May 1916.
The family appears in the 1916 Canadian census for Alberta, Canada. They were living in the Village of Warner, Lethbridge, Alberta. Granville C. Raitt was aged 35 and a drayman; and wife Lulu Elizabeth, was 32. Both were born in England. Their son Allan Aylmer was 1 and was born in the United States. All three had American nationality and had arrived in Canada in 1916.
In the 1921 Canadian census they were living in McLeod, Alberta. J. Clinton Raitt was aged 40, a manager in an oil company; wife Lulu E. was 33; and son Allan Alyrne was 6. The census also reveals that Granville's mother was born in India, though his father was born in England. Both of Lulu's parents were born in England.
Granville is recorded as arriving in Southampton, England on 23 September 1906 from New York aboard the St Paul, travelling 2nd class. His age was given as 24 and his occupation was policeman. He is recorded as returning to New York on 21 Oct 1906 from Southampton aboard the St Louis, having left on the 13 October. His occupation was listed as policeman, his age 25. His destination was Aberdeen, South Dakota. His last place of residence in the UK was Durham and his nationality was given as Great Britain (implying he had not yet acquired American citizenship). He was 6ft 10 inches tall, of fresh complexion, with red hair and hazel coloured eyes. His place of birth was listed as Hordle, Hants. The reason for his short trip is not known - possibly a funeral or marriage.
He must have moved from New York to South Dakota almost immediately upon arrival in the United States, because although I am unable to find him yet in the 1900 census, as Clinton Raitt he was living in Aberdeen, South Dakota in the state's 1905 census. And he had been in South Dakota for eight years. He was single, aged 22 and his occupation seems to be stack (?) driver. Why he actually went to South Dakota in the first place is not known, though he obviously changed occupation in 1905-1906.
In the 1910 census for Aberdeen Ward 2, Brown, South Dakota, Clinton Raitt, 29, married, born England, was a roomer. He had no occupation at the time. Where Lulu was is not yet known.
Granville Clinton Raitt was drafted during the 1st World War. His draft registration card for 1917-1918 gives his date of birth as 14 November 1880; his age as 37; his permanent address as Sutherlin, Douglas, Oregon; permanent occupation as farming and drayline; place of employment as Warner, Alberta, Canada; nearest relative as Mrs Lulu E. Raitt in Warner. It notes he was tall and of slender build. The date on the card is not fully decipherable, but looks like 3 Oct. 1915. If it is 1915, then this may explain why Granville and his wife do not appear in the 1915 State census for South Dakota.
----------
Charles Robert Raitt's son, Frederick Alexander, born near Sydney, Australia was a midshipman in the Royal Navy during the Crimean War and eventually settled in St Petersburg, Russia - the birthplace of his mother - where he lived the greater part of his life, although spending some summers back in Lymington. Whilst in St Petersburg he met and married Edith Mary Henley. Their son Frederick Henry Raitt married Louisa Mary McCallum when he was 24 and their daughter Dorothy was born in a flat on Vailievsky Ostrof, one of the islands that were part of St Petersburg, on 16 June 1900. The story of her life and childhood has been told in a book entitled An Intrepid Woman. The couple are recorded as travelling from Chinqangtao, China to Southampton aboard the Highland Chieftain and arriving on 12 March 1846. Frederick Henry, 73, is a retired merchant, and Louisa Mary is aged 75. Their last country of residence was China and their intended country of residence was Wales, though their proposed address in the UK was Sidmouth, Devon.