Herbert George Taylor - Grenadier Guards

My maternal grandfather, Herbert George Taylor, was accepted into the Army on 29 August 1905. The form for Short Service (3 years with the Colours, and 9 years in the Reserve (If the man completes his 3 years service with the Colours while beyond the seas, he will be sent home, with all convenient speed, for transfer to the Army Reserve.) gives the Attestation of No. 12328, Name: Herbert George Taylor, Corps: Grenadier Guards. The questions put to him before Enlistment reveal that he was born in the parish of Bidford, in or near town of Stratford on Avon, in the county of Warwickshire. He was a British subject, aged 18 yr s6 months, his trade or calling was Porter (Railway), and he had not resided out of his Father's house for three years continuously. He answered no to a number of questions relating to apprentice, marriage, imprisonment, previous service etc and yes to the question of whether he was willing to be (re) vaccinated. He was willing to be enlisted in the Grenadier Guards and he understood that there was no guarantee that he would serve with that Corps. He signed the declaration and had taken the oath of allegiance on 29 August 1905 in Gloster (Gloucester). He was considered fit for the Army the same day. His Description on Enlistment showed that his height was 5ft 11¾in, weight 148 lbs, girth when fully expanded 36½in, with a range of expansion of 3in. (After six months' service and gymnastic course, his height was 6 ft ½in, weight was 165 lbs, girth was 35½in with an expansion of 2in.) His complexion was fresh, his eyes were grey, his hair was light brown and his religious denomination was given as Church of England. On 1 September 1905, following a primary military examination, he was certified fit for service in the Grenadier Guards.
The form for Descriptive Return of soldier desirous of extending his period of Army Service to complete 7 years with the Colours shows that Private Herbert George Taylor, Regimental no. 12328, in the 2nd Battalion Grenadier Guards Regiment, stationed at Wellington Barracks, London SW, had 2yr 11m service towards engagement, was of good character, and his Army Service would expire on 28 August 1908. He was desirous of extending his Army Service to complete 7 years with the Colours and being considered fit for further service, this was approved by his Commanding Officer on 13 July 1908 and his service then continued until 28 August 1912, when he was transferred to the Reserves.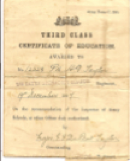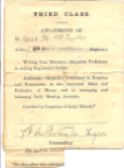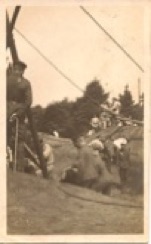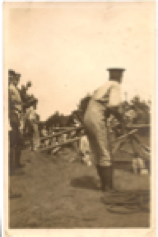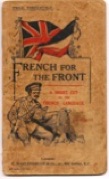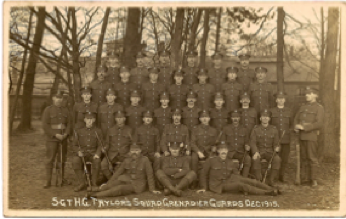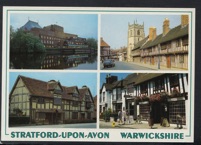 Although on his discharge papers in 1912 Herbert's conduct and character was said to be good, his Regimental Conduct sheet reveals some ups and downs in his behaviour! He was clearly a bit of a lad in his early Army years! Herbert was attested on 29 August 1905 and joined the 2nd Battalion, Grenadier Regiment of Foot Guards on 2 September 1905. On 28 April 1906, he was found guilty of an offence of committing a nuisance in the barrack room in London and damaging two pieces of coir fibre bedding and was confined to barracks for ten days from 28 April to 7 May. On 24 March 1907, he was sentenced to a further ten days confined to barracks in Aldershot (25 March to 3 April) for committing a nuisance in his bed, damaging one piece of coir fibre bedding, one blanket and two sheets. On 8 December 1907 he was given eight days (9-16 December) confined to Barracks in London for vomiting in the barrack room and damaging one blanket. Two years later, in London on 21 October 1909 he was found drunk when parading for policy duty about 8pm, violently resisting escort, and being admitted to hospital with the itch. He was admonished on 30 October and forfeited a good conduct badge. In London on 17 June 1910, for missing a general swabbing and speaking improperly to an Non-Commissioned Officer he was confined to barracks for ten days from 18-27 June. While in Aldershot on 4 May 1911, he was sentenced to a further eight days confined to barracks (6-13 May) for conversing with females during field operations. In Windsor on 10 March 1912, he was confined again to barracks this time for 14 days (11-24 March) for neglect of duty when sentry on no. 4 post (the canteen) between the hors of 12:45pm and 2.30pm and in allowing beer to be taken out during prohibited hours. Again in Windsor, just a couple of weeks later he was confined to barracks for eight days (13-20 April) for making away with his clothing. From Windsor he was transferred (probably thankfully from his point of view) to 1st class Army Reserve on 28 August 1912.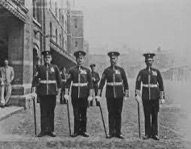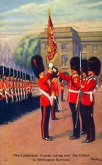 From his Medical History sheet for this period it is stated that he enlisted on 29 August 1905 at Gloucester and was examined there the same day. His birth place was the parish of Bidford, Warwickshire and he was aged 18y 6m and a railway porter He was 5ft 11 3/4in tall, weighed 148lbs and a chest measurement of minimum of33 1/2 in, and maximum of 16 1/2 in. He had four vaccination marks on his left arm - in infancy and 1903; he was revaccinated twice in his left arm on 12 September 1905, but the result was a failure. He joined the 2nd Battalion Grenadier Guards as a private with service number 12328 on 2 September 1905. From his station in Millbank, London he was admitted to hospital on 24 October 1907 and was discharged on 9 November after 17 days in hospital with tonsillitis. Following an examination for his extension of service on 15 July 1908 he was found fit. In Hounslow he was admitted to hospital on 26 December 1909 with scabies and being contagious he spend four days in hospital before being discharged on 29 December. He found himself in hospital again with scabies on 6 May 1910 and after six days contagious was discharged on 11 May. On 12 March 1912 at Windsor, he was revaccinated four times with a successful result this time.
The form for Proceedings on Transfer to and Discharge from the Army Reserve of Private Herbert George Taylor. 2nd Battalion Grenadier Guards, dated 28 August 1912, noted that he was transferred to the Reserve on the expiration of his Army service. His conduct and character while with the Colours was Good. The trade or employment desired in civil life was given as Police. And under other qualifications for employment in Civil Life, it was noted that he was sober, clean and hardworking. He had no Grenadier Guard badges nor medals and decorations. His Classification Proficiency Pay was 6d per diem 1st class. He had a 3rd class certificate of education, a position on the roll of N.-C. officers, and a musketry classification, signalling qualification, and was an assistant instructor - all 1st class. He was found medically fit for service with a certificate being signed by the medical officer in Windsor. Under Description on transfer to Army Reserve, his age was given as 25 years, 6 months, he stood 6ft ½in without boots, had a chest measurement over waistcoat of 37 in, waist measurement over top of trousers 34 in, exact size of helmet 21¼in, size of boots 9 normal. He was of fresh complexion, with grey eyes, and light brown hair, and no descriptive marks. His trade was railway porter, and his intended place of residence was Box Cottage, Hartpury, Glos. The Statement of Service on Transfer to Reserve gave 7 years 0 days and was confirmed on 29 August 1912 by the Commanding Officer, Grenadier Guards, in London.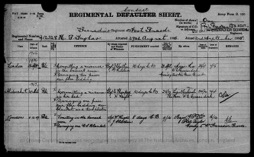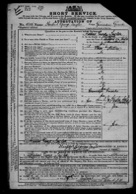 Whilst in his new career as a police officer, Herbert was mobilized at London on 5 August 1914 and subsequently transferred to the Grenadier Guards depot at Caterham, Surrey as a Sergeant-Instructor being in possession of all the necessary certificates. In early 1918 he was sent to France as Platoon Sergeant in the 2nd Battalion Grenadier Guards (D or No. 4 Company) where he was transferred to the Guards Division Base. He was apparently mentioned in dispatches for conspicuous gallantry between St Python and Vertain. His wife received a certificate about it in a letter dated 13 November 1918. He was to be put forward for the Military Cross but his officer commanding was killed before he could complete the paperwork. Herbert was apparently hit in the back by an exploding shell in France but was wearing his back pack which softened the blow. He brought the shell home with him and it is still caked in the same mud from that time to this day.
According to his Military History sheet for service at Home and Abroad, Herbert was based at home (England) from 29 August 1905 until 31 March 1918, when on 1 April 1918 he joined the expeditionary force in France, remaining there until 3 January 1919 and coming back to England (home) on 4 January 1919. The sheet notes he was not educated at either the Duke of York's Royal Military School, the Royal Hibernian Military School, the Industrial School under Home Office or Local Government Board. However he did obtain a 3rd class certificate of education on 19 December 1907. He was awarded the British War Medal and the Victory Medal. His next of kin was his father Walter Frederick Taylor, 27 Alvin St, Gloucesters, mother's name was Ellen, and also listed were his brother Ernest, and sisters Mabel and Doris - all residing at the same address. Regarding the particulars as to marriage, his wife was named as Jean Lindsay, they were married at the Registry office at St Georges, Hanover Square [London] on 28 October 1910 by Minister or Registrar Harvey Hamilton, and the names of two witnesses were given as B. E. Bartholomew and Ralph Richards.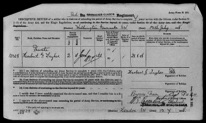 According to his Statement of Service, Herbert's service towards limited engagement reckons from 29 August 1905 when he was attested a private in the 2nd Battalion, Grenadier Guards which he subsequently joined at London on 2 September 1905. He extended his service to complete 7 years with the colours on 13 July 1908. On 29 August 1912 he was transferred (to the Reserves, A Company) on the expiration of his period of army service as a private, but he reverted to private on 29 August 1913 in B Company and was mobilized at London (Chelsea Barracks) on 5 August 1914. On 21 September 1914 he was appointed Lance Corporal, then acting paid Lance Corporal on 21 January 1915 and acting Corporal on 19 June 1915 - both in London and on Battalion Orders. On 12 November 1915 at Caterham depot he was appointed acting Sergeant on Depot orders in D Company and promoted to Corporal on 16 November 1915. He then was appointed paid Lance Sergeant on 21 September 1917 at Caterham on Captain's orders, but retained the rank of acting Sergeant and reverted to acting paid Lance Sergeant on 11 December 1917, but appointed paid acting Sergeant that same day on transfer to complete establishment in the 5th (Reserve) Battalion, Grenadier Guards when he assumed duties with pay on 15 December 1917 on the orders of the Adjutant, Grenadier Guards. His medical record shows that on 21 March 1918 at Chelsea Barracks it appears he was signed off after a TAB (Tactical Advance to Battle) - a common military exercise comprising a relatively fast march over distance carrying a load. Presumably this was in preparation for his pending service in France. The high number of casualties in the field late in the war meant that every able-bodied man, including instructors and reservists, had to go to France.
On 28 March 1918 he was confirmed in the rank of Sergeant and on 31 March 1918 he is listed as a Sergeant (ACS 283 of 1918). Herbert embarked at Southampton on 31 March 1918, disembarked on 1 April 1918 and was posted to the 2nd Battalion Grenadier Guards as Sergeant i/c No. 16 Platoon, D (No. 4) Company and joined the Guards Division Base Depot on 3 April (No. 4 Company was billeted in Boiry St Martin, near Arras.) A description of the action in France in which he was involved is given on a separate page. The record states that he continued in the Service under the Military Services Act, 1916 retaining tahe rank of Sergeant from 29 August 1918. He was granted leave to the UK from 4 September 1918 until 4 October 1918, and rejoined his Battalion on 7 October. On 3 January 1919 he embarked at Dunkirk for demobilization in England and on 4 January he was issued with a Protection Certificate and Certificate of Identity (for a solider not remaining with the colours) from the Dispersal Unit, North Camp, Ripon, Yorkshire. The certificate gave his name (Taylor, Herbert George), rank Sergeant) and number (12328), unit (2nd Battalion) and Regiment (Grenadier Guards). he noted he had received an advance of £2 and his address for pay was 51 Albion Road Rotherham. The form states the theatre of war was France, that he was born in 1887, his medical category as A!, that his place of joining in case of emergency was Chelsea and that his specialist military qualifications were as a gas expert (he received instruction in Chelsea) and general. He was granted 28 days furlough as from 4 January 2019 after which date uniform should not be worn. On 1 February 1919 he was transferred to Section Z Army Reserve on demobilization, but not discharged on demobilization until 31 March 1920. The form shows that he, as a Sergeant, was awarded a £20 bounty under Army Order 209/1916 of which it seems that the amount of £6 13s 4d was issued at that date. Whether and when he received the balance is not recorded.