My mother's father was Herbert George Taylor, born 22 December 1887 and baptized in the parish of Temple Grafton, Warwickshire on 5 February 1888. Herbert was the eldest child of Walter Frederick Taylor and Ellen Clark who married in Exhall, Warwickshire on 26 June 1886 (see below).
Herbert George was said to have began his career as a telegraph boy at the age of 13. He apparently ran away from home twice, became a railway porter and then joined the army (Grenadier Guards) on 29 August 1905 aged 18½. Why he chose to enlist in the Grenadier Guards is not known. In 1907 he was in the Grenadier Guards 2nd Battalion and stationed at Aldershot, Hampshire; Pirbright, Surrey and also at Wellington Barracks, Westminster just near Buckingham Palace. He met his wife-to-be Jane Lindsay in Hyde Park while on sentry duty. The penciled postcards he sent from the barracks in Aldershot to Miss Lindsay, c/o Mrs Raeburn in London during 1910 and 1911 indicate how he missed his "Dearie" during all the preparations and training in the run up to the 1st World War. Not yet found in the 1911 census, he was presumably in the barracks at Aldershot. Herbert married Jane Lindsay on 8 August 1912 at St George, Hanover Square, London and he had a brooch made for her from his first coin pay with the Grenadier Guards.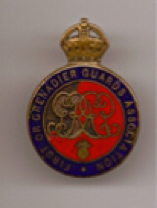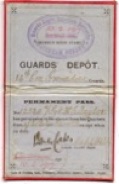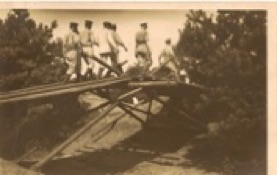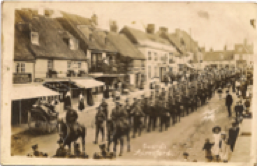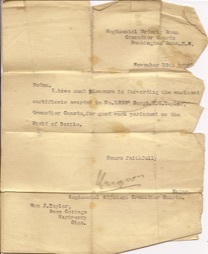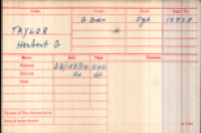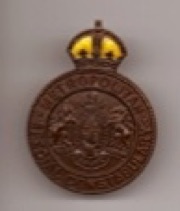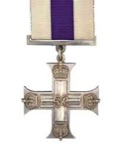 On his return from France in January 1919, Herbert resumed his interrupted service with the Yorkshire Borough Police Force. He was badly beaten up during a miners' strike where he was repeatedly kicked by miners wearing steel-tipped clogs. As a result he spent six months in hospital recovering, and which necessitated his retiring from the police in 1928. He also suffered from shell-shock (post traumatic stress disorder) for some time following his return from France and would often grab his rifle and run outside shouting at non-existent German soldiers. On one occasion he disappeared for a week and was eventually found in a wood. Herbert was secretary of the Rotherham and District Rifle Association and Municipal Rifle Club of which he was one of the founders. He also won several marksman shooting medals from competitions held at Bisley, Woking, Surrey.
In the 1921 census Herbert and family is living at 2 Clifton Grove, Rotherham. In the household is Herbert George Taylor, age 36 years 6 months, born Bidford Warwickshire, occupied as a police constable employed by Rotherham County Borough Police; wife Jean, age 35 years, 4 months, born Menmuir, Forfarshire, doing home duties; daughter Dorothy Jean Taylor, age 10 months (alive), born Rotherham, Yorks; and Albert Lindsay, brother-in-law (younger Jean's brother), single, age 19, born Inshewan, Forfarshire, working as a metal turner employed by A. T. Green & Sons, Engineers, Iron & Brass Founders in Northfield Rotherham. Also in the household are two boarders: Arthur Ladlam Widdowson, single, age 28 years, 6 months, born Rotherham, out of work, but employer given as Messrs Steel, Perch and Toyer (steel makers) in Ickles, Rotherham; and Victor Peal Widdowson, single, age 22 years, 4 months, born Rotherham, employed as a draughtsman with Messrs Guest & Chrimes Ld. (Brass Founders etc) in Rotherham.
On 5 August 1914 Sergeant Taylor was transferred to the Grenadier Guards depot at Caterham, Surrey as a Sergeant-Instructor being in possession of all the necessary certificates. Because of the high number of casualties being suffered by the Army in France during the war, every able-bodied man, including instructors and reservists, had to be sent to the France as reinforcements. Accordingly, on 1 April Herbert arrived in to France as a Sergeant to join the 2nd Battalion Grenadier Guards (14th Company). The 2nd Battalion, which had been fighting in France since August 1914, saw heavy action at close quarters with the enemy in which Herbert himself was clearly involved. He was apparently mentioned in dispatches for conspicuous gallantry between St Python and Vertain. His wife, Jean, received a certificate about it in a letter dated 13 November 1918 as she mentioned in a letter to him (the certificate appears to be lost). Apparently, he was to be put forward for the Military Cross but his officer commanding was killed before he could complete the paperwork.
After his seven year period of service in the Grenadier Guards ended, Herbert joined the Metropolitan police force in London and was then posted to the Borough Police Force, West Riding, Yorkshire in 1912 where he was promoted to Sergeant. A piece about him in the local paper noted that he has done good work in the Force, having been instrumental in bringing about several important betting prosecutions. The extraordinary care he took in gathering evidence in these cases marked him as an officer who was thorough in carrying out his duty. On one occasion he concealed himself in a tool chest for 24 hours, from which he kept observation on a betting house. There was a subsequent prosecution and conviction.
Herbert was apparently hit in the back by an exploding shell in France but was wearing his back pack which softened the blow. He brought the shell home with him and it is still caked in the same mud from that time to this day. He was awarded the Victory and British medals. Herbert's service and medical records are given on a separate page, together with some description of the action at the front in France in which he was involved. Family legend has it that he was appointed Acting Company Sergeant Major, but I have found no evidence of this. However, there are no details of his service in France apart from his arrival and departure, and given the number of casualties in his Company, it may very well be that he was temporarily made up to that rank. In a little Soldier's Word and Phrase book for French and German, which belonged to him, on the inside cover is written Acting Company Sergeant Major H. G. Taylor in his daughter's (my mother) handwriting. In another family anecdote it seems that he was nicknamed Brassy because he was the smartest man in the regiment!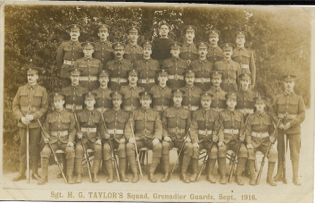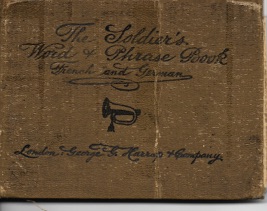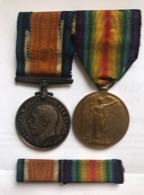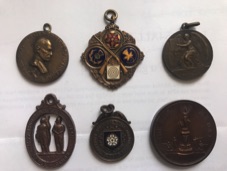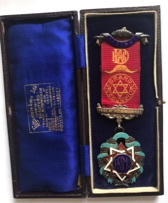 Living at The Danes, Dalton Parva, Rotherham, Yorkshire, Herbert and Jean Taylor had two daughters born there: Dorothy Jean on 15 August 1920 (died 30 July 2022, Oxford, Oxfordshire) and Aileen on 29 September 1922 (died 15 March 2016, Barnstaple, North Devon). On 4 March 1927 Herbert was initiated into the Royal Antediluvian Order of Buffaloes Grand Council, Pride of Rotherham Lodge 495. Following his unfortunate retirement from the police in 1928, Herbert worked as a commercial traveller, but got into financial difficulties with competition and cut prices in consequence being the cause of failure. He then became a land (game) keeper at Holly Villas, Meadowhall Road, Rotherham, but seems to have been declared bankrupt in August 1930. His unsecured liabilities, according to his creditors in September 1930, were £218 18s 1d and his assets were 2s 9d. In the bankruptcy hearing, as reported in the Sheffield Independent for 3 October 1930, he attributed his failure to a cut in prices and the heavy expenses of running a motor-car. The Sheffield Daily Telegraph for 3 October 1930 provides a bit more background. Herbert stated that prior to 1912 he was for seven years in the Army which he joined at the age of 17(half). On leaving he joined the Rotherham Borough Police Force. In 1914 he was called up as a reservist, and served until 1919. He then returned to the police force, out of which he was invalided in 1928 with a pension of £75 a year. He found employment on commission [as a commercial traveller] with a Sheffield firm, and was fairly successful for the first twelve months. He attributed his failure to competition, cut prices and heavy expenses of the motor-car which he used in connection with his business. His present earning were £1 per week, and he had also his pension.
What occupation(s) Herbert had after his bankruptcy for the next few years is not known. - possibly he continued as a keeper. However, the family continued to live in Rotherham. On 7 June 1931, an earthquake with a magnitude of 6.1 on the Richter Scale with the epicentre located in the Dogger Bank some 60 miles offshore in the North Sea caused damage throughout Yorkshire and Herbert's daughter Dorothy recalls being thrown out of bed. A snippet in the Sheffield Independent for 1 July 1933, headed Dalton Sisters' Record, notes that "two Dalton Parva sisters, Dorothy Jean and Aileen Taylor, daughters of Mr and Mrs G. Taylor, of The Danes Bungalow, have just completed three years' perfect attendance at the Dalton Church Day School." And on 3 August 1934 Aileen Taylor was presented with a copy of the Book of Common Prayer in recognition of her unbroken attendance and attention for the past four years by the vicar of Dalton Church School. Aileen, in Form IIA (Athens House), was awarded a Certificate of Merit for a contribution (Junior Prose) to the magazine of the Municipal High School, Rotherham in 1936. Entitled "I love all beauteous things", the contribution, in issue no. 16. And sister Dorothy had a short story in the 1938 magazine entitled "A drive by night."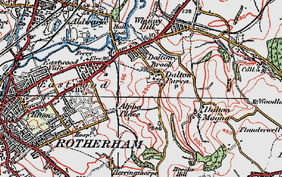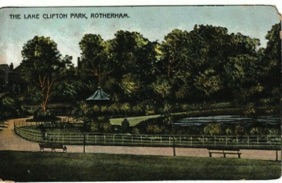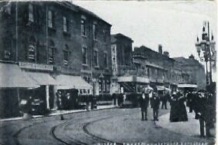 Herbert suffered an unfortunate incident on 11 January 1938, when he alighted from a Rotherham Corporation trolley bus at Wickersley, near Rotherham, on his journey home. The driver was too quick in closing the doors with the result that Herbert's coat got caught and he was dragged several yards under the rear wheels of the bus which went over his right arm, fracturing and crushing his right elbow necessitating a spell in hospital until 12 March 1938. He was unable to work since the accident. In a judgement in personal injury cases at Leeds Assizes, it was reported in the Yorkshire Post and Leeds Intelligencer (as well as the Leeds Mercury) for 18 July 1938, that Mr Herbert George Taylor, retired police sergeant, of Dalton Parva, Rotherham, was awarded £150 damages and £87 special damages for personal injuries.
Soon after this accident, the family left Yorkshire in 1938 with Herbert securing a post as butler to Captain John Paramore Charley, RN, and his wife Edith Lucy Charley at Buscot in Bradfield, Berkshire. His wife Jean was housekeeper. The census taken on 29 September 1939, right at the start of the 2nd World War, reveals that in the Charley household at Buscot there was Herbert G. Taylor, born 22 Dec 1887, married, occupation butler (and air raid warden, Bradfield); Edith L. Charley, born 8 Jan 1868, married; Margaret I. Vaughan, born 27 Aug 1862, widowed; Joan Taylor, born 2 Oct 1885, married, housekeeper; and a currently closed entry which is presumably either Herbert and Jean's eldest daughter Dorothy, aged 19 or their youngest daughter Aileen, 17. (Captain Charley himself was at the United Service Club in Westminster, London).
During the war a stick of bombs apparently straddled the house and it was bombed out. Herbert then became Warden of the Alms Houses in Donnington, near Newbury, Berkshire. It was Jean's friend, Rita Raeburn (now Rita Campbell-Cooper) who had found Herbert and Jean the job of looking after old retired ladies in the home built Rita's architect husband Archibald. Herbert and Jean had their own house on the site and remained there for some seven years.
At the time of his daughter Aileen's marriage to David Raitt on 11 December 1943, Herbert was Barrack and ARP Warden at RAF Theale barracks (near Newbury, Berkshire) and later he became Quartermaster at Aldermaston, Berkshire. The whole family - Herbert, wife Jean, daughters Dorothy and Aileen and their RAF husbands when on leave, and two grandchildren (Lindsay and David) lived at 3 Brewery Cottages, Bottom Lane, Sulhamstead, Berkshire towards the end of the war. The row of houses belonged to the Berkshire Constabulary at the time and were initially used to house those attending the nearby police college.
Herbert and Jean then moved to Selborne, Hampshire - where Gilbert White, the famous naturalist was active in the eighteenth century - and where Herbert became Head Gardener at the estate nursery in Selborne with its tall rows of hops. In the 1950s, Herbert was Estate Manager at Padworth House, Berkshire, a Grade II listed building owned by Lady, Countess of Bandon. When he retired Herbert and Jean moved to a bungalow in the new estate of Stephens Firs, Mortimer, Berkshire very close to where daughter Aileen and her family lived. Herbert used to run a grocery delivery service from his old shooting break that he kept in a barn nearby. His grandson David often used to accompany him on his runs round the local countryside. Herbert's wife Jean Lindsay died on 20 November 1960 in Reading, Berkshire and Herbert died just a few months later on 27 March 1961 at home in Mortimer.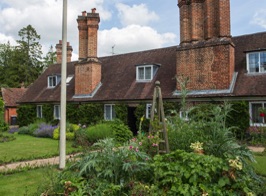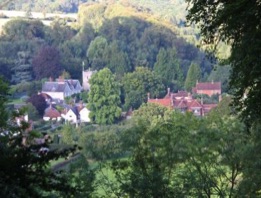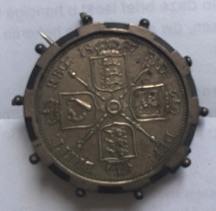 Two anecdotes recalled by Herbert's eldest daughter are that Herbert was always buying his wife grey silk stockings, but usually left them on the train. He was also crossing the foot bridge over the railway line when his trilby hat blue off in a sudden gust of wind and landed on the track where it was unfortunately run over by a goods train that happened to pass just at that moment.