John Purvis Raitt was born in Arbroath on 23 October 1874 - the youngest son and child of David Dorward Raitt and Mary Purvis - he died in Glasgow on 6 March 1946. He married Georgina Clark on 31 December 1901 in Dennistoun, Glasgow. At marriage he was listed as baker journeyman at 33 Earlston Avenue. Unlike his two elder brothers, John and Georgina appear to have had only two children: John Purvis (born 28 February 1902) and Jemima Clark (born 16 March 1904) - both born in Dennistoun, Glasgow.
Georgina was born on 20 April 1873 in Inverkeilor, Angus together with her twin sister Jemima. Their parents were David Clark, born about 1840 in Stracathro, Angus and Isabella Robertson, born about 1843 in Brechin, Angus. They married on 22 June 1861 in Maryton, Angus and had twelve children between 1861-1891. Georgina died in Provan, Glasgow on 31 January 1943.
----------
In the 1881 census for St Vigeans, living at 41 Helen St, is Mary Raitt, wife, head, age 35, sailor's wife, born Arbroath; and sons David, 11, scholar, born Arbroath; John P., 6, scholar, born Arbroath; and William, 9, scholar, born Arbroath.
In the 1891 census, John Raitt, aged 16, heckle machine worker, is living at home at 15 St Vigeans Rd, St Vigeans with his mother Mary Raitt, aged 45, and her sister, Elizabeth Purvis, aged 55; and his brother David, an apprentice painter aged 21.
In the 1901 census, living at 24 Howard St, St Vigeans is John Purvis Raitt, aged 26, pastry baker on own account (i.e. self-employed) together with his mother Mary Raitt, age 55, head, widowed, housekeeper; and aunt Elizabeth Purvis, aged 65, born Brechin.
The 1905-196 Valuation Roll for the parish of Glasgow in the City and Burgh of Glasgow reveals that, living as a tenants in a house at 33 Earlston Avenue with others, are William Raitt, traveller and Mrs Mary Raitt. The property is owned by David Graham of 32 Cathllon (?) Road [presumably Glasgow]. The yearly rent or value was £9 15s for William and £9 18s for Mary. William will be Mary's son; no mention is made of John, but he was presumably living with his mother.
In the 1911 census for 14 Earlston Avenue is John Raitt, son, 36, pastry baker, born Arbroath; wife Georgina Raitt, aged 37, born Inverkeilor; and children John, 9, at school, born Glasgow ; and Jemima, 7, at school, born Glasgow. Also at that address is his widowed mother, Mary Raitt, 65, head, widow, born Arbroath and her sister Elizabeth Purvis, 75, single, born Brechin. They are occupying two rooms with one or more windows. In the same tenement building in addition is John's elder brother William Raitt and his large family - also occupying two rooms with one or more windows
According to the Valuation Rolls for 1913-14 Mary Raitt was a tenant at 14 Earlston Avenue, Municipal ward 6, Glasgow paying a feu-duty or ground annual of £20 and an annual rent or value of £11 10 pence to the proprietor, Mrs Jane Davie, Kenilworth, Coatbridge per D. Graham, 180 Hope St, Glasgow. This, of course, is Mary Purvis, John's mother with whom he and wife Georgina and children were almost certainly still living. In the same building was also William, John's brother, and family paying the same feu-duty, but an annual rent of £8 ten pence.
In the 1915 Valuation Roll, Mrs Mary Raitt is still a tenant with others (including Belgian refugees) at 14 Earlston Avenue, Municipal Ward 6, Glasgow - the property still being owned by Mrs Jane Davies per D. Graham. The feu-duty and annual rent were the same as in 1913-14. It is assumed that son John and family were still residing with her, though son William had moved elsewhere.
It would appear that John and his older brother William established a bakery and tea room in Guthrie Port, Arbroath between 1898-1901 and the story behind this venture can be found on Ye Olde Raitt Shoppes page. It is possible that John continue his pastry chef business in Glasgow after 1901.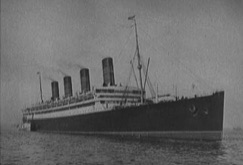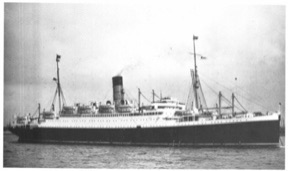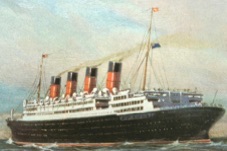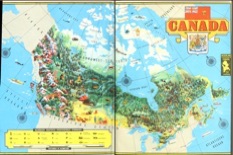 John and Georgina's son, also John Purvis, emigrated to Canada, following in his younger sister, Jemima Clark's footsteps (see below). John had married Gertrude East Gilkison in Lochee, Angus on 21 December 1929 and they had three children: Georgina Clark (born 11 November 1930), Elizabeth Duncan (born 1 September 1933) and Jack Purvis (born 12 September 1936) - all born in the Glasgow area. John flew to Canada in 1949 for a holiday to visit his sister Jemima and her husband James Thomson. The plane was detoured to Gander, Newfoundland, before arriving in Malton Airport (the name of Toronto airport at the time). John liked the country and decided to stay and shortly thereafter, called upon Gertrude to gather the three children and migrate to Canada. Until they did, he stayed with his sister and her husband temporarily in April or May 1949 mostly at their cottage in Woodland Beach, Georgian Bay, until he found an apartment to rent in a house on Armadale Ave., Toronto. John's brother-in-law, James, worked for Westinghouse and found John a job there as an electrician at the Etobicoke location. After his retirement in 1965/1966, John held regular labour union meetings at his residence at 14 Stock Ave.
Gertrude Raitt, 43, a housewife, departed Southampton on 20 October 1949 for Halifax, Canada. She was accompanied on board the Aquitania by Georgina, 18, a typist; Elizabeth, 16, also a typist; and Jack, 13, a student. Their address in Scotland was given as 89 Abbeyhill St, Glasgow E2 and Scotland was also given as their last permanent residence. Their country of future residence was given as Canada, so it would appear that this was an immigration. The ship arrived in Halifax on Halloween, 31 October 1949, but they actually stepped ahsore on 1 November. [This was one of the last voyages of the Cunard Line ship Aquitania. Constructed starting 1910, after service in both wars she was chartered in 1948 by the Canadian Government to carry Canadian emigrants between Southampton and Halifax. Her final departure from Halifax to Southampton took place in November 1949.]
Gertrude suffered Alzheimer's for some 15 years. She was moved into Shelburne residential long term care retirement home, Ontario in 1990 and remained there until her death, aged 88, on 31 January 1994. John stayed on at 14 Stock Avenue until 1992, when he sold the property and moved into the residence where Gertrude was, until her death. He then moved in with his daughter Georgina and husband Donald for the remainder of his life. John Purvis Raitt passed away at age 94, on the 5 May, 1996 in Toronto East General Hospital.
----------
John and Gertrude's daughter, Georgina Clark Raitt, married Donald J. Dean (born 22 February 1932) on 18 July 1959 in Ontario - an event that was a double wedding with sister Elizabeth (see below) - and they had a son, Robert, born in 1960 and who died 15 months later. The couple subsequently adopted two children: Norman and Merriel - both of whom now have children. Georgina (Ina) and Donald reside with son Norman and family.
John and Gertrude's daughter, Elizabeth Duncan Raitt, married John McKeen (born 22 July 1926, died 30 September 2018) on 18 July 1959 in Ontario (at a double ceremony with her elder sister Georgina - see above) and they had four children: David (born 6 September 1960), Barbara, William and Elizabeth (born 1970, died 22 March 1998). The three elder children all married and have children. A typist, like her sister, Georgina, Elizabeth worked at Great West Life, Tornoto for many years.
John and Gertrude's only son, Jack Purvis Raitt, married Lena Mary Cecilia Drisdelle (born 30 September 1939 in Minto, New Brunswick - one of fourteen children) on 24 June 1961 in Long Branch, Ontario. Jack and Lena had three children: Alan Jack (born 15 October 1962, Toronto); Mary Margaret (born 14 July 1965, Toronto); and Carol (born 25 November 1966, Scarborough, Ontario). Alan was married briefly but had no children. He is the owner-operator of Raitt Property Maintenance in Cambridge, Ontario, which he established in June 2012. Mary has remained single and currently works as a broker for a courier company in Markham, but her training is in the natural health industry, being a Certified Natural Health Practitioner. She travels to Utila, Honduras, Central America twice yearly to do micro current non-surgical face lifts. Like her sister she is into wellness and also does Thai massage as well as Raindrop Treatments (massage using essential oils). Carol married Ian Scott Lok in 1989 but divorced some years later without children - however, in a long common law relationship with Charles Gordon Webster, she has two step-children and two step-grandchildren. Carol has owned and operated the Divine Time Wellness Centre and Spa for 10 years out of her home in Dundas (Hamilton). She is a certified aromatic sciences practitioner and is the owner/practitioner of Divine Time Essential Oils. Like her sister, she also carries out non-surgical facelifts and Raindrop Treatments.
Jack Purvis Raitt was born without a left arm below the elbow - he did try a prosthetic with a hook later in life, but hated it and preferred to be without it. Jack was a football (soccer) player in the Toronto league for 18-21 year olds and his team won the Ontario cup. As a child he and some acquaintances would gather together to play team-type events and he was always chosen last by his fellow players, who assumed he was 'handicapped' - until they played again, that is, then he was always the first chosen, or the one doing the choosing!  
Jack's family was evacuated from their home at 15 Garngad Square, Townhead, Glasgow in 1937 or 1938 because of the imminent 2nd World War and they lived above a fish and chip shop on Main Street in Comrie, Perthshire. (By contrast, his cousins in Glasgow, the McAneny's were evacuated to Stevenston, North Ayrshire.) However, they were moved back to Garngad Square in 1939 and on his 4th birthday, Jack recalls to this day going outside and taking a mental panoramic view of the Square - to the left was the three story tenement building, straight ahead was the row of brick air raid shelters for the tenement dwellers and to the right was Garngad Road (later renamed Royston Rd and Royston Sq.)
Not long after arrival, Jack was sent to live with his Aunt Mima (Jemima) and Uncle Jim Thomson at 99 Arkell Ave. Hamilton, Ontario.  He attended Westdale Collegiate in Hamilton until the end of the year until he was reunited with the rest of the family at 14 Stock Avenue, The Queensway, Etobicoke, Ontario. This was the purchased property for the family. He then attended Mimico High School from 1950=1952, before going to Western Tech for architectural drafting for a further two years before graduating in 1955. 
Jack started working at 13 years old (summer job) weed pulling for a local farmer at 0.35cents/hour. 
At age 14 for 0.50 cents/hour he delivered for Fred Ross Pharmacy, bike delivering medicines for customers, until at the age of 16, he got his driving license (unlike his father who never obtained a licence) and was able to deliver by car - by then he was making $15/week part time at 18 years old.
At age 18 (1955) Jack's first permanent employment was with the Ontario Department of Highways, working as a draftsman for approx 1.5 years. He then moved outdoors, as a soil technician for approximately one year, then as a travelling surveyor until 1961. This is the year Jack married Lena, and he therefore, requested a transfer to be stationed indoors again, as an estimator for construction contracts. In 1966, Jack, started working as a surveyor with Cole Sherman and Associates and later became a supervisor of road and gutter. After his retirement, he went back to work for a few months to help out with surveying for Cole Associates which was run by the son of the owner of the previous company.
Lena was actually Jack's next door neighbour at 12 Stock Avenue - they started dating in 1958 before marrying 0n 24 June 1961 at the Salvation Army Hall in Long Branch. They were married by Donald Dean, his sister Georgina's husband. Georgina was the witness and his other sister Elizabeth was bridesmaid and her husband, John McKeen was the best man. After their marriage, Jack and Lena resided at 1256 the Queensway (at Stock Avenue) in a one bedroom apartment for approximately one year before moving into an upstairs apartment at 8 Parker Ave, Etobicoke with infant son Alan. A Year later they moved to a one bedroom apartment at 1303 Wilson Ave. Downsview, Ontario, until their next child, Mary, came along. Three months later, their first house was purchased at Lot 30, concession 4, North Pickering, later changed to 3173 Golf Club Rd., Whitevale, Ontario. The residents (including Jack and his family) on the street were asked to name the street and because of the Golf Club at the end of the road, that name was born. After some 54 years of living at 3173 Gold Club Road, the house is up for sale and Jack and Lena will be moving to somewhere, as yet unknown!
The picture at left below shows Jack Purvis Raitt in Mrs Ford's Class at St Rollox school in September 1941. Middle is a view of St Rollox and right is Jack's house in Whitevale.
----------
John and Georgina's daughter Jemima Clark Raitt, aged 25, was recorded as leaving the port of Greenock outside Glasgow for Quebec, Canada aboard the Antonia on 28 September 1929. She paid the fare herself and she had not been in Canada before. Her present occupation was given as waitress and it was this occupation she intended to follow in the country. She gave her mother, Mrs Georgina Raitt of 14 Earlston Avenue, Glasgow as her nearest relative and her destination was a friend, Mrs Mary Foley, 109 Canon Street E., Hamilton, Ontario. She had £10 in her possession and was classed as a "landed immigrant".
Jemima received a licence to marry James Thomson, both of 71 Erie Avenue, Hamilton, Wentworth County, Ontario, on 9 December 1932 and the marriage was solemnized in Hamilton on 31 January 1933. From the record, we learn that she was a waitress, aged 28, a Roman Catholic (born Protestant, she converted to Catholicism to marry James), living in Hamilton and born in Scotland. James was a machinist, also 28, a Roman Catholic, living in Hamilton and also born in Scotland. We also have the names of their parents - John Raitt and Georgina Clark and Charles Thomson and Jane Sharples. One of the witnesses was Jane Anne Thomson, perhaps James's sister, but possibly his mother since her full name was Jane Ann - she and Charles Todd Thomson married in 1891 in St Andrew, Dundee. Jane was born in Forfar, Angus in 1868 and died in Glasgow in 1928; Charles was born in Monifeith, Angus and died in Glasgow in 1951. James had emigrated to Canada on 3 June 1928, travelling aboard the Montcalm from Greenock to Quebec. His age was given as 23, he was single, born in Glasgow and a brassfinisher. Travelling with him was his brother William, 19, also a brassfitter born Glasgow and single. They had paid their passage themselves and gave their father's name as Charles Todd Thomson c/o Foley, 26 Breadalbane Terrace, Glasgow. (Interestingly, Foley was the name of the person that Jemima gave as her destination - so there may have been a connection.) Their destination was their sister, Miss Jean Thomson, c/o McConnell, 13½ McNab St, North Hamilton, Ontario. On arrival they were classed as Landed Immigrants. A Jean Thomson, aged 28, single, born Glasgow, a waitress and intending to pursue that job in Canada and paying her passage herself, emigrated from Greenock to Quebec aboard the Melita on 23 April 1927. This is probably her given that she gave as her destination a friend Mrs J. McConnell, 354 Beachway, Hamilton. She gave as her nearest relative in Scotland Mrs Thomson, 39 Dover Street, Glasgow. Charles and Jane Thomson had at least two other children: George, born about 1892 in Dundee and Walter, born about 1897 in Glasgow. It is not yet known whether they also emigrated. However, Walter died in 1984 in Martha Street, Glasgow.
Jemina and James had a daughter named Doris who married Michael Taylor and had several children. Jemima died in Ontario in 2003.
----------
The descendants for John Purvis Raitt and Georgina Clark are included in the tree showing the descendants of his father David Dorward Raitt. This tree needs to be updated.