Our story starts when two different people, first one in Australia and then much later one in New Zealand, contacted me about their Scottish ancestors. It turns out they appeared to be both descended from the same family of a certain James Raitt from St Vigeans and trying to trace their family history has also enabled me to correct the parents of their Scottish forebears who I had in my master Raitt file even though they appeared not to be related to me. It has also led me on a fascinating voyage of discovery of my own about the early immigrants to New Zealand – much of it captured through factual snippets from newspapers of the times which have helpfully been made freely available online.
James Raitt, son of James Raitt and Elspet Craig, was born in 1841 in St Vigeans, Angus and was, like so many other Raitts from St Vigeans and Arbroath, a seaman in the merchant service. His relatives and ancestors are to be found on the Arbroath Raitts page. In 1864 in Arbroath James married Helen MacDonald, born in Arbroath in 1843. At some point James appeared to have given up the sea and became a joiner – at least that is what he gave as his occupation when he and his wife and their four surviving children emigrated to New Zealand in August 1874. However it turns out that he was actually a seaman-carpenter in the merchant service. And since his father James Raitt, residing also at Barngreen, was the informant at most of the children's births, then we can assume that James was away at sea. The eldest daughter of James and Helen, seven year old Elizabeth, died of typhoid fever just a couple of months before the family set sail to New Zealand, and just as sadly their youngest daughter, Mary, aged eight months died at sea on the voyage, succumbing to diarrhoea. The family eventually settled in Lyttelton, just outside Christchurch, South Island, where James became a carpenter. In New Zealand they had five more children.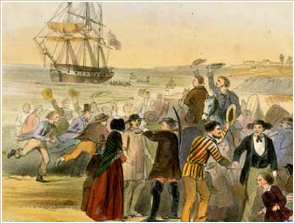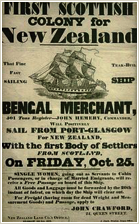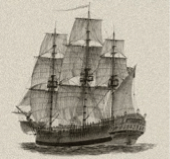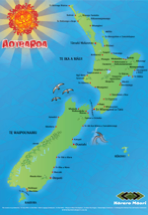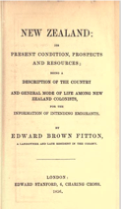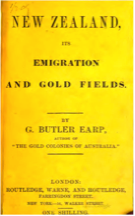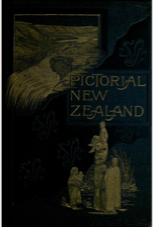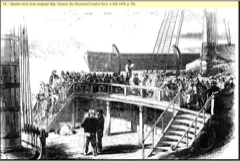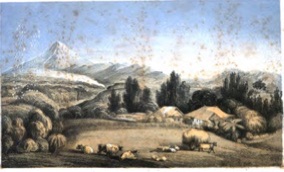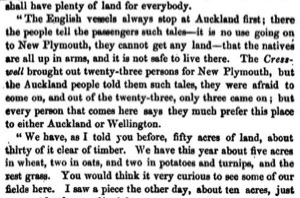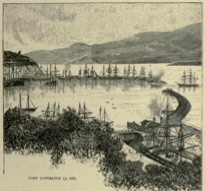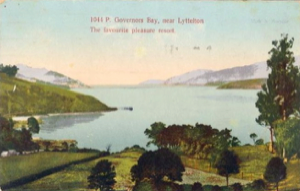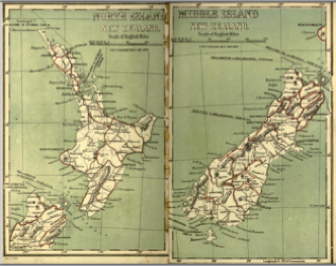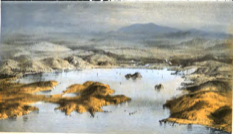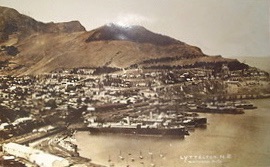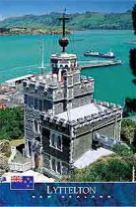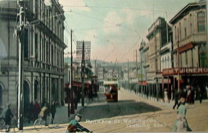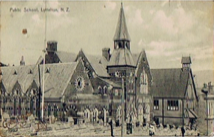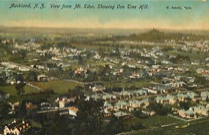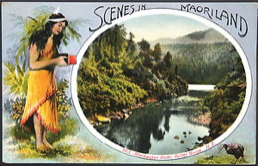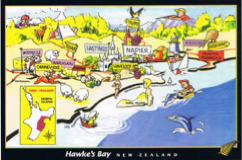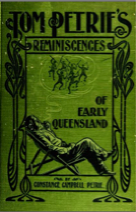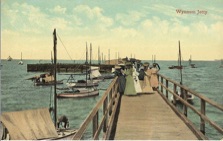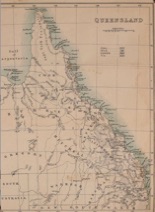 Hallaine and William had seven children between 1899-1914 – and curiously the mother's given name for four of them is Hallaine MacDonald Raitt. This could be interpreted that she considered herself as a child of (or at least in the household of) James Raitt and Helen MacDonald. The family moved to South Queensland, Australia sometime after the birth of son Henry in 1910 and before the birth of son Douglas Maui in 1914. William's brother and his family apparently emigrated to Australia at the same time and indeed they may have followed others who had gone before since there were quite a few Luffs in Queensland who may or may not have been related.
William was a carpenter by trade, but with the onset of the 1st World War looming, he joined up on 9 September 1915, aged 43. His address was given as Byrneside Terrace, Wynnum, South Queensland. His regimental number was 3841 and his unit, the 26th Battalion, 9th Reinforcement, embarked from Brisbane, Queensland, on board HMAT A62 Wandilla on 31 January 1916. He saw action on the Western Front and seems to have transferred to the 32nd Battalion. He returned to Australia on 4 May 1917 and was awarded the British War Medal and the Victory Medal. He died on 31 August 1837 and is buried at Bulimba Cemetery, Brisbane, Queensland. Hallaine died on 29 May 1963, aged 85, in Queensland and is buried in Balmoral Cemetery, Brisbane along with two of her children. (In fact, Bulimba and Balmoral seem to be the same cemetery.)
Hellaine's eldest daughter Maude married a stockman named Ambrose Brennan in 1924 and the family travelled quite a bit in the outback moving around from one remote station to another. At one of these properties there was a flood and the family had to leave in a horse and buggy with limited possessions. Maude apparently had a big glory chest in which she kept all her "good things" and family photographs. Sadly, this chest was lost and all her possessions in it. And equally unfortunately, Maude was not one that really talked about her past, so her descendants know little of her ancestry. We can trace some of their movements through the electoral rolls. For instance in 1925 Ambrose was a boundary rider in the subdivision of Thargomindah in the division of Maranoa in Queensland, while wife Maude was on home duties at Wathopa in the same place. In 1943 Ambrose is a station hand at Willie, Warren, Nungan, Darling, NSW, while Maude is there on home duties – their son and his wife are their too. In fact, there are many people called Brennan in the rolls with the name Ambrose as their second or even third forename and one could surmise that they were related.
We know from various electoral rolls that Douglas Maui, youngest child of Hallaine and William, was a clerk living at Esplanade, Innisfail, Herbert, Queensland in 1936 with (presumably) his wife Alice Wilhelmina. In 1837 the pair had moved to Burnside Terrace, Wynnum, Moreton, Queensland – where at the same address was Hellaine (on home duties) and her husband William, who was a carpenter once more; son William James, also a carpenter and his wife Heatherbelle on home duties. and son Herbert Henry who was a plumber. The family clearly continued living in Burnside Terrace for some time. In the 1954 electoral roll, for instance, we find Hallaine (home duties); Douglas (fireman) and Alice (home duties); Herbert Henry (carpenter); William James (carpenter) and wife Heatherbelle (home duties) as well as some newcomers: Donald William (fitter and turner) and possibly Ethel (machinist) and Florence Maud (machinist). These are probably children of William James and Heatherbelle. In 1963, Douglas Maui and Alice are still living in Burnside Terrace, at number 52 – with them is Hallaine; and William James is at number 48. (In 1954 Donald, Ethel and Florence were living at this number.) In 1968, Douglas Maui and Alice are still living at number 52; and William James is still at number 48. In 1972, Douglas and Alice are still at number 52 and William is still at number 48 with presumably his wife Ena Gladys. At number 46 is Lynette Susanne.
Of the seven children of Hellaine and William, it seems that Jemima Hinimoa did not marry since she was recorded as dying in Queensland in 1918 as Luff. Henry Herbert Appleby also seems not to have married and he may have died after 1985 since there is no record before that.
Hellaine Raitt
Oddly enough there appears to be no birth record for Hellaine, though it is assumed by her descendants that her parents were James and Helen Raitt. Since her age at death in Queensland, Australia in 1963 was given as 85, then that would mean she was born about 1878 – probably in Lyttelton. She may not in fact have actually been Helen's daughter, but instead simply brought up as one of the family. There is a suspicion that she may have been the offspring of a liaison between either James or just possibly his seaman brother William (who apparently sailed out of Calcutta for some time and thus may have visited New Zealand) with a local Maori girl, particularly since a couple of her children have some semblance of Maori names. The family story is that her father died at sea – there are two William Raitts who died at sea in 1871 and 1872 (and a William Rait in 1858) – but their ages do not match brother William. Since we have no details of the death of her putative father James Raitt, then we do not know whether he, in fact, died at sea.
What is more certain, however, is that on 15 October 1896 at the church of St Andrews in Westport on the West Coast she married (as Halaine) William Luff, born 12 July 1873 at Orawaiti on the west coast of South Island. (His war record states that he died in 1937 aged 60 – which would put his birth in 1877.) But one has to question how she met William on the west coast and why she married over there instead of her own town of Lyttelton - if that indeed was her home town. The list of marriages performed in the church unhelpfully gives the ages of the couple as "full", meaning that they were over 21. William certainly was - but for Hellaine to be 21 in 1896 then she should would have had to be born about 1875, not 1878. Perhaps she was economical with the truth at the time of her marriage. However, the difficulty is that James Raitt and Helen MacDonald had another child (James) born in 1875. The marriage certificate between Hallaine and William should shed some light on her birth and parents, as may her death certificate.
William's parents were Arthur Frederick Luff, born about 1838 in London, and Lucy Butler. Arthur married Lucy in 1860 in New Zealand and thus emigrated before this date, but after 1851 when he appears in the census for Tottenham, London along with his parents and siblings. Since his mother, now a widow, and other family members are still living in London in the 1861 census, then William must have emigrated to New Zealand on his own, or possibly with a brother or sister. Lucy Butler looks as though she was born around 1842 since a death is recorded of a Lucy Luff aged 78 dying in 1920 in New Zealand. It seems that Arthur also died there in 1920 aged 83. Arthur and Lucy appear to have had ten children between 1861-1880, with William being the sixth born.
Arthur Luff is in the 1870-71 electoral roll for West Coast, Westland North living in a freehold property in Herbert Street, Westport, Orawaiti. He is also listed at the same place in the same roll, though with the district given as Buller. He is still there in 1875-76; 1880-81 (where he is a farmer); 1885-86 (where also Arthur Luff, Jnr is a named as a logger); In 1896 there are several other Luffs mentioned besides Arthur Jnr and his wife Millicent and his mother Lucy, There is also John Luff and his wife Ellen – this is possibly the younger brother of Arthur Snr. William is a labourer living in Westport, however, in 1900 he is a labourer in Greymouth, West Coast seemingly single, unless he was working away from home – though Hellaine does not appear to be in this roll. However, she is to be found in the 1911 roll for Hawke's Bay living in Southampton Street, Hastings as a married woman. A William Luff is living in Heretaunga Street, Hastings and working as a carpenter. By the time of the 1900 roll Arthur Jnr and his wife Millicent have moved away to Manawatu, North Island where Arthur was working as a mill hand. In 1905-06 they were in Dannevirke, Waipawa, Hawke's Bay where Arthur was a wool scourer. They were still in Waipawa in 1911 and Whakatu, Hawke's Bay in 1914 – where Arthur is now a carpenter and where another Millicent appears – probably a daughter, but classified as a spinster.) By 1935 they had moved back to Manawatu-Wanganui with several other Luffs at the same address or nearby (Arthur was still a carpenter); they still there in 1938 and 1946, but in the 1949 roll Millicent is now widow and 1954 appears at the same address with other members of her family.
In the 1911 roll for Buller there are again several Luffs include Arthur Snr, a farmer at Peel Street, Westport and wife Lucy. In the 1919 roll for Buller, Arthur Snr is there with other Luffs, though not Lucy who may have died by then to be shortly followed by her husband.
Interestingly, there is also an Andrew Luff and a Joseph Luff in the earliest electoral rolls (1870-71) for Napier, Hawke's Bay. In the same roll, Andrew is listed under Clive, Hawke's Bay, where he still is in 1875-76. In 1880-81 he seems to have moved to Vogeltown, Te Aro, Wellington where he is listed as a settler. He is also there in 1890 and 1900. No wife is mentioned; however in the 1900 roll in Vogeltown, Andrew is living with either two brothers or two sons – George Andrew M. a civil engineer; and Henry C., an architect; also there is Kate Luff carrying out domestic duties. Since it does not state she is married, she must be either a sister or daughter. Joseph does not appear after the initial roll and a Joseph Luff died in 1883. However, the West Coast Times for 10 September 1866 lists Joseph Luff had up to 31 August not claimed two letters addressed to him received in Hokitika in May. Henry Luff had letters unclaimed there on 31 March 1868. These are the first times that we see the Luffs on the West Coast. Whether these Luffs were related to the West Coast Luffs is not known at present.
Further research shows that Andrew appears to have in Auckland aboard the Anne Longton from London on 9 October 1857. The ship had left London on 14 June 1857 and Andrew was one of the second class and steerage passengers - signatories of a testimonial to the captain. He clearly left no time in throwing himself into the community. In November 1858 he is mentioned in the list of subscriptions (giving £1) towards erecting an Episcopalian church at Napier. In 1859 he was qualified (as a settler) to act as a juror for the province of Hawke's Bay. In the same year he sent in his claim to be enrolled as an elector for the county of Hawke. And also in 1859, we find mention of W. Luff as one of the share holders of the Napier Building Society. On 27 September 1859 Andrew Luff married Kate Channon at Te Aute. In 1860 we learn he was a clerk in Napier and paid £30 of £60 for land there. He retired as a clerk and became a Land and General Agent in Shakespeare Road, Napier where he regularly placed adverts selling houses and land in the Hawke's Bay Herald.
Joseph Raitt
Joseph was the eighth child and third son of James and Helen. He was probably named after his maternal great grandfather, Joseph Craig, or perhaps his uncle Joseph Craig Raitt. Unlike his older brother James, he was born in Lyttelton, in 1879, and he died in 1964 probably in the Auckland area since the name appears in local electoral rolls for the time. Joseph seems to have become a seaman like his father and uncle and a brief record of his early service is given below (at least I presume this refers to Joseph because of similarity in ages and "nationality".)
J. Raitt, age 16, nationality British, was a Boy aboard the Monowai of Dunedin from the port of Wellington, NZ to Sydney, NSW on 4 October 1899. The master was H. W. H. Chatfield and the burthen of the vessel was 2137 tons.
J. Raitt, age 19, nationality British, was an Ordinary Seaman aboard the Mararoa of Dunedin from the port of Auckland, NZ to Sydney, NSW on 8 December 1899. The master was E. Phillips and the burthen of the vessel was 1381 tons.
J. Raitt, age 19, of Lyttelton, was an Able Seaman aboard the Wanaka of Dunedin from the port of Bluff, NZ to Sydney, NSW on 19 July 1900. The master was J. Shepherd and the burthen of the vessel was 1572 tons and there were no passengers.
J. Raitt, age 21, of Lyttelton, was an Ordinary Seaman aboard the Mokoia of Dunedin from the port of Wellington, NZ to Sydney, NSW on 18 December 1901. The master was C. Spinks and the burthen of the vessel was 2154 tons.
J. Raitt, age 21, of New Zealand was an Able Seaman and one of 12 crew aboard the Elizabeth Graham of Sydney from the port of Eureka, NZ to Sydney, NSW on 2 February 1903. The master was A. M. Andresen and the burthen of the vessel was 598.
Unlike his two older brothers William and James, Joseph appears to have married twice – firstly in 1906 to Eliza Jane Coombs and then to Emily Henderson in 1921. Unfortunately, since NZ births are not available online until 100 years has elapsed, it is not possible to find any births of his children. However, the death of a Joseph Raitt is recorded in 1986 and his date of birth is given as 1 February 1923 – which does fit in with the marriage of Joseph Snr to Emily in 1921. There is a Joseph Raitt in the 1981 electoral roll for Mangere, Auckland – so I would assume this is him. The rolls for New Zealand up to 1981 show many other Raitts (see below) – some of whom will undoubtedly be other descendants of Joseph.
Regarding Joseph himself, it would appear that he was jailed in November 1907 for being drunk and disorderly only a year or so (possibly less) after his marriage. An item in the Star for 27 November 1907 reports that "Joseph Raitt, whose thirst had proved stronger than his fear of the law's penalty for a fractured prohibition order, admitted that he had procured liquor and was fined 20s and costs, but was given fourteen days imprisonment as an alternative to payment. The 1911 electoral roll shows Joseph Raitt and Eliza Jane in Wellington Central. His occupation is given as labourer – which is odd, unless he gave up the sea for a while. Joseph joined up at the outbreak of the 1st World War and served as a rifleman before being wounded and invalided home. He was admitted to hospital on 6 July 1916 (in France?) and his wife was given as E. J. Raitt living at 197 Vivian Street, Wellington. When he finally arrived home at his house he found his wife living with another man and he divorced her in August 1918 (read the full story in Raitt Anecdotes.)
Presumably he went back to sea, for in 1914 there is a Joseph Raitt, seaman, in Devonport, Auckland aboard the SS Waitemata; in 1919 he is recorded as a seaman in Wellington East (where there are also three people named Rait) as well as at Waitemata. He married second wife Emily Henderson in 1921 – probably in Wellington. In the 1928 electoral roll, Joseph and Emily are living at 14 Vernon Street, Auckland and Joseph is a labourer. In the 1935 roll they had moved to 10 Spring Street and Joseph was now watersider. They were still there in 1938. In 1949 Joseph (still a watersider) and Emily are at Ponsonby, Auckland, also in the household is (presumably son) Joseph, a tinsmith, and his wife Peggy. The name continues in various locations and in various forms (e.g. William Joseph Raitt) every few years in Auckland right up to 1981 – though as noted above it would appear that "our" Joseph died in 1964 probably in the Auckland area.
Elspeth Craig Raitt
Elspeth, also known as Elsie, was born in Lyttelton in 1883 and married William Samuel Adams there in 1903. They had two children: Clarence born in 1904 and Helen Beatrice born in 1906. Elspeth died on 9 July 1969 in Palmerston North leaving besides her two children, five grandchildren and nine great grandchildren.
Flora McDonald Raitt
Flora was the last child of James and Helen and born in Lyttelton in 1885. It was reported in the Press for 21 February 1898 that at the annual distribution of prizes at Lyttelton Borough School the previous Friday afternoon, F. Raitt won first prize in the Sewing list Standard III. She died on 13 October 1911. On 29 August 1906 she married Charles Angus Anderson (born 1881) in Akoroa and they had three children: Eileen (1908); Charles (1910) and Mayfriss (1911).
Below is a summary of those children of James Raitt and Helen MacDonald who went on to marry and have children. I have gleaned the facts from the free New Zealand BMD records. Clearly the full BMD certificates (for which one has to pay) will contain much additional useful and pertinent information. And, of course, other members of the family in New Zealand would also be able to supply further details. The tree at the foot of this page gives all the family members I have so far come across. William and James apparently did not marry and I have found little information for them at present.
Jemima Raitt
Jemima was the third child and second daughter of James and Helen. She was born on 11 October 1868 in St Vigeans and died on 16 October 1962 in Lyttelton. She married carter William Thomas Norton, born in 1862 in Nelson, New Zealand, on 27 July 1887 in Lyttelton and they had four children between 1888-1894. Like Jemima's parents, her husband's had also emigrated to New Zealand from the UK - England in this case. William Thomas's parents were John Norton and Sarah Ann Hammond. John was born in Birmingham, Warwickshire in 1827 to Thomas Norton (born about 1803) and Mary Ann Dean (born about 1804) both of whom came from Shropshire. John was a blacksmith and married Sarah Ann (born 1834 in Staffordshire) in 1856 in Birmingham. Sarah Ann was the daughter of Benjamin Hammond, an iron moulder born about 1811 and Mary Fisher, born about the same date – both in Staffordshire. Both the Norton and the Hammond families appear in various English censuses.
John and Sarah Ann presumably emigrated to New Zealand shortly after marriage (although I have not yet found the ship they sailed on) since their first child, John Henry, was born in Lyttelton in September 1857. Sadly, he drowned in the Buller River on the west coast of New Zealand in 1891. The couple's subsequent three children were also born in Lyttelton between 1862-1876: William Thomas in 1862; Benjamin George in 1867; and Elizabeth Ellen in 1876. Tragically, some three months after daughter Elizabeth Ellen was born, her father, John, choked to death on a piece of tripe, leaving Sarah Ann to raise her four children herself.
As noted above son William Thomas married Jemima Raitt in 1887 and like his parents produced had three sons (John William in 1888; James in 1889; Richard Henry in 1892) and finally a daughter, Elizabeth Ethel in 1894. Of their four children, the second son James was married at least twice. His first wife died in 1944 and as a widower aged 56 he married a girl some 30 years his junior! Bertha May Stephenson, born in Westport in 1919 to an English father (a seaman and ex-service man) and a New Zealand mother (whose own father had emigrated from England) married James on 1 March 1946 in Christchurch and they had at least one child Mary, born in 1948. James died in 1959.
John and Sarah's son Benjamin married Emily Alice Knowles in 1891 in Lyttelton and they had six children between 1892-1913. Benjamin died in Lyttelton on 25 February 1961, and Emily died there just a couple of months later on 20 April 1961.
Daughter Elizabeth Ellen married Francis Richard Barrett in 1899 and they had a son Richard Francis born in Lyttelton in 1900.
Isabella Campbell Raitt
Isabella was the fourth child and third daughter of James and Helen. She was born on 8 December 1870 in St Vigeans and died in 1941 in Auckland. On 7 September 1887, at the house of Captain Larsen in Lyttelton, she married Rudolph Alexander Anderson, a sail maker. Rudolph had been born in Christiana, Norway to Eric Anderson and Maria Jorgensen. Rudolph was one of the witnesses of his sister-in-law to be Jemima's wedding a couple of months earlier. Isabella and Rudolph had four children between 1888-1894.
Unfortunately census data for New Zealand in this time frame is not available, so I am unable to find too much additional information on the family. However, in the electoral roll for 1880-81, James Raitt is living in a residential property in Exeter Street, Lyttelton as a carpenter. There is also a James Raitt, carpenter, recorded in Oxford Street. Possibly the family moved at the time of the roll and was recorded twice or perhaps one location was James's place of work. In the 1885-86 electoral roll for Christchurch South James is living 24 Lyttelton Street and working as a carpenter. He is at the same address in 1890.
In the 1896 electoral roll for London Street, Lyttelton, there is William Raitt, a labourer in a residential property. In the Lyttelton electoral roll for 1900 there is a James Raitt listed as a labourer living in Dublin Street, this will be the son of James Snr and Helen since she is listed as a widow in the same street - implying that James Snr died before that date, although there seems to be no death recorded for him. (However, a James Raitt died in New Zealand in 1921 aged 81, thus born about 1840 – could this in fact be "our" James – who had simply upped and left home?) Also living in Dublin Street is son William Raitt, labourer. Since James is listed next to his mother then he is probably living with her; whereas William is listed on a different page and thus possibly living in a different property in the same street.
In the electoral roll for 1905-06 living in a residential property in Jacksons Road, Lyttelton we find Helen Raitt, widow; and sons James, Joseph and William – all labourers. William died in Lyttelton in 1906 aged 41, unmarried. Helen died in Lyttelton in 1907. But in the 1911 electoral roll for Lyttleton, James Raitt, still a labourer, is living at 61 Sumner Road, but in 1914 he had moved back to Jacksons Road where he was residing at number 11. He does not appear in subsequent rolls for Lyttelton, neither do the other members of the family after 1905-6 – which implies that they had moved away or had perhaps died (in fact James died on 1 October 1915). Of course, the women will have married and thus be recorded under a different name.
Whether they felt threatened or not, after a year or so in Taranaki (where son James was born in New Plymouth in 1875), James and Helen decided to head for pastures new. The local newspaper Taranaki Herald for 13 May 1876 reports that the s.s. Hawea departed New Plymouth for Nelson on 10 May 1876 with cargo comprising 4 empty hhds (hogsheads) and 2 bars of steel, and four passengers, one of whom was named Raitt. This was presumably not just a recce trip by James, but rather the definitive move, because the same newspaper reports that on 22 May 1876, the s.s. Taranaki departed New Plymouth for Nelson carrying a cargo of 6 kegs, 3 cases of butter and 1 pcl (parcel) plus two male passengers and Mrs Raitt and family (4). Why they didn't all travel together is not known but presumably James went on ahead either to find and prepare a place to live or to start (or find) work. It is also not known at present whether they tarried in Nelson for a while. In any case they made the trip to their new home on coastal vessels like the Phoebe, the journey taking several days and hopping from port to port. The family eventually settled in Lyttelton (a port city), where James was a carpenter. James and Helen went on to have several more children: possibly Hellaine about 1878; Joseph in 1879; Elspeth Craig in 1883; and Flora McDonald in 1885 – all born in Lyttelton.
It seems that James was not a particularly good role model for his children. In the Star for 5 May 1884 there is a brief item to the effect that James Raitt was fined 10s for drunkenness in Christchurch. The Star reported again on 26 March 1888 that in Lyttelton, James Raitt, against whom there were numerous previous convictions, was fined 30s or in default 3 days' imprisonment. The Press for 5 March 1891 reported that the previous day in Lyttelton, James Raitt was charged with failing to provide for his children. Mrs Raitt stated that she had not received any money from her husband for the last eight months. He was a ship's carpenter. The defence was that the money had been paid regularly to Mrs Raitt for her support and that of the children. An order was made that the defendant pay the sum of £1 per week.
This last news item is revealing because it appears to indicate that James was not so much occupied as simply a carpenter in Lyttelton, but had likely returned to the sea to be a carpenter onboard ships – and that may have been the reason that the family moved from New Plymouth to Lyttelton because perhaps the opportunities for ship carpenter work were greater as more vessels passed through the port. It also lends credence to the fact that family tradition has it that Hellaine's father was lost at sea.
In fact, a news item in the Taranaki Herald for Wednesday 2 December 1874 gives even more information. Apparently, James Raitt, his family and their fellow passengers all the way from England on the Howrah to Wellington and thence to New Plymouth on the Phoebe were the first immigrants specially for the province of Taranaki. Their arrival was seen as most opportune because there was a labour shortage. It is worthwhile quoting the piece in full, because it sheds some light on aspects of the immigration process. Were intending immigrants able to select where they wanted to end up, or were they just shipped to a place at the whim or request of some landowner or provincial governor? And one can only imagine excitement and trepidation that the new immigrants must have felt upon arrival in their new home to start a new life when the local populace was there to greet them as they landed!
"The first ship with immigrants specially for this Province, has arrived in Wellington, and all on board, we are glad to hear, are reported to be in good health. His Honor the Superintendent yesterday received from Hon. Major Atkison a telegram, announcing that the ship was coming in. but had not been boarded, and that he hoped to send the immigrants on to New Plymouth by the 'Phoebe' which leaves Wellington this day. The vessel has made the passage in ninety-seven days, and was towed into Wellington harbour on Monday night. The arrival of this number of immigrants will be most opportune, as the cry for labour increases daily; and as the season of dry weather is now setting in and the days lengthening, together with abundance of employment, the immigrants will not be long in settling down, and we shall then be ready for those expected by the 'Acheron'. By the English mail which arrived on Monday, Mr. Hulke received a letter from Mr. Burton announcing his safe arrival in England. He states that he had seen Dr. Featherston, who informed him of the departure of the 'Howrah' and 'Acheron', with immigrants for this place, and adds that a further shipment will be despatched of his own selection, this month or in January. He wished to be kept advised in all matters regarding the harbour and land regulations, and the acquisition of lands The letter is brief, but Mr. Burton is evidently at work, and has already visited several places in England and Scotland; and no doubt the immigrants of his choice will make good useful settlers. Mr. Hulke has everything prepared, therefore, on the arrival of the immigrants, but there will be nothing for them to do but go to the barracks. It is a matter for congratulation to find that at last our population is being increased, and it is also likely to be further added to monthly; so that with increased labour our public works will progress with a speed we have been unaccustomed to, and the Province benefit accordingly."
The first body of colonists to New Plymouth started from England in November 1840 under the auspices of an association called the Plymouth Company of New Zealand. New Plymouth, though a small settlement in comparison with others, was the first in New Zealand, not only to feed itself, but to export its own produce. A brief account of the settlement written in 1854 noted that "it is situated on the west coast of north island about 120 miles to the south of Auckland. It does not possess a harbour, ships being obliged to ride in an open but very safe roadstead; it is, however, amply compensated for this by the extraordinary fertility of its soil, which has gained for it the name of the 'Garden of New Zealand'" The account goes on to say that a snug river harbour for coasters and small vessels was expected to be obtained on a piece of land at Waitera. It was clearly an attractive place. "The town, or rather village, slopes upward from the sea-beach, and, with its neat white houses, contiguous cultivation, green forests, and back- ground of wooded hills, crowned by the snow-capped cone of Mount Egmont, presents a pleasing aspect. It has a substantial granite-built church, besides dissenting chapels, an hospital, two taverns, a library, and a literary institution, &c.
The country around is undulating, broken, and interspersed with dells, which vary in size from half an acre to two or three acres, densely wooded, and generally containing a small but unfailing spring of fresh water. The English population of the district, in number about 2000, is fast increasing, and there is probably no little community in the world where the prosperity and well being of the people is of a more real and substantial character."
However, this idyllic scene was off-putting to would-be settlers because of the large and potentially troublesome Maori population. "Much prejudice has been excited against this settlement, not only in former years, but also very recently, by exaggerated reports respecting the hostility of the natives of the neighbouring districts to the white population. These rumours have been circulated not only in England, but also throughout the settlements of New Zealand, and have conveyed an impression that New Plymouth is almost as dangerous a place of residence for British colonists as the most disturbed portions of the Cape colony in Africa."
James and his family emigrated to New Zealand on board the Howrah in 1874. The ship's manifest lists James, occupation joiner, age 33; Helen, 31; William, 9; Jemima, 5; Isabella, 3; Mary (8m). Daughter Elizabeth did not accompany them as she had succumbed to typhoid fever on 4 March 1874 in Arbroath. Mary died at sea on 15 September 1874 of diarrhoea.
The Howrah was ten years from the stocks when first chartered for three voyages to New Zealand. She was an iron ship of 1098 tons, built at Sunderland in 1864 by Pile. During the voyage, made in 96 days, some very rough weather was encountered and during the passage ten people died, including baby Mary. The ship left London on 26 August 1874 and arrived in Wellington on 30 November 1874. The Captain was named W. R. Greaves and the Surgeon Superintendent was Dr John A. Eaton. The ship's manifest reveals that there were about 330 passengers onboard comprising 292 members from 69 families; 91 single men; and 47 single women. Most passengers came from various places in England, with only a handful from Scotland – most it seems from Shetland (fully one quarter of the single women.)
The testimonials from a number of passengers to both men were reported in the local newspaper, the (Wellington) Evening Post for 2 December 1874. In their letter to the Captain the signatories (who were unfortunately not named) expressed their thanks to him and the crew for the universal kind treatment they experienced and said they were inspired by the able conduct and manly spirit shown and that they were under the deepest obligation for their safe arrival in port. In their letter to the Surgeon they were impressed by his courteous and agreeable behaviour throughout the voyage at a time when his labours had been exceptionally arduous on account of their being so many families with young children. They noted that though it pleased God to take away so many souls amongst them (including Mary Raitt), they were convinced that he performed his duties with care and interest under a high sense of responsibility. It was their opinion that the sanitary arrangements of the ship were constantly and effectually carried out and no pains had been spared to ameliorate the hardships and discomforts peculiar to a long voyage.
From Wellington, James and his family were transported by the steamer Phoebe to New Plymouth, Taranaki on the west coass of North Island where they must have stayed for a while since their son James was born there in 1875. A brief item in the Evening Post for 5 December 1874 reported from New Plymouth on 4 December, notes "The immigrants by the Phoebe arrived safely this morning. A large number of settlers assembled on the beach to receive them. The Superintendent and members of the Executive were also there." The local inhabitants were clearly expecting them because a provincial telegram in the Taranaki Herald for 2 December 1874 announced "The arrival of the Howrah. Immigrants all well. To be forwarded to New Plymouth by the Phoebe". The s.s. Phoebe (416 tons, under the command of Captain Worst) had sailed from Lyttelton on 30 November 1874 for Northern ports and arrived in Wellington on 1 December where she picked up her immigrant passengers. She left Wellington on the 2 December bound for Picton, Nelson, Taranaki and Manukau. She arrived in Nelson from Picton on 3 December and left that same day at 5pm for Taranaki and Manukau. She returned to Nelson headed for Southern ports on 8 December. It is worth pointing out that the Phoebe was probably not an immigrant ship per se but rather a coastal vessel going from port to port carrying cargo and some passengers (about 40 were onboard when she arrived in Wellington from Lyttelton). Thus almost certainly not all the 330 or so immigrants who sailed to New Zealand on the Howrah with James and his family would have travelled on to New Plymouth. Others would have dispersed elsewhere.