Charles Henry Raitt - WW1
On 20 April 1915 Charles Henry Raitt enlisted at Maryborough, Victoria and was appointed on 4 May. On 6 May, Charles applied for a Commission in the Australian Imperial Force (A.I.F.). His application form gives his date of birth as 7 September 1869 and his age as 45 years 7 months; he was a British Subject, married, postal address Maryborough; next of kin was his wife (Amy Raitt), Maryborough; and his present civil employment was as a bank manager. His educational qualifications were St Mark's, Windsor, England (preparatory for Eton College) and Bedford Grammar School - England. For his military qualifications he gave five years in the Victorian Scottish Regiment [raised in 1898 as a volunteer infantry regiment of the Australian Army]; and seven years in the Victorian Rangers and 73rd Regiment with the rank of Captain (but passed exams for Major) in the 73rd Infantry, Victoria [known as 73rd Infantry Battalion (Victoria Rangers]. He was 5ft 11 tall, weighed 11 stone 7 lbs, with chest measurements of 34/37; and eyesight normal. He was found fit and recommended to be Major and to be posted on appointment to 21st Battalion A.I.F. His terms of service were the War plus 4 months.
In a later version, dated 10 May 1917, of his original application form, some additional and different details about Charles are given: Educational Qualifications: St Mark's, Windsor (preparatory for Eton College) and Bedford Grammar School (Special Sandhurst College course). Military qualifications: Victorian Rangers - Lieutenant on Probation to 1st Lieutenant - 5 years; C. M. F. 73rd Regiment - 1st Lieutenant to Major - 3 years (Citizens Militia Force); AIF 21st Battalion, Major - 1yr 3 months. Date on which qualified at a competitive exam for appointment as 2nd Lieutenant - 1908. Present employment: Late bank Manager (Bank of Victoria) - at present no appointment. Dob 7 September 1870 - 46y 7 m - British subject born Petrograd, Russia of which 7 years out of 21 years residence spent in the British Consular Service [this must relate to his father's service, because Charles was only resident in Russia for about ten years]. Married - postal address Bank of Victoria Ltd, Melbourne; Next of kin - Mrs Arthur Wellesley Raitt [this is his mother rather than his wife - and by giving her name, it implies that she was still alive at this date]. His height is given as 5ft 8½ in, weight 11.4 stones, chest 38 and eyesight L 6/6, R 6/24. Something in red ink is written across the form about him which is difficult to make out "Major CH Raitt has been medically attested fit the 18 April 1917 and ……."
In yet another version of the form also dated 10 May 1917, this time typed, there are again some remarks in red ink to the effect that the officer's address is recorded as c/o Woolcott & Drysdale, Solicitors, Melbourne. And for his next of kin's name it notes that (an)other sheet says his wife is (Mrs) Amy Raitt (rather than Mrs Arthur Wellesley Raitt). They did not pick up on the fact that the other form said he was born in 1869 rather than 1870!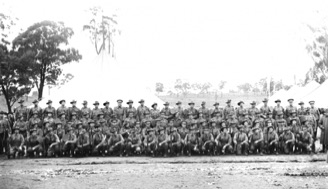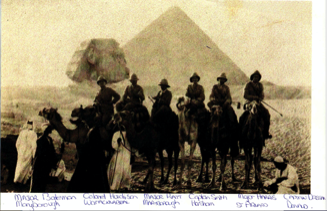 However, whilst in Egypt, Charles suffered from dysentery and was admitted to hospital in Heliopolis on 4 August 1915 with acute gastritis. He was discharged on 19 August after16 days treatment. Shortly after arrival in Gallipoli, Charles again suffered from the condition and was sent to hospital on 27 September. He was diagnosed with neurasthenia with the result that he was transferred to the hospital ship Glenart Castle in Anzac Cove on 29 September. On 4 October he was transferred to 1st General Hospital in Heliopolis, Egypt, where it was expected he would be discharged in three weeks, He was considered to be making satisfactory progress on 21 October and was subsequently discharged on 30 October after 27 days treatment and then sent to Helouan the same day. However, he was discharged from Helouan on 3 December for passage back to Australia aboard Themistocles which sailed on 4 December 1915 from Suez. He was struck off the strength of the Battalion and it was recommended that he should have 12 months change as he was still suffering from general nervous debility. His detailed medical history is contained on a separate page. Themistocles arrived back in Australia on 2 January 1916 and on 17 April 1916 Charles returned to duty as S.O.R.S. [Staff Officer Strike and Reconnaissance], though this appointment was terminated on 4 October 1916. His war service in the 21st Battalion also notes that following his return, he spent two months at Geelong Camp as O.C. Reinforcements Corps; six months at the Royal [Victoria] Barracks, with Battalion Reinforcements; and one month at Camp Seymour as Infantry Training Officer for a Technical Battalion. He was demobilized on 4 Feb 1917.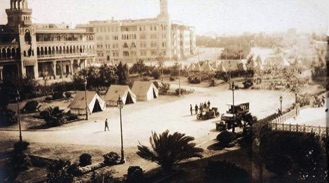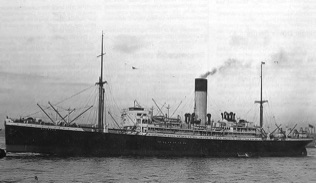 Major Charles Henry Raitt embarked at Melbourne on His Majesty's Australian Transport (H.M.A.T) Ulysses on 8 May 2015 along with the 21st Battalion. The Battalion, a unit of the First Australian Imperial Force (A.I.F.), had been raised in Victoria from volunteers for overseas service in February 1915 as part of the formation of the 6th Brigade, 2nd Division. After training in Victoria, the Battalion left Australia for Egypt on 10 May 1915. Arriving there in June 1915, it undertook further training before being dispatched as reinforcements to Gallipoli on 29 August. En route from Alexandria the Battalion's transport, H.M.T. Southland, was torpedoed by German submarine UB-14 (operating under the Austro-Hungarian flag) on 2 September near Lemnos in the Aegean and the 1400 or so soldiers (comprising the 21st Battalion, B Company from the 23rd Battalion, members of the 2nd Division Signals Company, the 6th Field Artillery Brigade, the 6th Brigade and 2nd Division Headquarters staff, including General Legge, Chief of the General Staff and Australia's highest ranking army officer, and a New Zealand Artillery unit) were forced to abandon ship in lifeboats. Most were picked up by other transports and by the British seaplane carrier Ben-my-Chree, which also helped tow the ship to Lemnos where it was beached and subsequently escorted to and repaired in Mudros. Charles and the 21st Battalion eventually arrived at Anzac Cove on 7 September where they undertook mainly defensive duties along the Australian line. A couple of months later, they were evacuated from Gallipoli in December 1915 after the decision was made to withdraw Allied forces from the peninsula. Charles wrote a letter to his wife about the torpedoing which was released to the local newspaper which also reported on his homecoming welcome.