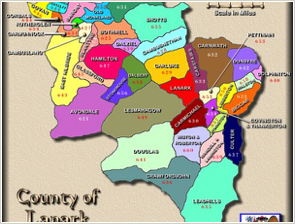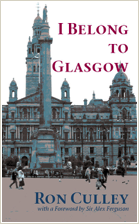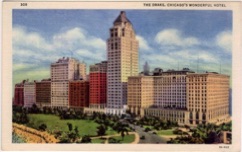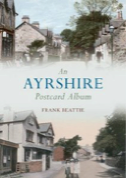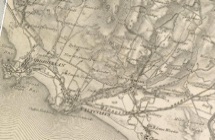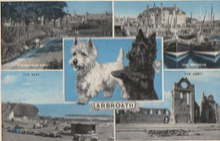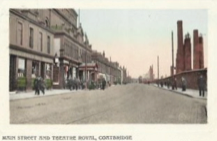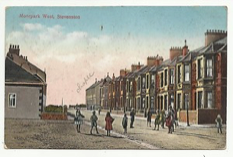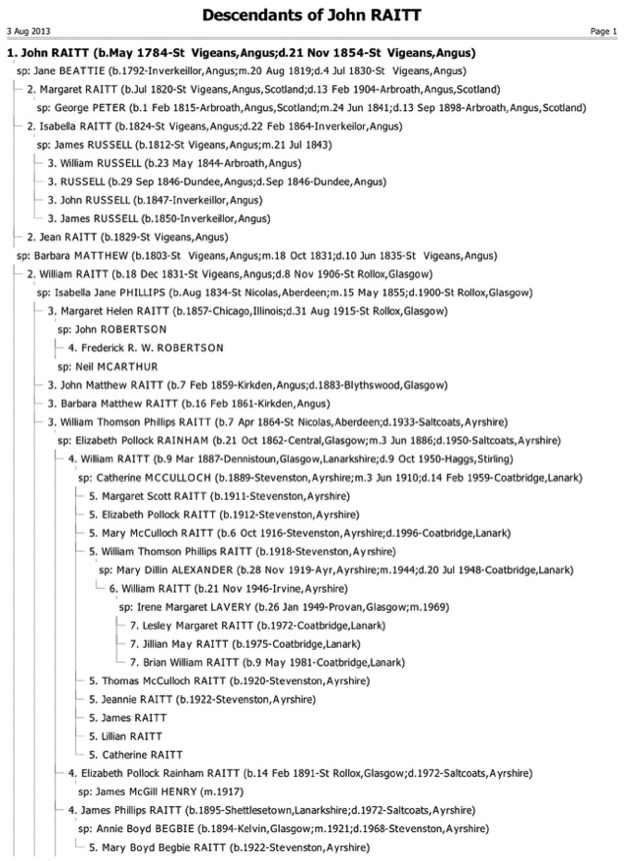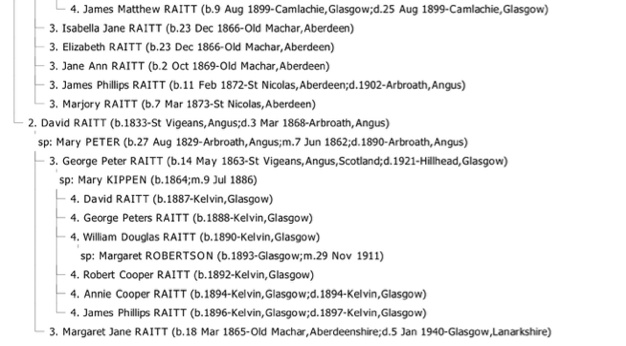 In the 1841 census for Southmuir of Colliston, St Vigeans is the family of John Raitt, 50, farmer; children: Margaret, 15; Ann, 13; William, 7; David 5 – all born Angus. In the household is also Jean Raitt, 55, also born Angus. Who Jean is is not known – it is not John's wife Jane Beattie as she died in 1830. It might be his sister Jean who had come to look after the children, though she would have been 60 not 55 – still the ages in the early censuses are often suspect and John himself should be 56. Daughter Isabella may be the Isabel Rait, 15, farm worker in Inverkeilor or she may actually be the Ann mentioned in the census since there appears to be no daughter of John with that name. Daughter Jean is probably the Jean Raitt, 12, working as a servant next door at Woodside of Colliston. (Farming next door at Cotton of Colliston is John's younger brother James and family; and at West Muir of Collison, also farming, is their elder brother William.)
In the 1851 census for Woodside, Colliston, St Vigeans we find John Rait, widower, 65, farmer of five acres and linen weaver, born Kirkden, Angus; daughter Jean, 21, born Kirkden; and son William. 19, linen hand loom weaver, born Kirkden. (Also at Woodside of Colliston is brother William, 74, unmarried, agricultural labourer.)
In the 1861 census for Back Street, Kirkden is William Raitt, 28, back from America and now a grocer, born St Vigeans; wife Isabel J., 26, born Aberdeen; children: Margaret H., 4, born Chicago, Illinois; John M., 2, born Kirkden and Barbara M., 1m, born Kirkden.
In 1871 William and family were at 23 Marywell Street, Old Machar, Aberdeen and William, 38, born Colliston, was working as a railway porter. In the household was wife Isabel J. and children: Maggie H., 14, born Chicago, Illinois; John M., 12, message boy, born Friockheim, Angus; Barbara M., 10, scholar, born Friockheim; William, 6, scholar, born Aberdeenshire; and Jane A., 1, also born Aberdeenshire.
In 1881 the restless family were living at 20 Stirling Road, Blythswood, Glasgow. William, 49, was now a night watchman, born St Vigeans; wife Isabella, 46, born St Clements, Aberdeen; children: John M., 22, painter, born Friockheim; Barbara M., 20, lady clerk, born Friockheim; William J. R., 16, printer apprentice, born Old Machar; James P., 9, scholar, born Old Machar; and Margery, 8, scholar, born Old Machar.
In 1891 living at Hill Place, Stirling Road, Glasgow is William Raitt, 59, lamplighter, born Arbroath; wife Isabella J., 56, born Aberdeen; children: James P., 19, pawnbrokers salesman; and Marjory, 18, milliner – both born Aberdeen.
Meanwhile, living in Catherine Street, Glasgow is William T. P. Raitt, 28, spirit salesman, born Aberdeen; wife Elizabeth, 27, born Glasgow; children: William, 4; and Elizabeth, 1m – both born Glasgow.
In 1901 living alone at 41 Stanhope Street, Glasgow is William Raitt, 68, lamplighter, born Angus.
And living at 26 Morrin Street, Glasgow in 1901 is William Raitt, 37, steam engine maker (machineman);, born Aberdeen; wife Elizabeth, 37, born Glasgow; children: William, 14, grocer's messenger, born Glasgow; Elizabeth, 10, scholar, born Glasgow; and James, 6, scholar, born Shettlestown, Lanarkshire.
In the 1911 census for Stevenston, North Ayrshire living at 37 New Street, is William Raitt, 45, foundry labourer, born Old Machar; wife Elizabeth, 46, born Old Monkland; and son James, 16, attendant at a roller skating rink, born Shettlestown. William and Elizabeth had been married for 24 years and had had four children, three of whom were still living at the time of the census.
Living nearby at 65 South Grange Road, Stevenston was their son William, 24, a coalminer, born Glasgow; wife Jeannie (should be Catherine), 23, born Stevenston, Ayrshire; and William's sister, Lizzie, 20, dynamite worker, born Glasgow
Although my paternal grandparents, William Raitt and Helen Scorgie, were from Arbroath and St Vigeans, they subsequently moved to Glasgow, Lanarkshire (with infant son William) in mid-1901. Accompanying them were my grandfather's older brother, David, and his family; and their younger brother John Purvis who married in Glasgow later that year. My father and all of his older siblings, except the eldest, were born in Glasgow, as were all John Purvis' children and half those of brother David (see under William Raitt and David Dorward Raitt's sons.)
However, they were not the only Raitts to eventually move there from Arbroath/St Vigeans, with other stops along the way. This particular story starts with John Raitt, christened on 22 May 1784 in St Vigeans, who was a son of David Raitt (1744-) and Margaret Watt (1752-). David was the son of James Raitt and Margaret Soutar and James himself was a son of David Reat (also Raitt) and Jean Leslie of St Vigeans. These early ancestors will be found under the page on the Raitts of Conon and Colliston. John's younger brother, James, born 1791, was the progenitor of a number of other families, including those that emigrated to the United States and ended up in New Jersey.
----------
John Raitt married Jane Beattie on 20 August 1819 in St Vigeans. Jane was born in 1792 in Inverkeilor, Angus and she died in St Vigeans on 4 July 1830. John and Jane had three daughters: Margaret, born 1820; Isabella, born 1824; and Jean born 1829. Following the death of his first wife not long after Jean was born, John married Barbara Matthew on 18 October 1831 in St Vigeans. Barbara was born there about 1803 and died there on 10 June 1835, aged 38. John and Barbara had two sons: William, born 1831 and David born 1833. Barbara died a couple of years after David was born, perhaps in childbirth. David married Mary Peter from Arbroath, whose brother George married David's half-sister Margaret. During his life John was a linen weaver and a farmer and he died on 21 November 1854 in St Vigeans. More work needs to be done on the parents and ancestors of both Jane Beattie and Mary Peter - I hadn't done it up to now because it was peripheral - but now that we have descendants from this branch, then I will get around to it in due course.
William Raitt, eldest son of John Raitt and Barbara Matthew, was born in St Vigeans on 18 December 1831. He married Isabella Jane Phillips on 15 May 1855 in Clyde, Glasgow. Isabella was christened on 1 September 1834 in St Nicholas, Aberdeen – the eldest of at least three children of William Phillips and Isabella Leiper. William Phillips seems to have been a master mariner and is probably the (only) one born 1801 in Cruden, Aberdeenshire. According to a census, Isabella Leiper seems to have been born about 1811 in Kincardineshire, thus she may very well be the daughter christened on 25 March 1809 in Maryculter to George Leaper and Margaret Ritchie. In the 1841 census for Greens, Maryculter, Isabella Philips, age 30, born Kincardineshire is in the household of Margt Leeper, 45, crofter - and presumably her widowed mother. Also there is James Philips, age 6 months, Isabella's son; Jane Leeper, 25, presumably Isabella's sister, and her daughter Margaret Leeper, aged 3 - all born Kincardineshire. Where the other two children of William Phillips and Isabella Leiper (i.e Isabella Jane Phillips, born 1834 and William Thomson Phillips, born 1839) are in 1841 has not yet been fully established. [As an interesting aside, one of the sons of William Phillips and Isabella Leiper was called William Thomson Phillips – these names have been carried down throughout. The Thomson may come from the (so far unknown) maiden name of William Phillips' mother; although the name of the witness to William's merchant seaman records for his certificate of competency as master was called Thomson. However, since the document was witnessed in 1850 and the son was born in 1839 then this may be just sheer coincidence, unless said Thomson was a lifelong friend. Neither of the other two children]
William Raitt died in St Rollox, Glasgow on 8 November 1906 a few years after his wife Isabella Jane who died there in 1900. They had had nine children between 1857-1873. According to some of the censuses (1861, 1871), their eldest child, daughter Margaret Helen, was apparently born in Chicago. Illinois in 1857, a couple of years after William and Isabella married. This is quite intriguing! As noted, the couple married in Clyde, Glasgow in May 1855 – one from St Vigeans and one from Aberdeen. Had they gone there to work and then met and fallen in love – or had they met elsewhere and decided to emigrate to the United States and got married before they set sail from Glasgow? Clearly they didn't stay too long in America because their next child was born in early 1859 in Kirkden, Angus. Sadly there are no passenger lists for the time, nor are there birth records for Chicago for the period in question as they were destroyed in a fire. However, the 1911 census has her born in Lanark (which would fit with her parents marrying in Glasgow), while the 1881 census has her born in Ireland!
The fourth child of William and Isabella Raitt was named William Thomson Phillips Raitt and he was born on 7 April 1864 in St Nicholas, Aberdeen. On 3 June 1886 he married Elizabeth Pollock Rainham in Glasgow. Elizabeth, born 21 October 1862 in Glasgow, was the daughter of William Rainham and Rosann McGraw. William had a variety of interesting jobs: spirit salesman, steam engine maker, and dynamite factory worker – he died in 1933 in Saltcoats, Ayrshire, while Elizabeth died in the same place in 1950. Together they had four children: William, born 1887; Elizaveth Pollock Rainham, born 1891; James Phillips, born 1895; and James Matthew, dying 16 days after he was born in 1899.
William, the eldest child, was born on 9 March 1887 in Dennistoun, Glasgow and died in Haggs, Stirlingshire on 9 October 1950 having worked as a coal miner, crane driver and excavator driver. He married Catherine McCulloch on 3 June 1910 in Stevenston, Ayrshire. Catherine had been born in 1889 in Stevenston, the second youngest of seven children of Thomas McCulloch (a coal miner born in 1855) and Margaret Scott (born 1854) – both of Stevenston. Catherine died in Coatbridge, Lanarkshire on 14 February 1959. William and Catherine had six children between 1911-1922: Margaret Scott (born 1911); Elizabeth Pollock (1912); Mary McCulloch (1916); William Thomson Phillips (1918); Thomas McCulloch (1920); and Jeannie (1922).
The fourth child and first son of William Raitt and Catherine McCulloch was named William Thomson Phillips Raitt in the family tradition and was born in 1918 in Stevenston, Ayrshire. In 1944 in Ayr he married Mary Dillin Alexander, born 28 November 1919 in Ayr, daughter of Thomas Alexander, a fishmonger, and Mary Dillin. Thomas was born in Ayr in 1889, the son of Alexander Alexander, a gardener, and Christina Branston. Mary, born 1892 in Ayr, was the daughter of James Dillin, fisherman and later fishmonger, and Euphemia Wyllie.
William Thomson Phillips Raitt and Mary Dillin Alexander had one child, William, born on 21 November 1946 in Irvine, Ayrshire. Not long afterwards, Mary died on 20 July 1948 in Coatbridge, Lanarkshire, aged only 28. Baby William was brought up by his aunt, Mary McCulloch Raitt, born 6 October 1916 in Stevenston, and dying in 1996 in Coatbridge. She never married.
William married Irene Margaret Lavery, born on 26 January 1949 in Provan, Glasgow in 1969 in Coatbridge. Irene's parents were Edward Lavery (1922-1984) and Margaret Jane Cameron (1925-1979), both from Coatbridge, and who married in 1947. Her more distant ancestors, however, had come from Ireland. William and Irene had two daughters: Lesley Margaret, born 1972, and Jillian May, born 1975; and a son, Brian William, born 1981 – all born in Coatbridge.
There is another Rait family in Lanarkshire - specifically Wishaw, Cambusnethan - that I have managed to track down. In the early censuses, members of the family - coal miners - eventually emigrated to the United States, presumably for a better life and conditions, though the mining townships which they went to probably offered them much the same kind of life. The story of their life in Lanarkshire and subsequent sojourns in various US States is to be found on the Raites in Iowa, Colorado and California page and the Raites in Wyoming, Iowa and Kansas page.