William Raitt, my grandfather, was the second son of David Dorward Raitt and Mary Purvis. He was born in St Vigeans on 8 April 1871 and died on 23 June 1928. He married Helen Scorgie of St Vigeans on 2 January 1899, with whom he had seven children between 1901 and 1915 (see below) - my father, David Raitt, being the last born. At the time of his marriage, William's occupation was given as insurance agent. An annoucment of the marriage in the local paper gives her name as Helen Scrogie. Helen's father, Alexander Scorgie was born in 1848 in Easter Bonnyton in Banffshire and moved down to St Vigeans between 1861 and 1871.
William served in the Army during the 1st World War being posted for duty in category B II, aged 47, on 5 May 1917 in Glasgow as a Sapper in the Royal Engineers (Inland Waterways and Docks). His enlistment papers give his age as 46 and he is described as being 5' 7" tall, weighing 128 lbs, with blue eyes, black hair and poor teeth. His eyesight was poor - he had severe visual impairment in his left eye, although he was described as not blind. His medical history stated that he had suffered a nervous breakdown a year previously, when he was hospitalized for six weeks, but that he had never been off work except for that occasion. On 23 April 1918, he was transferred as a Private to the Labour Corps, 386 H.S.E. Company. The Labour Corps was formed in mid-1917 and comprised (often wounded) men from other regiments who were unfit for frontline service, but who were still fit enough to serve. They tended to repair roads and bridges, dig ditches and other menial tasks. He was discharged as physically unfit on 23 Jan 1919 (the wording says "being no longer fit for war service"). In fact his medical report shows that he was diagnosed with neurasthenia (nervous disorder) in July 1917 and on his discharge he showed signs of bronchitis, had weak cariac action, was anaemic, debikitated and with little strength or energy. The Medical Board found that his nervous debility had been aggravated by his army service and recommended that he be discharged as physically unfit. His occupation was given in his discharge papers variously as waiter and ship's steward (though he had also been an insurance agent, drapery traveller, baker and restaurant keeper in Arbroath).
He was clearly a bit of a lad while doing his stint in the Army even though he was pushing 50. He was awarded 28 days detention in Chelmsford Barracks and forfeited 9 days pay for overstaying leave between 18-27 May 1918, using insolence and abusive language to a superior office and violently resisting his escort while being arrested! He forfeited 7 days pay for failing to obey an order on 2 October 1918 and was subsequently given another 15 days detention and docked 6 days pay for being AWOL again from 19-24 October 1918 and for conduct to the prejudice of good order and military discipline. However, he was entitled to wear the Silver War badge for services rendered which was awarded to those discharged.
He was also a peace-maker and a scholar (bookish) and was prone to give dinner to any tramp who came to the door. (His youngest son David, my father, who was only twelve when his father died, was just the same - he obviously inherited his father's gentle characteristics and sense of hospitality). William died aged 57 of stomach cancer not, as commonly supposed, of a tumour caused by being hit in the eye by a snowball.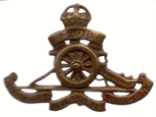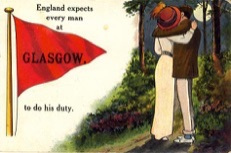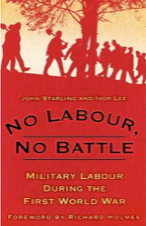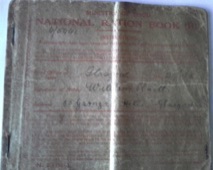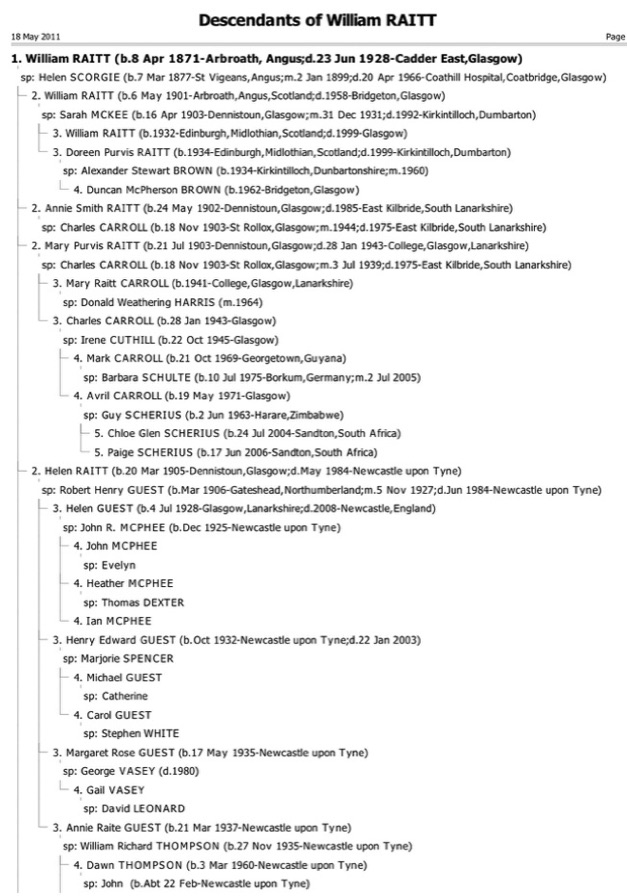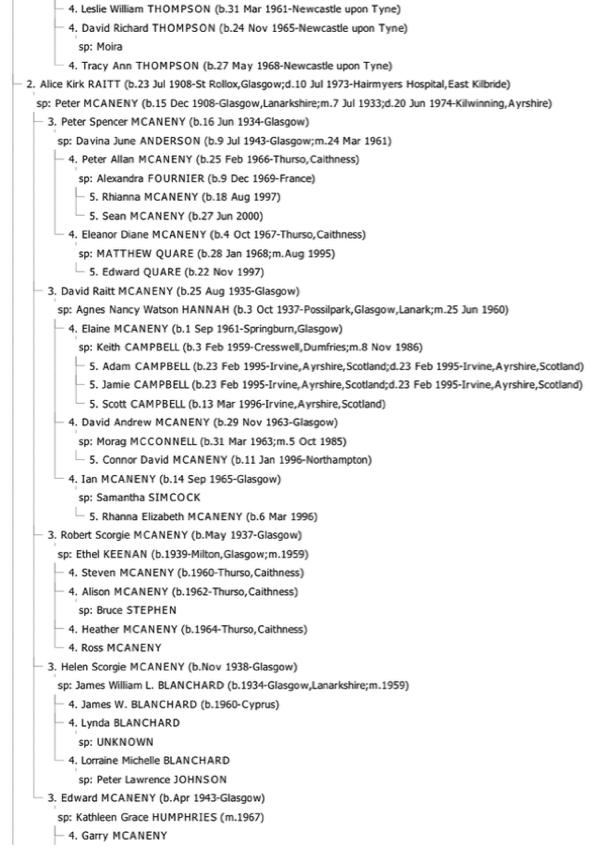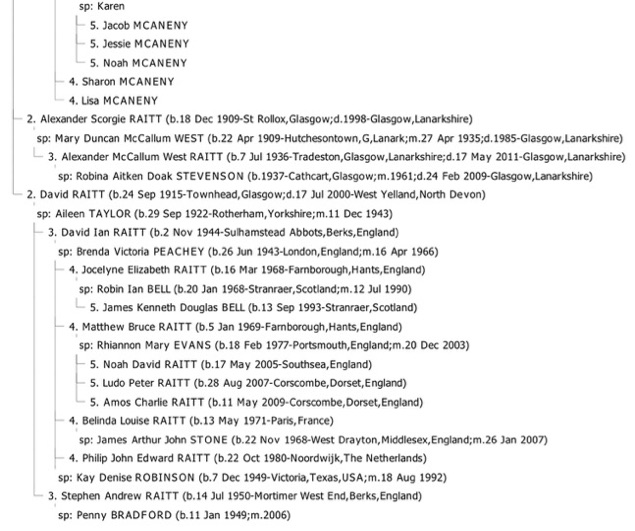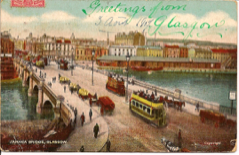 The information provided by the 1911 census has enabled further information to be gathered on the spouses and families of William Raitt's children namely the McKees, the Carrolls, the Guests, the McAnenys, the Wests, and the Taylors. While separate pages have been made for these families, the tree below gives the descendants of William Raitt.
In the 1881 census for St Vigeans, living at 41 Helen St, is William Raitt, aged 9, scholar; with his mother Mary Raitt, wife, head, age 35, sailor's wife, born Arbroath; brother David, 11, scholar and brother John P., 6, scholar, born Arbroath. His father David Dorward Raitt was presumably away at sea.
In the 1891 census for 10 Westburn, Cambuslang, Lanarkshire is William Raitt, 19, born abt 1872 in Arbroath - boarder in the Andrew Fleming household, occupation bar tender. The rest of his family were at 15 St Vigeans Road, St Vigeans.
It is not yet certain where William (or his parents and brothers were in the Valuation Roll for 1885/86; nor where his mother and brothers were in the Roll for 1895/96. Mary Raitt and her sons were in 1885 or 1895. William was probably still in Glasgow in 1895 - though likely a lodger as he is not listed as a tenant). He moved back to Arbroath at some point because his residence at the time of his marriage in 1899 was 24 Howard St, Arbroath and his occupation was insurance agent and he was 27.
In the 1901 census William Raitt and wife Helen were living at 92 Helen St, St Vigeans (Lochlands) in two rooms with one or more windows. He was aged 29, and a restaurant keeper on his own account (i.e self-employed); she was 24. All their children were born after this census. His mother and brother John were living at 24 Howard Street. St Vigeans, while his brother David was at 31 Hannah Street, Arbroath.
William was apparently a baker and had a shop in Arbroath (his son David remembers all the baking trays and his daughter Alice said he had a bakery business in Arbroath with his brother). Apparently there was some kind of row and the family split - with William relocating to Glasgow where he became an insurance salesman. Other family members stayed in Arbroath. The move to Glasgow took place after May 1901 when William and Helen's eldest son was born in Arbroath and before the birth of their second child in May 1902 in Dennistoun Glasgow. I am not so sure about the family split - maybe it happened after they moved to Glasgow because John Purvis Raitt, William's younger brother, was also a baker and pastry chef and also moved to Dennistoun Glasgow, marrying there in December 1901. Elder brother David Raitt also moved to Glasgow around the same time, i,e after the birth of his son Edward in August 1901 and the birth of his son James in October 1903. However, I think I have now pieced together this story and it can be found on Ye Olde Raitt Shoppes page.
In the Valuation Roll for 1905-1906, William Raitt, occupation traveller, is living as a tenant in a house at 33 Earlston Avenue, Glasgow, along with others including mother Mary listed separately. The proprietor of the property was David Graham, residing at 32 Cathkem Road (?) and the annual rent was £9 15s for William and £9 18s for Mary.
In the 1911 census for 14 Earlston Avenue, Townhead, Glasgow (Garngadhill) William Raitt, head, 39, insurance agent, born Arbroath, is living in two rooms with one or more windows with his wife Helen, 34, born Arbroath; and children William, 9, at school, born Arbroath; Annie, 8, at school; Mary, 7, at school; Helen, 6, at school; Alice, 2; and Alexander, 1 - all five born in Glasgow. William and Helen had been married 12 years and had had six children all of whom were still living at the time of the census. At the same address (presumably a tenement building) was William's mother, Mary, a widow of 65; his sister-in-law Elizabeth Purvis, a spinster aged 75; and his younger brother John (a 36 year old pastry baker) and his family - all living in two rooms with one or more windows.
According to the Valuation Rolls for 1913-14 William Raitt, agent, was a tenant at 14 Earlston Avenue, Municipal ward 6, Glasgow paying an annual rent of 8 pounds 10 pence to the proprietor, Mrs Jane Davie, Kenilworth, Coatbridge per D. Graham, 180 Hope St, Glasgow. In the same building was also Mrs Mary Raitt - annual rent/value was 11 pounds ten pence. This is Mary Purvis, William's mother.
The Valuation Roll for 1915 has William Raitt, cabinet maker, living as a tenant in a house with several other families at 32 Kirkland St, Glasgow, Ward 17. The house was owned by Mrs Marie Rose Baird, 41 Crown St, Bury St Edmunds, per Torrance & Baird, 173 St Vincent St, Glasgow. The feu duty or ground annual rent was £61 2 shillings and 8 pence and the annual rent or value was £11.
When William's son David was born in 1915, William's occupation was given as drapery traveller; but on David's marriage in 1943 he was again described as an insurance agent.
In the Valuation Roll 1920-21 for the City and Royal Burgh of Glasgow, Municipal Ward 8, Parish of Glasgow, Rating area Glasgow, living as a tenant in a house (along with others) at 14 Earlston Avenue is Mrs Mary Raitt. The property was owned by Mrs Janet Davie of Kenilworth, Coatbridge and the annual rent or value of the presumably flat occupied by Mary was one of the highest for the building at £14 15s. Since neither sons William and John and their families are elsewhere mentioned in the Roll, then presumably they were living with their mother. Their brother David, a painter, was living with his family at 6 Chatham Place in Municipal Ward 11, Glasgow.