In the chequered history of the property we learn that:
"John Raitt, Sheriff of Anne Arundel County and one-time armorer for the Province of Maryland, as well as a merchant, leased the property in 1748. Raitt sold European and East Indian goods at a shop in the house. When he died in 1758, the lease was purchased by Nathan Hammond [who appears to have been John's business partner]. Hammond married the widow Raitt and continued to run the shop, selling similar imported goods. In 1787, Nathan Hammond, sold the lease to innkeeper John Humphrey, who kept the house as a tavern, "The Harp and Crown". Nathan Hammond (nephew of Nathan Hammond, and his heir) sold the lease to Andrew Slicer in 1817."
Further notes provide additional details.
1748. Mayor's Ct. Proceedings, Liber B, f.239. Hall of Records: Ashbury Sutton to John Raitt, Sheriff of Anne Arundel Co. (Sells lease "... With more than 51 years of lease yet to go ••••").
1755. A.A. Co, Deeds, Liber EJ12, f.636. Hall of Records: Cancellation of 77 yr. lease between Tasker & Smith. New lease for 99 years between Tasker & Raitt, at £3-3-0 per annum.
1758. John Raitt dies. On the back of the leaser between Raitt and Tasker is the note: Nathan Hammond married the widow Raitt by whom he gained the within property".
It seems that John Raitt's "administration" (will) lists a James Raitt, merchant of London, to receive £398 (a hefty sum in those days, and presumably a business debt of some kind).
1762. A.A. Co. Deeds. DD2, f,239. Land Office: Benjamin Tasker to Nathan Hammond, Sr. Part of lot not let to Raitt, 92 year lease renewable forever.
Another interesting document from Frederick County (MD) court gives a hint of the controversy surrounding the will of John Raitt's son John who died on 20 March 1803 leaving a widow (Hannah Hammon and children. His parcel of land (158 acres) was willed to his wife until her death and then it was to be sold and divided among children. Son Nathan Raitt, living in Kentucky, sold his share to brother Hammond, and subsequently claims were made by other members of the family against each other.
----------
Although he was the Maryland Provincial Agent in England and married Anne Willis in London, John subsequently resided in Maryland, building up wealth and fortune along the way and marrying his children into illustrious old-English families such as the Hammonds, who traced their ancestry back to the English royal family.
As Armourer of the Province of Maryland, John was paid £60 for eighteen months. "The following Order payable to Mr John Raitt for Sixty Pounds Sterling being for 1yr 6 mo Salary as Armourer of this Province ending 26th of March 1747 was ordered to be drawn on Mr William Hunt Merchant in London." Subsequently, it was ordered that an Order [be drawn] on the honourable Col Charles Hammond Treasurer of the Western Shoar payable to Mr John Raitt, or Order, late Armourer of this Province for the sum of Thirty pounds fourteen shillings and seven pence Sterling being for 14/mo and 20 Da Salary from 11th of July 1747 to the 30th of September 1748 at the Rate of 25 £ p Annum to be paid out of the Fund of 3d p hhd for Arms &c"
It seems that John was in the property business - a series of adverts in the Maryland Gazette for Thursday 5 December 1754 and some weeks afterwards, just before he took up the position as Sheriff, show that he was to be contacted for the sale of two dwellings.
Although he supposedly took up office as Sheriff on 1 January 1755, John is credited in the Maryland Gazette for 31 December 1754 as being Sheriff already, when a reward notice under his name describes four sailors who broke out of gaol having already deserted the ship Unity. Their clothing is noted and a reward of five pounds is posted.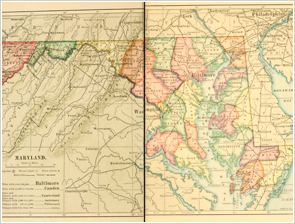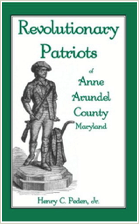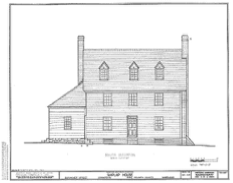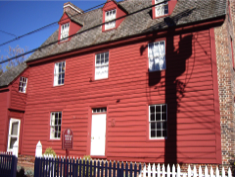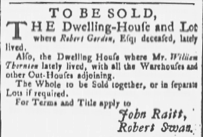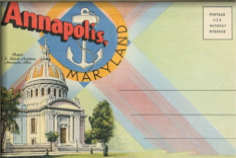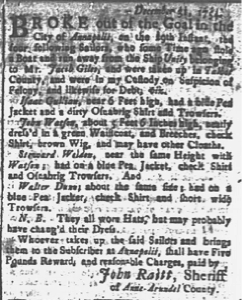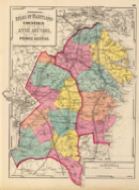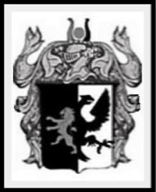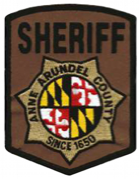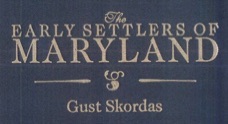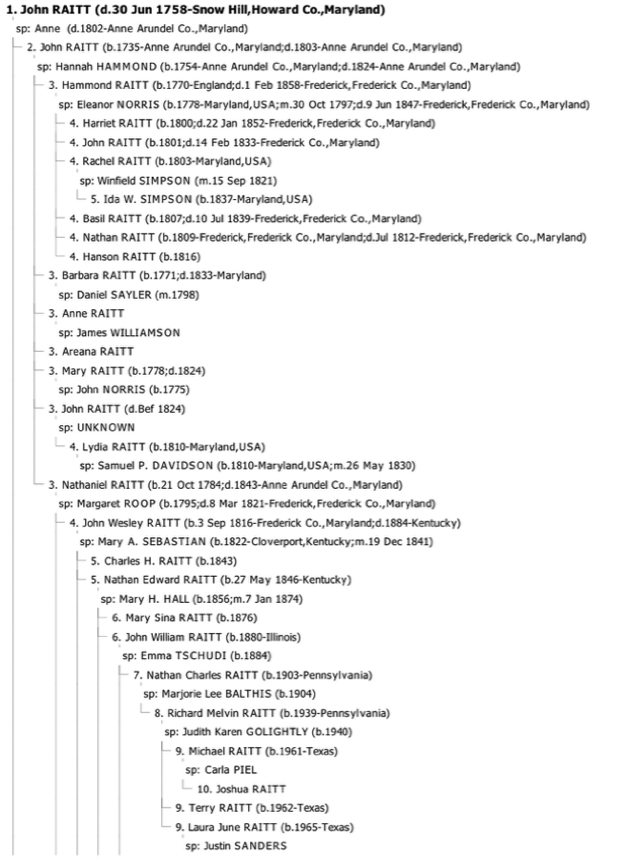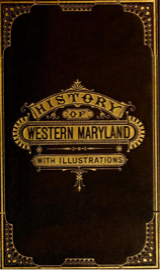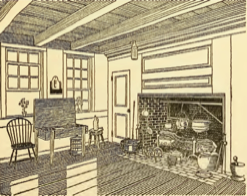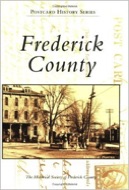 Census data provides details about the Raitt family - the following is taken from various free sources and the details could be expanded with occupations etc from the actual records from subscription services.
The 1790 census for Frederick County, Maryland has the following families:
James Rate as Head of Family in household comprising 1 free white males of 16 years and upwards (including heads of families), 3 free white male under 16, and 4 free white females (including heads of families) And 4 other free persons, and 4 slaves.
Alexander Rate as Head of Family in household comprising 1 free white male of 16 years and upwards (including himself as head of family), 1 free white male under 16, and 3 free white females.
Quite who James and Alexander are is not yet clear - though from their names one could assume they are Scottish Raitts.
The 1860 census for Taneytown District n1, Carroll Co, MD has:
Mathew Raitt, 47; Center H. Raitt, 45
The 1860 census for 4th Marshall District, Harford, MD has:
Charles Rait, 60; Cassandra, 50; Henry, 24; Elizabeth, 20; Charles H., 15; Laura, 11
A couple of Raitt families, whose heads of household were born in Maryland, show up in Kentucky.
The 1860 census for Cloverport, Breckinridge, KY has the following families, the heads of which were born in Maryland:
Owen Raitt, 45 (1815), b ME
J. W. Raitt, 43 (1817), born ME; Mary A., 38, wife; Charles H., 17, son; Nathan, 13, son; Margaret A., 9, daughter; Elizabeth, 6, daughter; Josephine, 2, daughter (wife and children born Kentucky)
This latter family is also in the 1880 census for Cloverport, Breckinridge, KY:
John W. Raitt, age 63 (1817), Lawyer/judge, born MD; Mary A. 50 (1830), wife, keeping house; Annie, 28 (1852), daughter; Elizabeth, 23 (1857), daughter
Josie, 21 (1859), daughter
The 1880 census for Maryland has the following Raitt families. All were born in Maryland, including both parents, except where noted. The numbers following the names are their ages and computed birth years at the time of the census.
District 3, Baltimore Co. has:
Henry C. Raitt, 44 (1846). fence builder; Eliza P., 40 (1840), wife, keeping house;
Frank W., 19 (1861), son, clerk in store; Charles H., 16 (1864), son, clerk in store;
Mary P., 15 (1865), daughter, at home; Henry H., 13 (1867), son, at school
Baltimore, Baltimore Co.  
Charles Raitt, 16 (1864), milk wagon driver, single
Frank Rate, 19 (1861), clerk in store, single, born DC (mother VA)
Taneytown, Carroll Co.
Nathaniel Raitt, 64 (1816), farmer, single
Uniontown, Carroll Co.
Charles H. Raitt, 65 (1815), farmer; Mary J., 40 (1840), wife, keeps house;
Ella M., 13 (1867), daughter
Abingdon, Harford Co.
Frank P. S. Raitt, 7 (1873), grandson, in household of George W. Hooker
Belair, Harford Co.
Laura Raitt, 27 (1853), keeping house, single; sister to head of
household Elizabeth Ege (37, 1843, married)
Fallston, Harford Co.
John F Raitt, age 44 (1836), widower, clerk on railroad
The 1930 census for Election district 15, Baltimore Co, MD has:
William C. Raitt, 39 (1891); Elva, 29 (1901); Gladas I., 10 (1920); Herman J., 9 (1921); Clara C., 7 (1923); William, 6 (1924)
----------
Below is given an initial version of John Raitt's tree and his descendants. It needs to be verified and expanded and this will be done in due course. The John W. Raitt (b 1817) in the censuses above is clearly John Wesley Raitt below, but Owen Raitt does not appear below, neither does Nathaniel and Charles H. - given that they were born about the same time as J. W. they are presumably either brothers or cousins.
During his tenure as Sheriff from 1755-1757 John held in custody a runaway servant, John Bruff, imported on the Rose by Capt. Slade in 1755 and belonging to Jonathan Mulleneux of Elk Ridge – who reported another runaway servant as well as a couple of stray horses and who eventually ended up in gaol in 1756 for a long time for debt. An orderly servant of John Raitt accidentally drowned in 1750, and other of his servants drowned in the river Severn in 1754. Unusually, John had amongst his indentured servants two "Hindoos". We also learn that East Indian George Nulla was 20 years old and valued at 30 pounds in 1759 when he was listed in the Anne Arundel County estate of John Raitt [Prerogative Inventories 69:1-3].
John was also one of the managers of a scheme of lottery in June 1858 for raising the sum of £435 for further securing the dock of Annapolis and other public uses in the city. The ad appeared in the Maryland Gazette shortly before he died and his name continued to appear in the ad even after his death for a short while, presumably because it would have been too expensive to change it right away.
John apparently had the distinction of being the only man ever blackballed from the Annapolis Tuesday Club. The Tuesday Club was started in 1745 by Alexander Hamilton, an Annapolis physician, who wished to create a club that resembled the one to which he had belonged in his native Edinburgh, Scotland, where gentlemen could gather together (on Tuesday evenings) to enjoy convivial conversation, drinking, music, and wit. The original membership of the Club included mostly Scotsmen like himself (he served as secretary for many years), but quickly evolved to include merchants, craftsmen and other successful professional gentlemen. An invitation to join the group signified recognition of intellectual or literary ability rather than social status or political orthodoxy. Quite why John was blackballed is not presently known.
----------
John Raitt's purported coat of arms, shown below centre, is very similar to other known coats of arms pertaining to various Raitts in Bavaria, Germany in the 15th century. Some members of the Maine Raitts also believe this represents their arms too. These arms are described under Other Raitt Arms, whilst a separate page has been created to discuss these Bavarian Raitts. They are quite unlike the normal Scottish Raitt coats of arms.
As noted since developing this web site on my own Raitt family and that of my American cousins, I have been contacted by other Raitts who appear not to be connected at first glance to either my side or our American side. On the page Illustrious Raitts, under Civil Servants, I mention John Raitt (1735-1803) who became Sheriff of Anne Arundel County, Maryland. Further details are given in Raitt Anecdotes and also under the page Other Raitt Arms.
As the Maryland Provincial Agent in England from 1745-1748 (a position not available to residents of Maryland), John Raitt was a successful merchant selling European and East Indian goods, as well as tobacco, at a shop in a house he leased in Pinkney St, Annapolis, Maryland. The house in question, number 18, was known as the Slicer-Shiplap House and is described in a document from the Historical American Buildings Survey. It was built on the waterfront about 1723 and played an import role in the city's commercial life. The descriptive name "Shiplap" refers to the construction style of the wooden siding on the rectangular house, which comprised two and a half stories; three bay fronts, an end wing and a central entrance and stair hall. The Library of Congress has several pictures, drawings and plans of the building. and John Raitt was but one of the occupants over the house's life. The HABS document notes that in 1718 lot #88 was surveyed for the Hon. William Bladen, Secretary of the Province of Maryland. Bladen, upon his departure for London, appointed his son-in-law, Benjamin Tasker, his attorney and eventually left Tasker this land. Tasker contracted with Edward Smith, a sawyer and Inn holder, to lease Smith a ground rent upon part of lot #88 on which Smith erected a house. The house is still standing today as the accompanying photograph by Michael Thomas shows. Attached to it is "The Prize House" which was a tobacco packing shed (as in "prize open" the hogsheads and inspect the tobacco before repacking in shipping containers).