Other Raitt Coats of Arms and Crests

John Raitt (died 1758) was a merchant who became the high sheriff of Anne Arundel county, Maryland (see Maryland Raitts). His putative Coat of Arms is not that of the standard Scottish Raitt arms, but instead that shown below at left below.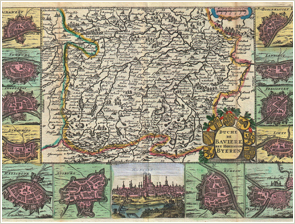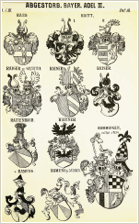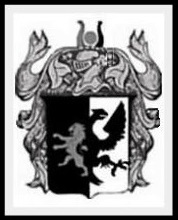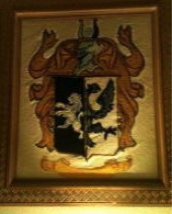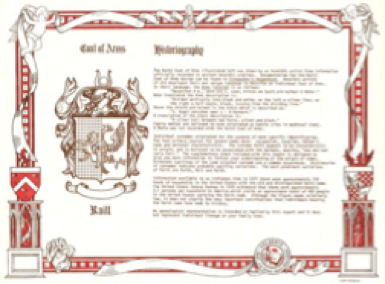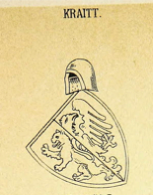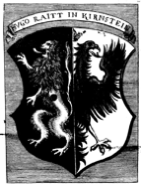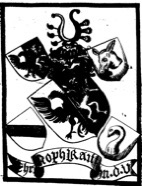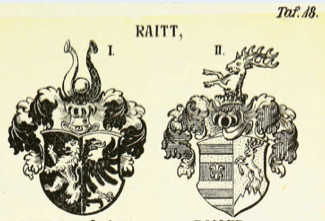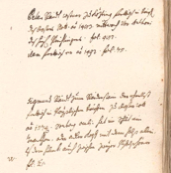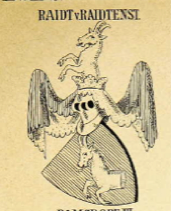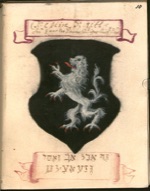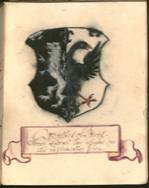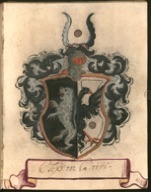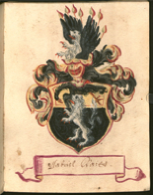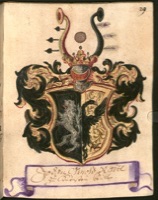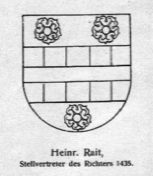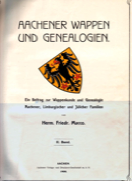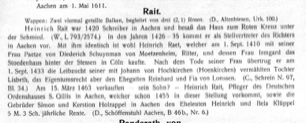 And still in Germany, though not in Bavaria, we learn from Macco's Aachener Wappen und Genealogien book published in 1908, there is an entry under the name Rait, where the arms are described thus: two four-part bars, accompanied by three roses.
These arms belonged to Heinrich Rait who was a scribe in Aachen, Germany in 1420 occupying the House of the Red Cross under the blacksmith. Between 1426-35 he was deputy Judge in Aachen. He is also identified as Heinrich Raet, who on 1 Sept 1410, bought a house in Cologne with his wife and another. He married again after the death of his wife. It may have been his son, also Heinrich Rait, who was curator of the Teutonic house San Gillis in Aachen in 1463.
A manuscript in the Bavarian State Library entitled Genealogie und Stammbuch der Familie Raitt bis 1683 (Genealogy and Register of the Raitt Family up to 1683) gives additional variations of the various coats of arms and who bore them. I have put the pages of the manuscript on a separate page and also listed the Raitt names contained therein. However, the five coats of arms contained in the manuscript are provided below and show some evolution and cadency. A translation of the 17th century German and Latin manuscript into English is provided on a separate page.
The entry for Raitt in Siebmacher ends with the fact that Hans Georg Raitt bought the estate of Unterbruck from Hans Christoph Ruprecht in 1634. (Presumably this is the Unterbruck near Regensberg in Bavaria.) No arms are given.
-----------
What is interesting about the second coat of Raitt arms above is that there is also a Bavarian family called Raidt of Raidtenstein (also Raydtenstein), mentioned by Siebmacher, which also features in red and gold a stag on the left and on the crest. The arms are found for 1560, and various Raidt of Raidtenstein individuals are mentioned: Georg, 1699 and 1707; and Peter Wilhelm, 1742 and 1745. What is even more interesting is that the name is also recorded in Reitstap's Armorial General as Raitt of Raittenstein. In Prey's Sammlung zur Geneaologie des bayerischen Adels, the name appears to be written Raith (or is it Raidt?) and two names are mentioned: Peter in 1495, and Sigmund in 1574. The Bavarian Raidts have a different coat of arms to the Austrian family of the same name, the shield of which bears a hunting horn (as incidentally does the Raits of Pitforthie, Angus, Scotland).
Clearly the coat of arms for Gabriel, Hugo, Christoph, Johann and Steffan (see below) are similar to that of John Raitt of Maryland. However, these are not the only coats of arms for the name Raitt in Germany. My searches have led me to at least two others – and since they are so different then the assumption must be that the families are not related.
Under the heading for Raitt, Siebmacher states that another coat of arms from a noble family of Raitt is described from additional handwritten information (in German) as follow:
Raitt: divided vertically, with green and blue bars, one bearing a red fleur de lis on the right field; and on the left on a green field, a stag standing on a rocky crag. The crest depicts the upper torso of a stag rising from a crown. The mantling is blue and green and red and silver.
Steffan Raitt's arms are shown on the left of the image below, and the second coat of arms for Raitt is shown on the right.
Two more very similar coats of arms are known from bookplates belonging to Hugo Raitt (below left) in Kirnstein and Christoph Raitt (below right) and these are discussed further under Bavarian Raitts.
-----------
Remarkably similar coats of arms to those above are known for at least five men named Raitt who resided in Bavaria, Germany several centuries before John Raitt of Maryland and the Maine Raitts and it is possible that not only were all these early Bavarian Raitts related in some way, even if it is less plausible (to me) that at least one of them may have been an ancestor of John Raitt. Since I have since discovered a fair amount of interesting information on these Raitts and their coats of arms, I have created a separate page for them under Bavarian Raitts. However, something must be said about their arms here.
The Bavarian Raitt arms - on which it appears that the arms of John Raitt of Maryland (and John Raitt of Maine) are based - are recorded in Siebmacher's Wappenbuch in Germany (though probably not for him personally).
Siebmacher's Wappenbuch is the definitive work on Germanic heraldry. The collective work consists of over 100 volumes published in a series spanning over 100 years, the first volume being published in 1855. Each volume contains detailed illustrations of coats of arms with text descriptions about the arms and the families and other entities that bore them. These families included not only noble families, but also those of the bourgeoisie (upper middle class). Information provided about these families may include biographical information and sometimes even pedigree charts. Areas covered in the volumes include the German Empire, the Austro-Hungarian Empire, and some other parts of Europe and the heraldry presented dates from the 12th to the early 20th centuries. There are actually several Coats of Arms recorded in Siebmacher's Wappenbuch where it states that "The surname Raitt appears to be characteristic in origin, and is believed to be associated with the Germans, meaning "one who had curly hair."
Under the heading Raitt in one of the volumes covering Bavaria (Bayern), Siebmacher starts off by stating that the family had originally been recorded as Kraitt by an earlier author (Primbs), but this had been corrected to Raitt in the notes of yet another author (Hefner). Hefner described the coats of arms for:
Steffan Raitt - "Gespalten # w., vorn ein s. Löwe, hinten am Spalt ein halber # Adler. Helm: s. Kugel zwischen zwei s - # Hörnern. Decken # s." (Divided vertically into black and white; on the right a silver lion; on the left a black half eagle, issuing from the dividing line. Above the shield is the helmet and crest which is described as a silver ball between two silver and black horns and covered in silver and black mantling.)
Johann Arnold Raitt of Kürnstein, knight - who appears to have a similar shield, except that the second field is green and the first horn and mantling is also green instead of silver.
Siebmacher indicates that dates are unfortunately not provided for these two men. However, he notes that since these arms do not appear in any of the many books of arms known to him – either handwritten or printed, then the information must have been drawn from some source book.
Mention must also be made of another similar coat of arms belonging to Gabriel Kraitt in Kürnstein. As noted above it appears the name was erroneously recorded and that it should be Raitt. This knight died in 1367 and his arms (according to Primbs) were an elongated shield divided, charged with a lion and a half eagle.
It transpires (according to postings on Ancestry and elsewhere) that the company (Halberts in Bath, Ohio) who had researched the family name in 1972 for John Raitt in Maine (i.e. not Gordon Marquis Raitt himself) apparently has gone out of business after many complaints. The Better Business Bureau warned that its materials were of little value. Genealogical societies nationwide warned their members about the company and it was essentially told to cease and desist trading by the Genealogical Society.
John Raitt in Maine, who commissioned the research into the name from Halberts in 1972 left a note to say that the arms turned out to be bogus. However, that is too harsh a word! Certainly, there is no mention of Raitts in Scotland and only mention of the name in a German heraldry book by Siebmacher (see below) - and indeed the arms do exist and relate to old families in Bavaria.
Now, in 1972, there was no Internet or World Wide Web and information was not nearly so readily available and accessible then. Researchers had to consult reference books in libraries and my guess is that as soon as Halberts came across Siebmacher's heraldry book and saw the name Raitt in there, that is where they stopped. Indeed at that time, there were few easy to get hold of books about Scottish heraldry – the fact that I include many on this page is due to the power of the Web! I further think it highly likely that descendants of John Raitt of Maryland used the same or a similar company about that time or earlier and were given the same information about the Raitts coming from Bavaria. Indeed, they may have even received the information from either John Raitt in Maine or Gordon Marquis Raitt there too.
So, at the risk of upsetting my Maryland and Maine namesakes, I have to say that I do not think that their ancestors came from Bavaria and that, like most of the other Raitts in the United States, they will have originated from Great Britain, probably Scotland.
In a letter written in June 1982, Gordon Marquis Raitt, of Eliot, Maine mentioned the Raitt Coat of Arms and queried whether the silver lion rampant come out of Scotland or Rhatea and did the black eagle come out of Scotland, the legions of Rome, or Rhatea? This Coat of Arms he presumably had seen is not the normal Raitt one - but it could be a personal Coat designed for or by Captain Alexander Raitt of Maine in his roll as merchant. However, from his brief description it appears very like the Coat of Arms of the above John Raitt - so perhaps there is a link between the Maryland Raitts and the Maine Raitts! Gordon was in contact with several people – in Canada as well as Maine and probably elsewhere and he might also have been in touch with Raitts in Maryland.
In fact I was contacted recently by another Raitt from Maine who sent me a picture of a needlework his step-mother had done many years ago of the family's Coat of Arms (above at right.) It turns out to be the same as that of John Raitt of Maryland and presumably the one that Gordon Marquis Raitt had seen. Upon querying where the information about the arms originated, I was sent a copy of the certificate that accompanied the original Coat of Arms (below)