The story of Thomas Raitt, who emigrated from Scotland to America in 1860 and whose descendants subsequently resided in Mississippi, Illinois, Arkansas, Texas and elsewhere, starts, like so many of the Raitts who emigrated, in Angus, Scotland. And like many of them, his name and that of other members of his family varies between Rait and Raitt (and Rate). I have not yet followed up on all the various family members, but Thomas was the eldest son of Thomas Rait and Margaret Miller and was born in Dundee on 8 June 1841. It is family belief that Thomas was one of three brothers who emigrated to America, but to date I can find no record of the other two who may have done so. Since much of the early ancestor history of this family relates to the Dundee area, then I have chosen to split the information - creating a new page for those originating in the Angus parish of Liff, Benvie and Invergowrie - and this new page to reflect much of the descendants' life in the United States.
----------
Thomas Rait (1841-1882)
Thomas was the eldest son (second child) of Thomas Rait and his second wife Margaret Miller. (For full details on the family see under Dundee Raitts.) He was born on 8 Jun 1841 in Dundee, Angus and like his elder half brother, James, followed his father into the baking trade. However, at the age of 19 Thomas decided to emigrate to America, arriving in New York from Greenock, Scotland aboard the City of Manchester on 9 February 1860. He seems to have gone straight to Virginia for he is to be found there in the 1860 census. However, about 1875, presumably in Slate Springs, Calhoun County, Mississippi he married Martha Hudson, born about 1857 in Slate Springs and daughter of Elija Hudson and Catherine Hamby. Thomas and Martha had three children all born in Slate Springs: Mary, about 1875; Thomas Tillman, about 1878; and Whitfield F. in 1882. Thomas died in Memphis, Shelby County, Tennessee on 6 July 1882 and his wife Martha died a couple of years later in Slate Springs.
In the the 1851 census for 8, Overgate, Dundee Thomas Raitt, aged 9, a scholar, is living at home with his father Thomas Raitt, 47, master baker employing four men, born Liff Parish, Forfarshire; his mother wife Margaret, 39, born Dundee; and his siblings: James, 19, baker; Mary Ann, 12, scholar; David, 7, scholar; Betsey, 5, scholar; and Margaret, 1, scholar (though unlikely!) - all children born Dundee.
In the 1860 census for South Ward in the city of Petersburg, Virginia, Thos. Raitt, 19, baker, born Scotland, is in the household of WilliamTaylor, 36, baker, born Scotland and his family, and also other bakers.
Where he was in 1870 is not yet known, but he seems to have moved to Mississippi by about 1875.
In 1880 in Calhoun, Mississippi, Thomas Rate, age 35, born Scotland, as were both parents, is a farmer and a diabetic, living with his wife Martha, 24, born Mississippi (father born North Carolina, mother Alabama); and children Mary, 5; and Thomas, 2 - both born in Mississippi.
With Thomas dying in 1882 and Martha in 1884, then there were three young children to be taken care of - Mary, the eldest being around nine years old, and the youngest, Whitfield, being aged under two. They almost certainly stayed in Mississippi, but what became of Mary and Thomas Tillman Raitt I have not yet discovered, especially as there is no 1890 census available.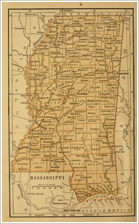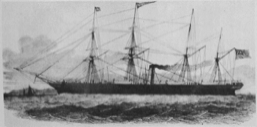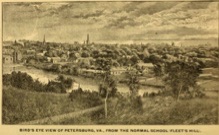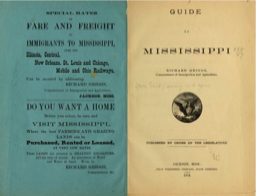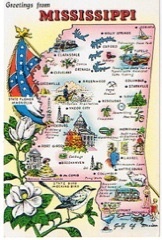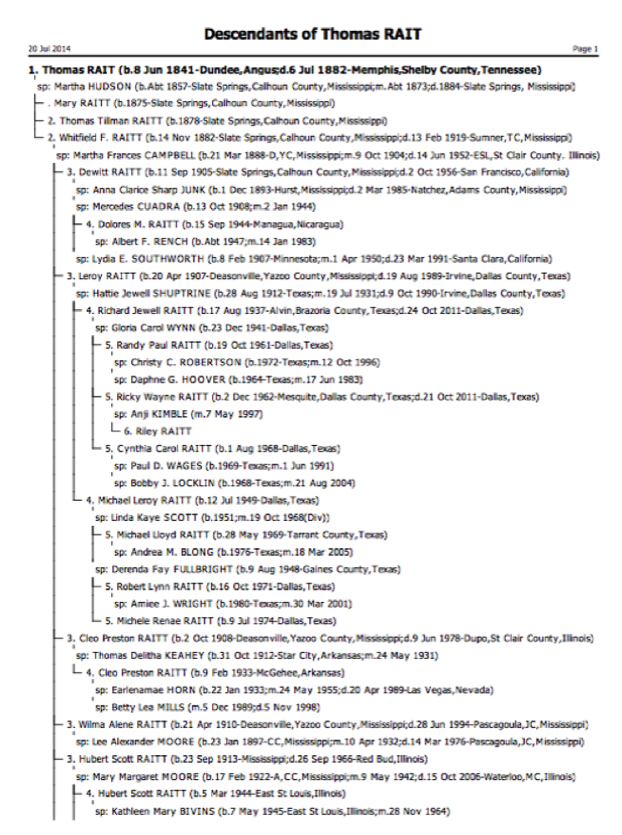 Whitfield F. Raitt (1882-1919)
Whitfield was the third child and second son of Thomas Rait and Martha Hudson, born on 14 November 1882 in Slate Springs, Calhoun County, Mississippi. (Some family members believe his name was Cleveland Whitfield, but I have found no evidence of this at present - that name is not recorded on his gravestone.) He married Martha Frances Campbell, born 21 March 1888 in Deasonville, Yazoo County, Mississippi, on 9 October 1904, possibly in Slate Springs. Like many other earlier relatives, the couple had seven children between 1905-1918: Dewitt (1905); Leroy (1907); Cleo Preston (1908); Wilma Alene (1910); Hubert Scott (1913); Lennie May (1916); and Charles Thomas (1918). Whitfield died on 13 February 1919 in Sumner, Tallahatchie County, Mississippi and Martha died on 14 June 1952 in East St Louis, St Clair County, Illinois.
In the 1900 census for Beat 4, Calhoun, Mississippi we find Whitfield Rait, 17, farm labourer, in the household of Josie (Joseph) Weeks, 29, farmer, born Mississippi, and his mother Telethie Waters, 55, born Georgia (as were both parents). Whitfield is classed as nephew to the head of household, i.e. Josie. Interestingly, the family next door is also called Weeks, as is the one next door to that. I have not checked all the possibilities, but in the 1870 census for Township 14, Range 1, West Calhoun, Mississippi, Tilathy Weeks, 29, and her son Joseph, 5, are living in the household of her father Edmond Hamby, 70, born Georgia. Unless it is a complete coincidence, he is very likely related to Catherine Hamby, Martha Hudson's mother.
In the 1910 census for Deasonville, Yazoo County, Mississippi, there is William F. Rate (transcribed as Kate - though the rest as Rate!), age 35, farmer; wife Martha, 28; and children Leroy, 6; William, 4; and Luther, 2 - everyone born Mississippi, as were everyone's parents). Not all the names and dates coincide, but I am assuming this is the right family.
Whitfield died before the 1920 census, but the family is recorded as living at Beat 5, Tallahatchie County, Mississippi. Martha Raitt, is a widow aged 32, and now the farmer. With her are children Dewitt, 15, farm labourer; Leroy, 13, farm labourer; Cleo T., 12, farm labourer; Wilmer, 10; Hubert, 7; Lennie M., 3; and Charles T., 1 - all born Mississippi.
At the same place in 1930, we find M. F. Raitt, 42, widowed, farmer; and children Wilma, 20; Hubert, 16, farm labourer; Lillie M., 13, farm labourer; and Charles T., 11, farm labourer.
In 1935 Martha Raitt was living in Sumner, Tallahatchie County, Mississippi; but by 1940 she and daughter Mae, 23, had moved to Gunnison, Bolivar County, Mississippi. Martha, aged 52, was a housewife at home, and Mae was also involved in housework. They had income from other sources - perhaps from selling the farm.
Dewitt Raitt (1905-1956)
Dewitt was the eldest child of Whitfield Raitt and Martha Campbell and was born on 11 September 1905 in Slate Springs, Calhoun County, Mississippi. He died on 2 October 1956 in San Francisco, California after a somewhat colourful life. He was married three times: first to Clarice Sharp Junk; then to Mercedes Cuadra, who he married on 2 January 1944 in Managua, Nicaragua and with whom he had a daughter Dolores, born 15 September 1944 in Managua; and finally to Lydia Southworth, who he married on 1 April 1950 in San Francisco.
Trying to track these women has not been easy! He was presumably married to Clarice before 1935 since they were at the same address in Natchez, Mississippi at that date. According to the 1940 census she was 38 (thus born about 1902), however an Anna Clarice Sharp Junk Raitt died in Natchez on 2 March 1985 and her gravestone says she was born on 1 December 1893 (apparently in Hurst, Mississippi.) The names are too similar for this to be a different person. Her maiden name was thus Sharp (her father was Virgil Hiller Sharp) and she was married to Merritt Junk before she married Dewitt - who was actually twelve years her junior!
Whether and when Dewitt and Clarice got divorced I have not yet ascertained; however sometime between 1940 and 1943 he pitched up in Managua, Nicaragua where he was apparently in charge of the construction of the Pan American Highway from Honduras to Nicaragua. He obviously fell in love with a local girl because on 2 January 1944 he married Mercedes Cuadra in Managua, who was born there on 13 October 1908, and who subsequently had a daughter, Dolores, born there on 15 September 1944. Only a couple of weeks after marrying Mercedes, however, DeWitt returned to the United States. He is recorded as embarking in Managua on a PanAm flight originating in Honduras which departed 19 January 1944 and landed at Brownsville, Texas the same day. His age was given as 39. Whether he went back to Nicaragua is not yet known, nor whether he divorced Mercedes or if she died, however in 1948 he was working as a grip man in San Francisco and he married Lydia Southworth there on 1 April 1950. His daughter Dolores obviously moved to San Francisco where she married Albert Rench on 14 January 1983 - however, it is possible she never met her father since in 1999 she was looking for him on the genealogy forums and didn't know whether he was dead or not - in fact he had died some forty years earlier - possibly unaware that he even had a daughter.
Dewitt's third wife, Lydia, had also been married before, to Albert Southworth, and she seems to have remarried after Dewitt died. I am assuming that the Lydia E. Raitt who married Emil Schwandt in San Francisco on 15 November 1957 is the same person. Her age is given as 50 (and his 69) - she died on 23 March 1992 in Santa Clara, California and was born on 8 February 1907 in Minnesota - her father's name was given as Newman.
In the 1920 census, Dewitt Raitt, 15, is a farm labourer living in Beat 5, Tallahatchie County, Mississippi with his widowed mother Martha Raitt, aged 32, farmer; and his siblings: Leroy, 13, farm labourer; Cleo T., 12, farm labourer; Wilmer, 10; Hubert, 7; Lennie M., 3; and Charles T., 1 - all born Mississippi.
I have not yet found where Dewitt was in 1930, but in 1935 he was married and living in Natchez, Adams County, Mississippi. In the 1940 census for the same address, we find DeWitt Raitt, 34, working as a road grader; and his wife Clarence (Clarice), 38, born Mississippi. He may very well have been working on the Natchez Trace Parkway which was begun in the late 1930s. In the history of Federal HighWay Administration, in particular the reminisces of people working for it, there are two references to a "Pappy" Dewitt - who was apparently reassigned in Fall 1941 to the Washington area to work on the Pentagon network with his Survey team. Whether this is Dewitt Raitt is not known - it might be, but then with the nickname Pappy it is more likely that Dewitt was a surname.
Interestingly, there are several other Raitts in Nicaragua, who also have descendants in South Carolina - though these do not seem to be related to Dewitt Raitt. However, I have done some preliminary research and will put the details on a separate page.
Leroy Raitt (1907-1989)
Leroy was the second son of Whitfield Raitt and Martha Campbell. He was born on 20 April 1907 in Deasonville, Yazoo County, Mississippi and he died on 19 August 1989 in Irvine, Dallas County, Texas. He married Hattie Jewel Shuptrine (various spellings) on 19 July 1931 in Eudora, Chicot County, Arkansas. Hattie had been born on 28 August 1912 in Texas and she died less than a year after her husband in Irvine on 9 October 1990. They had two children: Richard Jewell (1937); and Michael Leroy (1949).
In 1910 Leroy was living in Mississippi with his family; and in 1920, Leroy, aged 13, was living at home in Tallahatchie County with his siblings and widowed mother.
In 1930 Leroy may have already been in Arkansas, since this is where he married Jewel in 1931 and their address at marriage was given as the same. However at the time of the census Jewel was living at home back in Precinct 8, Dallas, Texas with her parents and siblings.
In 1935 the inferred residence of Leroy and Hattie was in Rural, Louisiana, but they (or at least Hattie) must have returned to Texas about 1937 where their eldest son was born. However, in 1940 Leroy Raitt, 32, a shovel operator in a coal mine, born Mississippi, was living at St David, Fulton County, Illinois, with his wife Jewel, 27, born Texas; and son Richard, 2, born Texas.
Cleo Preston Raitt (1908-1978)
Cleo was the third child and son of Whitfield and Martha Raitt. He was born on 2 October 1908 in Deasonville and died in Dupo, St Clair County, Illinois on 9 June 1978. He married Thomas Delitha Keahey, born 31 October 1912 in Star City, Arkansas, on 24 May 1931 in Chicot County, Arkansas. They had a son, Cleo Preston, born on 9 February 1933 in McGehee, Arkansas.
In the 1920 census, Cleo was a farm labourer living with his mother and siblings in Tallahatchie.
Where he was in 1930 is not yet know, but his inferred residence in 1935 was Rural, Mississippi. Since he married in 1931 in Arkansas, then it is possible he was there in 1930, perhaps living with his brother Leroy as they both married in the same county just a couple of months apart.
In 1940, Cleo P. Raitt, 31, drag line operator in a construction company, born Mississippi, was living in Bogalusa, Washington County, Louisiana with his wife Tommie D., 27, born Arkansas and son Cleo P., 7, born Arkansas.
Hubert Scott Raitt (1913-1966)
Hubert was the fifth child and fourth son of Whitfield and Martha Raitt. He was born in Mississippi (probably either Deasonville or Sumner) on 23 September 1913 and died on 26 September 1966 in Red Bud, Illinois. On 5 May 1942 in Drew, Mississippi, he married Mary Margaret Moore who was born on 17 February 1922 in Ackerman, Choctaw County, Mississippi. The couple had two children: Hubert Scott, born 1944 in East St Louis, Illinois; and Joyce, born 1956 in Illinois.
In 1920 and 1930, Hubert was living at home in Tallahatchie County, Mississippi with his mother and various siblings. Where he was in 1940 is not yet known.
Charles Thomas Raitt (1918-1950)
Charles was the seventh child and fifth son of Whitfield and Martha Raitt. He was born in Sumner, Tallahatchie County, Mississippi on 24 July 1918 and died on 3 July 1950 in Dupo, St Clair County, Illinois. He married Ruth Weissenborn in Dupo in October 1946 and they had two children: Charles Whitfield, born 29 October 1947; and Charlene Ruth, born 1 October 1949 in Belleville, Illinois. Brief information on Charlene will be found under Religious Raitts at the bottom.
Charles was at home with his mother and elder siblings in 1920 and 1930.
----------
The tree below gives only the descendants of Thomas Raitt who came to America in 1860 and started this family. His siblings and ancestors will be found on the page for the Raitts of Liff, Benvie and Invergowrie.