The mother of Mary Purvis, my paternal great grandmother, was Catherine Wilkie who was born about 1813 in Forfar and died on 29 January 1887 in St Vigeans. She married William Purvis on 27 December 1834 in Brechin and had eight children between 1835-1851.
Her father was John Wilkie, born about 1786, and a soldier in the Forfarshire Militia, later in the army of the Honourable East Company, and sent to the island of St Helena in 1815. Presumably his family accompanied him, including Catherine, since two of his children were born there.
Catherine's mother was Isabella Wallace, born 1 April 1787 in Kirkden, Angus - daughter of John Wallace, a farm labourer, and Mary Fairweather who married on 10 August 1780. John's parish was given as Kirkden, while Mary's was given as Rescobie. They may have had some five children between 1781-1789- although for most only the father's name is listed - though given the proximity of dates and the location Kirkden then the assumption is Mary is the mother.
Isabella married John Wilkie on 24 April 1808 in Stirling, where he was based (where they met is not known - she may have been working there) and must have accompanied him to St Helena, where two further children, James and William, were born during the period the family was stationed there. They were back in Scotland before the end of 1823 because their daughter Isobel was born in Brechin, Angus in October 1823. Although only six children are known - born between 1813-1828 - since Isobel is listed on her birth extract as the seventh child of John Wilkie and Isabella Wallace, then there must be three other children unaccounted for. Presumably, they were born between 1808 when they married and around 1813 when Catherine was born, although one may have been born between James in 1818 in St Helena and Isobel in 1823 in Brechin. They may have been born abroad if John was stationed somewhere outside Scotland.
----------
Catherine Wilkie (abt 1813-1887)
Before marrying William Purvis, Catherine had a relationship with William Kinnear (1805-1859)of Dunnichen and had two children with him: Annie Kinnear born 21 February 1830 and Isabella Kinnear born 16 January 1832 - both in Dunnichen. Catherine and William do not appear to have been married, though William subsequently did marry Janet Stirling in November 1832 and at least four children with her between 1834-1841.
In the 1841 census for Braikswynd, Arbroath is Catherine Waylay 25, yarn winder with children Elizabeth Purvis (6), William Purvis (3) and Mary Purvis (3m). (Records show that Mary Purvies, daughter of William Purvies died 17 July 1842 in Arbroath.) Catherine's two children with William Kinnear are with their grandparents - Isabella in Brechin with John and Isabella Wilkie and Annie in Dunnichen with Janet Tarbat (widowed second wife of her grandfather Thomas Kinnear.)
In the 1851 Census Catherine, age 38, born Forfar is living in St Vigeans with husband William Purvis, 37, journeyman shoemaker, born Montrose; with children Elizabeth (15, flax spinner, born Brechin), William (13, shoemaker/boot closer, born Brechin), John (7, born Arbroath), Mary (5, born St. Vigeans) and Margaret and James (both under 6 months, born St. Vigeans). The Mary mentioned here is a second daughter so named - the Mary in the 1841 census had died in 1848.
Catherine is named on daughter Annie Kinnear's wedding details (she married William Cross in 1860) as Catherine Purvis.
The 1861 Census shows Catherine (48) and William Purvis (47, leather warehouseman) living at 17 Panmure Street, St. Vigeans with children Elizabeth (25, flax mill worker), John (17, last block maker) and Mary (15, flax power loom winder). Son William shows up in a Dundee institution as a patient.
In the 1871 census, living at 17 Panmure St, St Vigeans is Catherine Purvis, head of household, age 58, born Forfar; daughter Elizabeth, aged 35, unmarried, flax spinner, born Brechin; and son William, aged 32, unmarried, bootcloser unemployed, born Brechin.
In the 1881 census, still at 17 Panmure St is Catherine Purvis, aged 68; Elizabeth, aged 45, flax spinner; and William, aged 43, sailcloth weaver.
----------
John Wilkie (born abt 1786)
John Wilkie was born about 1786 in Angus. There are a couple of possibilities: born Kirriemuir on 1 October 1786, father James Wilkie; or born in Dundee on 14 October 1787 to parents John Wilkie and Janet Findlay. He became a soldier in the Forfarshire Militia, based at Stirling Castle from March 1807-June 1808. He was later in the army of the Honourable East Company and by 1815 was in the St Helena Regiment at the time Napoleon Bonaparte was exiled there (1815-1821). It is not know whether John Wilkie fought at the Battle of Waterloo (May 1815) or when or why he was sent to St Helena. He was already there before Napoleon arrived in October 1815 and was probably still there at the time of his death in May 1821. He clearly returned to Scotland well before his daughter Isobel was born in Brechin, Angus in October 1823, and had given up his army life because his occupation was given as weaver on her birth extract. His death is not known - presumably it was before 1851 as he does not appear in the census for that year.
In the 1841 Census for Cadger Hillock, Brechin we find John Wilkie, aged 55, a linen hand loom weaver, born Angus; with wife Isabella Wilkie, aged 55, born Angus; and daughters Isabella, aged 15, linen hand loom weaver, born Angus; and Sally, aged 10, linen hand loom weaver, born Angus. Also in the household is Isabella Kinnear, age 10 (she is the daughter of Catherine from a previous relationship.)
Next door is son James Wilkie, age 23, linen hand loom weaver, born outside census country; with wife Isabella (Leighton), 25, flax yarn winder and daughter Mary Wilkie, 9m. Also in household is Jean Leighton, 20, dress maker (sister of Isabella ). In the next household is Andrew Leighton, 45, shoemaker (and brother-in-law of James Wilkie) and Alexander Davidson, 40, shoemaker journeyman.
----------
Isabella Wallace (1787-1868)
As noted, Isabella Wallace lived with her husband on the remote island of St Helena for several years before returning to Scotland.
In the 1841 Census for Cadger Hillock, Brechin Isabella Wilkie (aged 55, born Angus) is living with husband John Wilkie (aged 55, linen hand loom weaver, born Angus); and children Isabella (aged 15, linen hand loom weaver, born Angus) and Sally (aged 10, linen hand loom weaver, born Angus). Also living there is her granddaughter Isabella Kinnear, age 10.
In the 1851 Census for Cadger Hillock, Brechin Isabel Wilkie, head, aged 66, born Kirkden is listed as a pauper, yarn winder; daughter Sally (25, linen hand loom weaver, born Aberlemno) is with her; as well as Isabel Kinnear, grandchild (19, linen hand loom weaver, born Brechin); and Helen Kinnear, great grandchild, 2, born Brechin. Andrew Leighton, shoemaker, aged 56, is still next door.
In the 1861 census Isabella Wallace, age 75, born Kirkden is living at 13 Montrose St. Brechin in the household of her daughter Isobel (married to James Middleton) and family.
She died at 17 Panmure St, Arbroath on 9 May 1868, a pauper aged 81, at the home of her daughter Catherine and son-in-law William Purvis.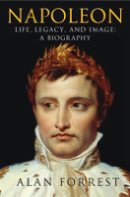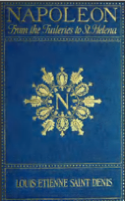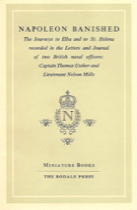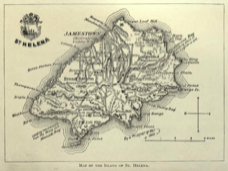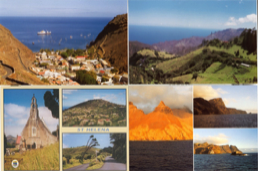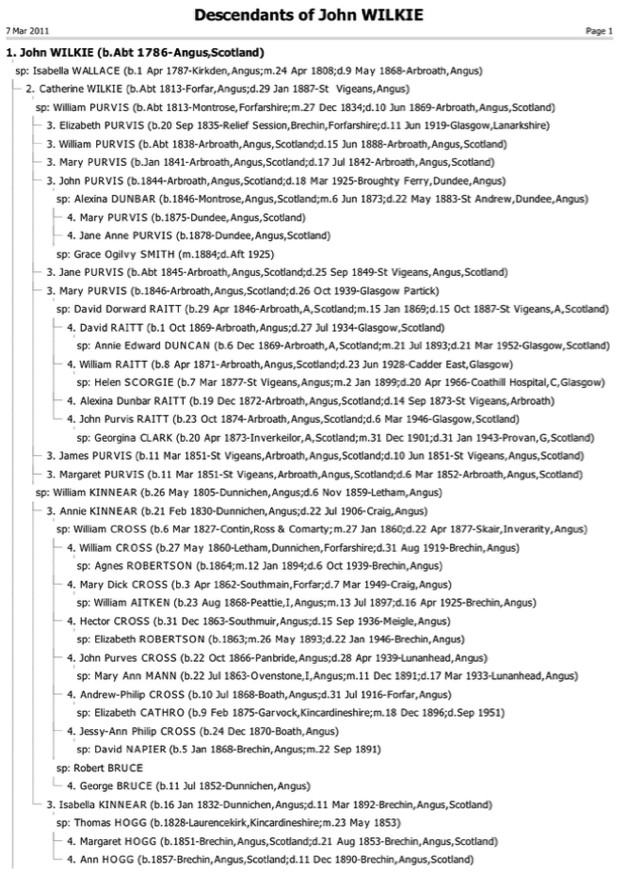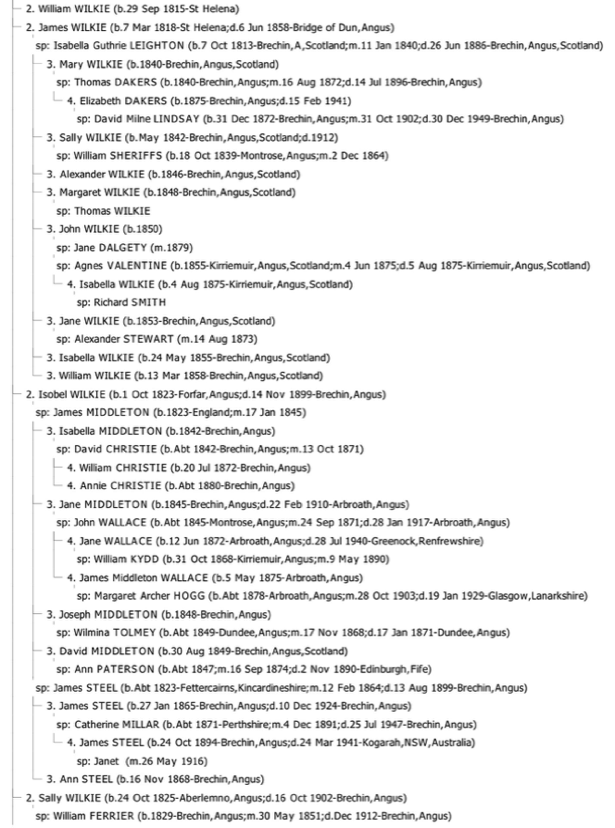 In 1657, Oliver Cromwell granted the East India Company a charter to govern the island of St Helena and the following year the Company decided to fortify the island and colonize it with planters. From 1787 onward, St Helena was used for acclimatizing European troops for service in India - the East Indian Company having its own army. Starting in 1810 hundreds of Chinese labourers began to arrive to supplement the rural workforce after the import of slaves was forbidden. An 1814 census recorded 3,507 people on the island. In 1815 the British government selected Saint Helena as the place of detention of Napoleon. The ship carrying Napoleon to Saint Helena, the Northumberland, had some one thousand and eighty men on board, many of them soldiers, and the ship was accompanied by two smaller troop ships, the Ceylon and the Bucephalus. The voyage from Plymouth took sixty-seven days during which the little flotilla was battered by winds and high seas. He was brought to the island in October 1815 and lodged at Longwood, where he died on 5 May 1821. During this period, St Helena remained in the East India Company's possession, but the British government met the additional costs arising from guarding Napoleon. A census in 1817 recorded 821 white inhabitants, a garrison of 820 men, 618 Chinese indentured labourers, 500 free blacks and 1,540 slaves (emancipated in 1818). After Napoleon's death the thousands of temporary visitors were soon withdrawn and the East India Company resumed full control of Saint Helena.
Alan Forrest in his account of Napoleon describes Saint Helena as "an impoverished and windswept outpost of Empire cut off from the world in the far South Atlantic. Battered by Atlantic storms , it was a bleak and inhospitable island – especially during the long winter months – a rocky [volcanic and lava-filled vegetationless] outcropping in a distant ocean, dominated by the mountain peaks which punctured the low clouds…..When Charles Darwin landed on Saint Helena in 1836 it was the bleakness that he emphasised…..The island had no native population, but it was an important staging post for ships of the East India Company and sustained a population of up to five thousand, including a British garrison, a large number of slaves from Madagascar, and Chinese indentured labourers; it serviced and supplied around a thousand ships every year. Jamestown, the capital, was a village squeezed between two mountains without port installations, where ships lay at anchor off the coast and passengers were brought ashore in open boats…. Summers were semi-tropical, but in winter Saint Helena was exposed to fierce storms that regularly piled in from the Atlantic, and there was a pervasive damp that clung to the walls and seeped into the foundations of the buildings."
Some of the descendants of the earliest known in this line, John Wilkie, are given below for the four generations down to my grandparents William Raitt.