John (Dorward) Raitt's tree

Although his descendants refer to him as John Dorward Raitt, according to his birth certificate he was actually just simply named John, after his father. The second child and firstborn son, he was born on 15 December 1837 in Arbroath to John Raitt and Elizabeth Dorward and, unlike his father and two brothers, James Dorward and David Dorward, started off, like so many, as a machine flax dresser rather than a seaman.
John married Cecilia Monroe Crabb on 8 April 1859 in Arbroath. She was born on 12 April 1837 in Arbroath to James Crabb (1794-1875) and Cecilia Munro (1804-1859) - one of seven children, four of whom emigrated to the USA. Cecilia's older brothers Henry and Archie Crabb went first, then brother John. Their father, James, followed them after the death of his wife Cecilia. James seems to have been the only child of John Crabb and Elizabeth Raitt (1768-1847) - her father may have been James Reat from St Vigeans (who was also witness to her son's baptism) - though it is not yet known exactly who these Raitts were.
----------
In the 1841 Scotland Census John was aged 3 living at 18 Hannah St, Arbroath Lady Loan with his parents John Raitt (35, Merchant Seaman) and Elizabeth (30), elder sister Margaret (7) and younger brother James (8 months). Also in the household was his father's Susan (35) who was presumably staying there while her husband, Alexander Croal was away at sea.
In the 1841 Census for Lady Loan, Arbroath, Cecillia aged 4 is living in the household of her mother Cecillia Crabb, age 33, born outside 1841 census county (ie Angus), plus siblings Henry (age 11), James (10), Archbauld (8), Ann (6), and John (1). There is no mention of her father James Crabb (b 1794).
In the 1851 census for Ladyloan, living at 15 Hannah St are John, 15, machine flax dresser, with his father John Raitt, head, 45, seaman; mother Elizabeth, 42; and siblings Margaret, 17, powerloom weaver; James, 10, housework; David, 5, scholar; and Elizabeth, 1 - all born Arbroath. In the same house is his maternal grandmother, Margaret Dorward (nee Philip) and her two unmarried seaman sons David (56) and James (45).
In the 1851 census for 31 Dishlandtown, St Vigeans, Cecilia, 13, flax spinner reeler is living at home with her parents and siblings: James Crabb, 36, head, hand loom weaver, pauper; wife Cecilia, 47, (born Greenock, Renfrewshire); children Henry, 21, blacksmith; Archibald, 17, blacksmith; Ann, 15, flax spinner reeler; John, 11; and Jean, 7 (1844 St Vigeans)
In the 1861 census John Raitt (23, iron moulder), his wife Cecilia (23), and daughters Elizabeth D (2) and Cecilia (3 months) were residing at 14 Links St, St Clements Parish, St Nicholas, Aberdeen. (Quite why the family went to Aberdeen a month before they emigrated to America is not known. The assumption is they were visiting family - but who exactly is not known.)
----------
John Raitt and family arrived in America at Castle Garden (New York) on 11 May 1863 on the ship "North American" from the port of Liverpool after leaving Scotland. The family included John aged 26, occupation moulder, wife Celia (Cecilia) aged 26, and children Elizabeth aged 4, Celia (Cecilia) aged 2 and infant John. The ship's passenger list has the three children on a different page to John and Cecilia - the children are down as from Scotland, but their parents are down as from Ireland – undoubtedly because the ship called at an Irish port before sailing across the Atlantic. In all cases, the surname is given as Rait.
The family lived in Peoria, IL for a number of years, with John becoming a farmer and obtaining naturalization in 1876. In 1880 he was farming in Eppards Point, Livingston Co. (See Down on the farm for details about his farm in the 1870 and 1880 non-population schedules). They lived next door to Archie Crabb, older brother of John's wife Cecilia Monroe Crabb. Archie Crabb was one of the two who provided testimony for John's naturalization process and was most likely the namesake for one of John's sons and grandsons.
They moved to Nebraska in 1899 to a farm outside Rising City, Butler Co. and then moved to David City on 1 March 1916. Cecilia died in David City on 21 September 1920, and John died on 18 July 1924 in Panola, Woodford County, Illinois. Both are buried in the Circle Round Cemetery in Rising City along with several of their children and grandchildren.
The photo below shows the cradle in which John and Cecilia brought their infant son John to America in 1863 and which remains in the family to this day.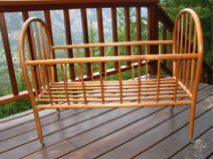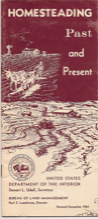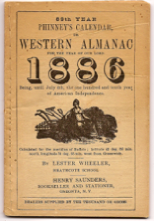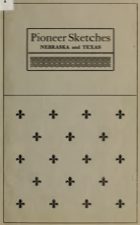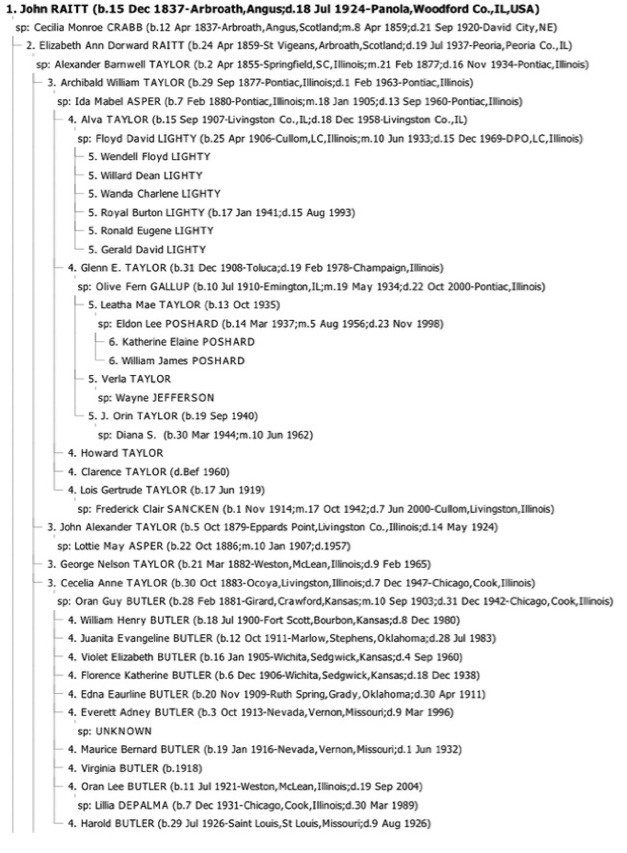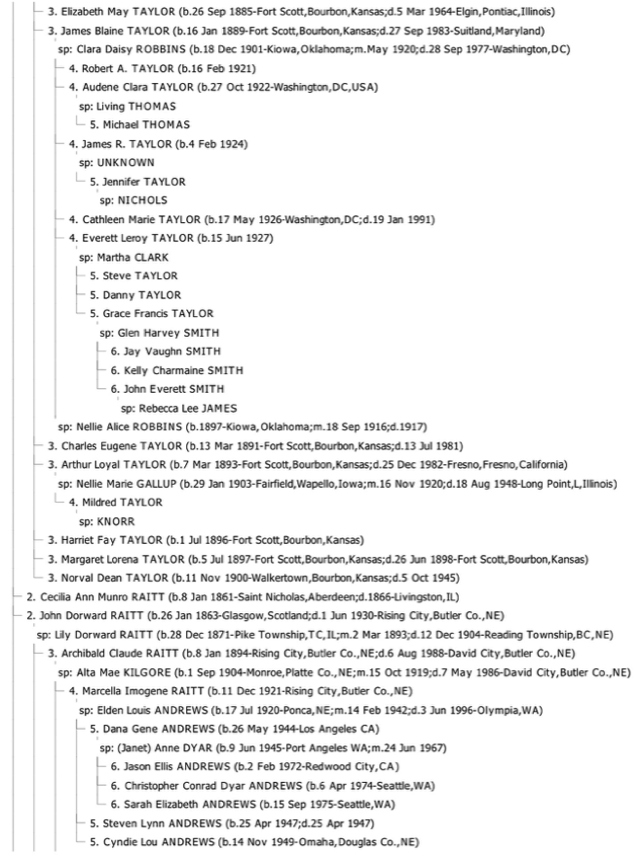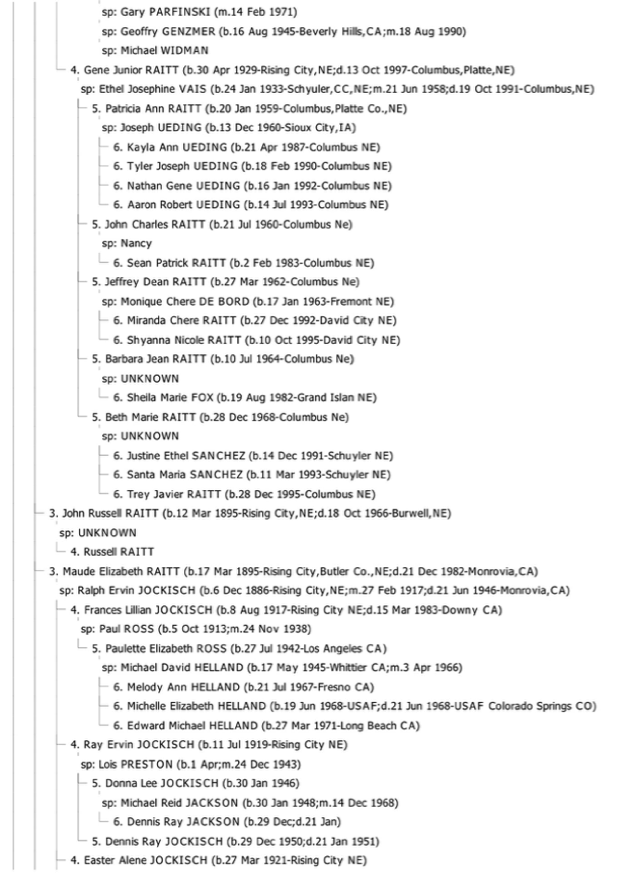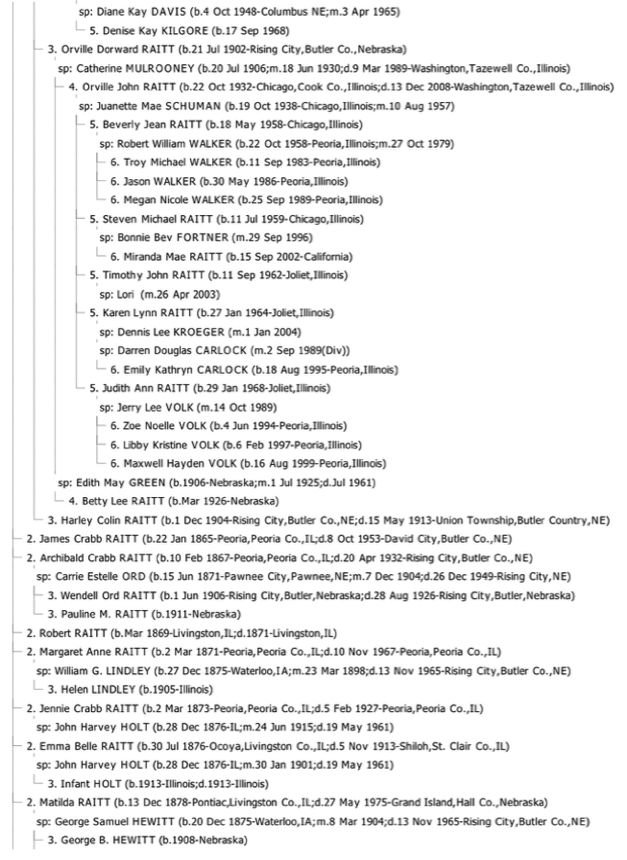 The tree below shows this branch of the Raitt family and all the descendants. Fuller details on many of them on the American side can be found on the Andrews Web site.
In the 1870 US Census for Pike Township, Pontiac p.o., Livingston Co, Illinois, John "Reitt" is 32, a farmer, born Scotland; and wife Sarah (Cecilia?) is 32, keeping house, born Scotland. Children listed are Elizabeth (10), born Scotland; John (6), born Scotland; James (5), born Illinoise; Archibald (3), born Illinois; and Robert (1), born Illinois - all at home. They live next door to A. Crabb (37), a farmer, born Scotland; his wife Mary (30), born Scotland - and four children all born Illinois. This is probably Archie Crabb, the older brother of Cecilia Crabb Raitt.
In the 1880 Census has them living at Eppards Point Township, Livingston Co., IL (also near Pontiac - but only about a mile northeast of Chenoa across county line). John Raitt is 41, a farmer; wife Cecelia is 42, keeping house; and children are John (17), farm labourer, born Scotland; James (15), farm labourer; Archibald (13), farm labourer; Margaret (9), Jane (Jennie?) (7), Emma (3) and Matilda (1). All children, except John, born in Illinois. The oldest child Elizabeth 21 had already married Barnwell Alexander Taylor by 1877.
By the 1900 Census, the family had moved to Nebraska - Union Township, Butler Co., NE, John Raitt is 62, a farmer, having emingrated to the US in 1863 and lived there for 37 years; Cecilia is 63 and children are James (35), Archibald (33) - both farmers; Jenny (27) and Matilda (20) - all four children born in Illinois. (11 children born, 8 living per census). Emma stayed behind in Waldo, aged 23, living with the Harvey Holt family in 1900.
In the 1910 Census for Union Township, Butler, Nebraska John Raitt is given as age 82, a general farmer, and Cecilia 73 and are still living with adult children James C. (45), farmer on a rented farm and Jennie (37), teacher in a public school. Census records for both 1900 and 1910 record Cecilia having mothered 11 children with 8 living. Ten have been documented. Best guess is an infant death between births of Jenny 1873 and Emma 1877.
Living nearby is widowed son John [Dorward] 47, a farmer, born Scotland; and his children: Archibald C., 16; Maude E., 15; Ethel M., 13; John R., 12; Hazel D., 10; and D., 7. - all born Nebraska.
In 1920 census for David City, Butler County, Nebraska, there is John Raik (sic), 82, wife Cecilia, 82 and son James C., 56 - all with no occupation. The year of naturalization for both John and Cecilia is given as 1867 rather than 1876!
In the 1920 census for Reading, Butler, Nebraska we have John and Cecilia's son John [Dorward] Raitt, aged 56, born abt 1864 in Scotland, immigrated in 1863, naturalized in 1889, living as a boarder in the household of Abraham and Alice Fogel. He is divorced and employed on own account as a stock buyer in the shipping stock industry.
John Dorward Raitt died on the day of the 1930 census (1 June) in Rising City, Butler County. But we know he remarried in Waltham, Massachusetts on 24 August 1915 - his new wife being Letitia Estelle Ross, born on 25 March 1881 in Westerly, Washington County, Rhode Island. He was aged 51, a farmer in Rising City, Nebraska and she was 34 - it was his second marriage and her first. The marriage didn't last long and the couple divorced before 1920 since Letitia married again (to James Gray) in Watertown, Mass. on 6 March 1920. How and where John and Letitia met is not known, but it could be that since he was a a stock buyer for a shipping company, it may be that he was in Massachusetts on business.
I have not yet looked too closely into the various children of John Dorward Raitt and his wife Lily, but as is revealed in Raitt Anecdotes, there is a story to be told about their son Orville Dorward Raitt, born on 21 July 1902 in Rising City.