Hallgreen Raitts of Forfarshire (Angus)

(Largely compiled by Lindsay Raitt from published 19th and 20th century sources and Old Parish Records.)
Both in the Old Parish Records of births and marriages from the 18th and 19th centuries, and in other records from the 20th century, the greatest concentration of Raits and Raitts in Scotland is located in the county of Angus (formerly known as Forfarshire). Thanks to the good records kept by the Scottish Church we know about the descent from the original Rait family of Hallgreen in Kincardineshire through the 16th, 17th and 18th centuries of three of the Angus families, the Raits of Cononsyth, Pitforthie and Inverkeilor (in addition to the Raits of Anniston, separately described, and the Raitts of Arbroath). There will have been other Rait/Raitt families in the county during the period, but their identification and the bridging of the gap between these early families and the later, 19th and 20th century, families known from the Old Parish Records and the folk-lore of current families, will require access to other types of record, especially the sasines granting rights to farming lands. There is a little duplication of this information with that on the Raits of Hallgreen page, as well as on the Raitt ministers page - but it was considered more appropriate and convenient to keep information and details relating to families together as much as possible on the different pages.
The Raits of Cononsyth
The lands of Conon are situated towards the west side of parish of St Vigeans, but partly within the parish of Carmylie, about five miles from Arbroath, by the old road to Forfar. The name Conon is apparently a corruption of the Saxon Koning (King); and the names of various parts of the barony, now independent estates, such as Park-conon, or King's Park; Carn-conon, or King's Carn; Conon-syth, or King's Side; Grange of Conon, or King's Grange or Farm; and Mill of Conon, or King's Mill, seem to warrant the traditional assertion of Conon having been the property of the Crown, if not a seat of royalty.
In 1597, William Rait, the sixth Rait Laird of Hallgreen Castle extended the possessions of Hallgreen in the Mearns (Kincardineshire) into the county of Forfarshire (Angus) by obtaining a charter for the whole of Cononsyth in the parish of St Vigeans, from the Gardynes. He still held that property in 1603, when he sold Pressock, also in the barony of Gardyne in Forfarshire (probably on behalf of his son Robert, who may have died by this time – see below) to James Gardyne on 10 September 1603. By 1574 he had married Margaret, daughter of (David) Garden of Leys, and in 1578 he was married to Marjorie, daughter of Barclay of Mathers. William had at least six children, but, in the absence of birth records, there is no indication of which wife was the mother. He died before 1625. (Garden and Gardyne is a very old name in Angus – the first of whom, William Gardeyn paid homage to Edward I at Berwick along with Gervaise de Rathe and his brother Andrew in 1296. The family assumed their surname from the lands of Garden in Angus, but by 1357, the name Garden of that ilk was usually written Gardyne. During the 16th century, the family of Gardyne disposed of some of their lands and exchanged parts of it with others. Before 1542 David Garden had acquired the lands of Cononsyth and his son David had acquired Leys.)
Robert Rait was the second son of the sixth laird. From 1582-1593 his father, William, administered on his behalf the sunny side of Garlott, leased from Lord Ogilvie (location not yet identified). In 1591/2 Robert bought Pressock and other lands in the barony of Gardyne from Garden of that ilk to be shared with his wife as part of their marriage contract. In 1597 he had rights to two-ninths of Inverbervie known as "freris Syllisflet", and in 1597 shared a charter for Cononsyth with his father. In 1591 he had a marriage contract with Margaret Ross, who by 1606 was re-married to a Robert Fraser, indicating that Robert Rait had died by then (and the sale of Pressock by his father may indicate that he had died by 1603). Margaret and Robert had at least two, probably three, children.
The Rev. William Rait was Robert's eldest son. In 1609 he succeeded to his father's interest in the toun and lands of Cononsyth from Garden of Leys, and inherited full possession in May 1628 (after the death of his grandfather). The record states that William Rait, heir of Robert Rait of Cononsyth in the Parish of St Vigeans, was retoured in the lands of Cononsyth. The name of his wife is not recorded, but he had one son, also the Rev. William Rait.
There is no information about a second son of Robert Rait, although the fact that William was called the eldest son in the land contract of 1609 implies that there was another one. Robert and Margaret's daughter, Isobell, had a marriage contract dated 1613 with John Strachan of Tillifrostane, including rights to lands in the parish of Fordoun, Kincardineshire.
On 17 July 1655, the second Rev. William Rait inherited Cononsyth from his father (who had presumably died by then). (William Rait, heir to his father William, was retoured in the Lands of Cononsyth.) He married Anna Ruthven, and he died by 1683 (when his testament dated 11 April 1683 was lodged with the Brechin Commissary Court). They had a son Francis Rait who graduated from King's College, Aberdeen in 1681, at which date he was living in Cononsyth. He maintained close links with his cousins, the Laird of Hallgreen and the Laird's brother James. Francis married Margaret Young, described in a legal document concerning property in Edinburgh as both the daughter and the widow of a deceased John Young. It appears that Francis Rait, son of William Rait of Cononsyth, was standard-bearer to Captain James Ruthven of the Scots Regiment in The Netherlands in 1680.
Parish Records show that from 1660-1670, Cononsyth and Grange of Conon nearby were occupied by William, John, James, Patrick, and David Rait, presumably all other sons of the Rev. William Rait. They were probably the founders of many of the Rait(t) families in Angus (the county home of more Rait(t)s than anywhere else), but the link between these five and the present day families remains undefined. However, see the Raitts of Conon and Colliston for possible relationships.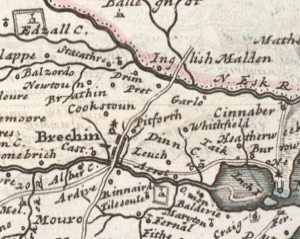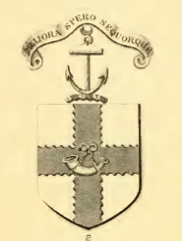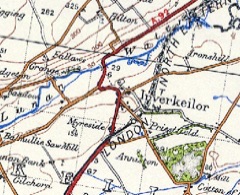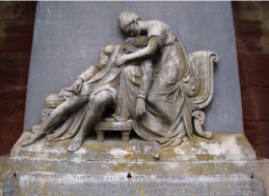 The Raits of Inverkeilor
The Rev. John Rait was the third (or possibly the fourth) son of William Rait, the eighth Rait Laird of Hallgreen Castle, and his wife Jean Douglas. He was born in about 1623, and from 1640-1644 he attended King's College, Aberdeen. In 1646 he was inducted to the ministry in Montrose, moving in 1650 to the parish of Inverkeilor, Forfarshire (Angus). From 1682, through his second wife's inheritance, he was the proprietor of the nearby property of Brianton (also spelled Brayington as well as other variations) until his death on 1 December 1685. He and his family are commemorated by a large memorial in Inverkeilor Church.
His first wife was Elizabeth Beattie, with whom he had six children. Five probably died in infancy as they are included in the church memorial, and the sixth, John, also mentioned on the memorial, died in 1675 in Nevis, West Indies, at the age of 22. Elizabeth died on 1 December 1661, and in 1662 the Rev. John married Euphan Mudie of Brianton, the daughter of David Mudie and Janet Ramsay of Cairnton. (Euphan Mudie's sister Katherine was married to a Rev. James Rait, purportedly the nephew of the Rev. John Rait, although his paternity is not apparent. He was born in 1648, and graduated from St Andrews University in 1668 (according to the Mudie Family History). Another Mudie, James, Laird of Arbikie and Scotston, was married in July 1674 to Margaret Raitt, daughter of William Rait, the ninth Laird of Hallgreen. He was on the Montrose Council from 1689 and after passing through various positions, was elected Provost of Montrose in 1708.)
John and Euphan had five children two of which, Robert and Janet, died in infancy and are buried in Inverkeilor church. Son David inherited Brianton from his father, entered the ministry, married Katherine Rait, daughter of the Rev. Robert Rait who was minister of Aberluthnott (Marykirk) from 1666-1682, and they had a son, James, who became the laird of Brianton, but sold the estate in 1711 (this Rev. Robert is not the son of William Rait and Janet Guthrie of Pitforthie, but his parentage is not known). The testament of Katherine, relict of Mr David Raitt, of Brayington, is dated 28 Jan 1726. It may have been David who, in 1690 as Rait of Brayingtoune, was appointed one of the Commissioners for Forfarshire to ensure the supply of revenue offered to their majesties (William and Mary) under the Act of Parliament registered in Edinburgh on 7 June 1690. Equally it may also have been his son James.
The Rev. James Rait, their fourth child, graduated from St Andrews in 1668 and was inducted to the church of Inverkeilor in 1672. A man of strong views, he was banned from preaching at Inverkeilor in 1695 and removed from the living in 1703. He moved to the nearby Redcastle (its last resident) while continuing to serve as minister for Inverkeilor as well as Lunan. From 1713-1715 he served as minister in Lunan while living in Montrose. In 1717 he was in further trouble "for rebellion". In November 1710 he married Elizabeth Smith of Montrose with whom he had a daughter, Margaret, who married William Wallace, a Montrose baillie. The Rev. James died between 1720 and 1730.
The youngest of the Rev. John's children was the Rev. Francis Rait who was inducted in Cuikston in Kinnaird parish, but ceased ministering before 1711 and was deposed for rebellion in 1717. In 1726 he was caught preaching in an illegal meeting-house in Brechin.
----------
We should also mention here the Raits of Anniston, whose residence was near Inverkeilor.
The Raits of Pitforthie
Pitforthie lies about one mile northeast of Brechin. The divine William Guthrie was born here in 1620. The family of Guthrie acquired a portion of Pitforthie in the early years of the seventeenth century, with James Guthrie of Pitforthie being mentioned on 24 February 1637.
The third son of the sixth Rait Laird of Hallgreen Castle was the Rev. James Rait. Born in about 1583 (and therefore presumably the son of Marjorie Barclay - see above), he graduated Master of Arts at King's College, Aberdeen, in 1603, was appointed Humanist (teacher of Latin and Greek) and in 1610 was promoted to Regent there (at a time when his father's cousin, the Rev. David Rait, was Principal of the College), before being inducted into the ministry in 1617 in the parish of Aberluthnott (Marykirk, Kincardineshire). In 1626 he was given, and almost immediately renounced, sasine on the Mains of Drumnagar by his nephew, the seventh Laird of Hallgreen, David Rait, but in 1637 accepted from him rights to lands in Aberluthnott. He married Isabella Blackburn, daughter of the Bishop of Aberdeen (whose older sister Janet was married to the Rev. Archibald Rait of Kintore, who may have been the Rev. James's older brother). He died on 1 May 1642, and Isabella died on 19 January 1637. They are commemorated on a tablet in Aberluthnott Church where he had preached for 25 years. James and Isabella had one son, William, who succeeded his father.
The Rev. William Rait (also spelled Raitt) was born in about 1617. He too was a Regent at King's College from March 1641 (where he seems to have married Elizabeth Gordon in August 1642), and was called to succeed his father at Aberluthnot in 1643. In 1644 he transferred to Brechin. On 22 March 1648 he was nominated to be minister at Old Greyfriars, Edinburgh, but he did not accept. In 1661 he became Principal of King's College, Aberdeen - lasting there for about a year until he transferred to Dundee in 1662, where he probably stayed until he died in July 1679. In 1646 he married Janet, eldest daughter of the Rev. William Guthrie of Pitforthie House, near Brechin in Forfarshire, and, inheriting the estate from his father-in-law in 1665, started the dynasty of the Raits of Pitforthie. They had at least 12 children - most of whom seemed to have had the surname Raitt as opposed to Rait. (A Margaret Rait married Patrick Guthrie of Collieston (son of Guthrie of that ilk.). Their son John Guthrie took an MA at St Andrews in 1597, becoming first, reader at Arbroath and later Bishop of Moray in 1623. Another son, James Guthrie, born 1590 in St Andrews, was minister of Kinnell in 1614 and Arbirlot in 1617. He died in 1662. His son, also James, married Margaret, daughter of William Rait of Conarsyde (presumably Cononsyth - see above) and Inchona Ochterlony. A descendant, Elizabeth Guthrie, born 1775 at Craigie and dying 1814 in Devon, married John Rait of Anniston who died in 1825.)
The oldest son, and fourth child, of William Rait and Janet Guthrie, also the Rev. William Rait, was baptized on Christmas Eve 1651 in Brechin, and, graduating from King's College in 1677, was admitted to the ministry in the parish of Monikie, Forfarshire, in 1680. In 1690 he was appointed one of the Commissioners for Forfarshire to ensure the supply of revenue offered to their majesties (William and Mary) under the Act of Parliament registered in Edinburgh on 7 June 1690. In 1716 he was deposed from Monikie for supporting the 1715 Jacobite Rebellion. On 12 April 1673 in Dundee he married Isabel, daughter of Patrick Yeoman of Dryburgh, Pitalpin and Gourdie (Patrick was the laird in 1679 and a merchant and magistrate in Dundee) and they appear to have had some fifteen children between 1674-1700. He had died by 1741.
Their oldest son, the Rev. Bishop James Rait, known as "the schismatick", was ordained as an Episcopalian minister and was Bishop of Dundee from 1742-1777, commemorated by his coat of arms (incorporating the Rait "cross engrailed") in a stained glass window in the Lady Chapel of the 19th century Cathedral of Dundee. His baptism does not appear in the church records, unlike those of his siblings, and his birth may have preceded his parents marriage (though this does not seem to have hampered his ecclesiastical career). He was married, but his wife's name is not known at present.
The oldest daughter of William Rait and Isabel Yeoman, Janet, baptized on 8 July 1674 in Dundee, may have died in infancy as her name was given to a later daughter in 1682. Their second daughter, Margaret (also Marat), baptized on 20 May 1676 in Brechin, married on 20 October 1699 George Dempster of Dunnichen, son of John Dempster, the Episcopalian minister of Monifieth, who was a banker and merchant in Dundee. They had a son John, baptized in 1706. Margaret died in April 1740. Then came Isobell, baptized on 9 January 1678 in Brechin, who later became godmother to Isobell Scrymegeour, born in 1704, who was the grand-daughter of Isobell's aunt Jean (see below). She married John Robertson of Balharrie on 15 June 1704. William and Isabel's other children were: Elizabeth, baptized on 19 February 1679 in Brechin, who married James Smyton, merchant in Dundee; the second Janet, baptized on 27 April 1682 in Monikie (she too may have died young); Marie, baptized on 6 December 1683; George, baptized on 19 January 1685 in Monikie; David, baptized on 6 September 1685 in Monikie; Rachel, baptized on 3 June 1686; a third Janet, baptized on 8 January 1688 in Monikie; James, baptized on 29 January 1689; Catherine, baptized on 25 December 1689; Agnes, baptized on 18 May 1691 in Monikie; and lastly, Barbara, baptized on 21 October 1692 in Monikie, who was married, on 5 August 1734 in Arbroath to the Rev. Henry Edgar, Episcopalian minister in Arbroath, and later Bishop of Fife. As Barbara was described in a legal document of 1741 as "only daughter of the deceased William Rait, minister of Monikie" it must be assumed that all the other daughters had already died by this time, but as the description was not "only child of" it may be that the three sons survived and may have had descendants. It is possible that William and Isabel Yeoman had a further son, Dr. William Raitt of Dundee. His birth-date is estimated as about 1700, some 27 years after his parents' marriage. In 1755 he witnessed the baptism of his grandson, William Raitt, the son of James Raitt and Isabel Ramsay. The grandson later also became a doctor in Dundee, and other descendants, mainly with maritime connections, are known.
The Rev. Robert Rait, the second son and seventh child of the Rev. William Rait of Pitforthie and Janet Guthrie, was baptized on 21 November 1655 in Brechin, graduated from St Andrews on 23 July 1672, and was admitted to the ministry at St Paul's Church, Dundee in 1682 in succession to his father. He was deposed in 1689 for not conforming (as a Jacobite), and died in 1704. He was married on 8 October 1684 in Dundee to Elizabeth Wedderburn of Kingennie and Powrie, and they had four children, William, baptized on 24 August 1685 in Dundee; Janet, baptized on 24 August 1686 in Dundee; Alexander, baptized on 26 March 1688 in Dundee (who was served heir to his father in 1705, so it must be assumed that his brother William had died by then); and Margaret, baptized on 23 May 1689 in Dundee.
The other children of the Rev. William Rait of Pitforthie and Janet Guthrie (with their baptismal dates, all except the last taking place in Brechin) were Jean, 28 August 1648, who, in 1665, married John Scrymgeour of Kirkton "first of Tealing", a merchant, burgess, and Provost of Dundee, and representative of Dundee in the Parliaments of 1681-2, 1702 and 1702-7 (Jean, also called Jane in Victorian publications, and John Scrymgeour had a son John the younger. His daughter Isobell, born in 1704, had as her godmother Isobell Rait, the daughter of the Rev. William Rait of Pitforthie. John Scrymgeour, younger, also had a son Patrick Scrymgeour of Tealing, born in 1749, who married on 22 June 1761 Isobel, the daughter of James Coutts of Hallgreen Castle (the Coutts family having replaced the Raits there in about 1725); Margaret, 18 September 1649, who married John Campbell, minister of Tealing Church; Janet, 14 December 1650; Agnes, 28 February 1653; James, 2 September 1654; John, 14 February 1657; Catherine, 4 October 1658 (who may have died at an early age as she does not appear in the Church Records); David, 8 February 1660; Laurence, 6 July 1661, who was a merchant in Dundee; and Alexander, 11 August 1663 in Dundee.
Either this last Alexander, born in 1663, or, less likely, his nephew Alexander, born in 1688, is probably the Alexander Rait who became the secretary to the Earl of Mar who led the 1715 Jacobite Rising, and was probably the founder of the family of Raitts who claimed descent from the Pitforthie Raits, and had distinguished military careers in the 18th, 19th and 20th centuries, the subject of a separate account.
The Raits of Pitforthie had a similar coat of arms to the Raitts.
Rait, [Pitforthie, Scotland ; Lyon Register] or, on a cross engr. sa. a hunting horn of the first, stringed gu.—Crest, an anchor ppr. ensigned on the top with a crescent ar. Motto, Meliora spero sequorque.